'Duck Dynasty' Star Sadie Robertson Previews 'Live Original' Spring Fashion Line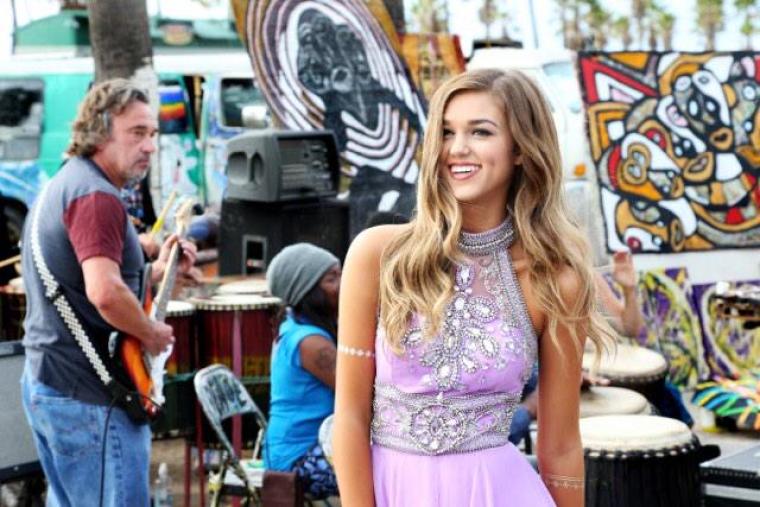 "Duck Dynasty" star Sadie Robertson released the first look at her new fashion collection inspired by her book Live Original on New Year's Eve.
The former "Dancing with the Stars" contestant paired up with designer Sherri Hill on a line of dresses. A video released on Dec. 31 reveals the Spring 2015 collection that features behind-the-scenes looks at Robertson, all set to Mark Ballas' song "Miss Incredible."
"If you want to see all the new dresses in my new @sherrihill line check out the link in my bio," Robertson posted to Instagram along with photos of the gowns.
In the video, Robertson takes the newest fashions to Venice Beach in Los Angeles, California. The colorful photoshoot reveals dozens of dresses and gowns suitable for occasions such as prom and galas. In the background music, Robertson's former "DWTS" partner Ballas sings "I can't stop starin' at her design / Extraordinary, and she don't realize / Got that little extra somethin.'"
The Sherri Hill shoot was not the first time Robertson has tried her hand at modeling. However, last year, the 17-year-old revealed a negative experience among other fashion models on the runway during New York Fashion Week.
"Many of them did not say a word to me," Robertson explained, according to RadarOnline. "They just looked at me like they had icicles in their eyes. They cared way too much about their outward appearance. Confidence is an inside thing. I could have totally lost it over the comments people made and the icy looks they gave me, but I didn't. God has been training me my whole life … to be strong and confident."
Meanwhile, the latest collection by Sherri Hill is named after Robertson's book Live Original: How the Duck Commander Teen Keeps It Real and Stays True to Her Values, which was released in Oct. It was the teen's hope that Live Original instilled confidence in readers and guided them toward God.
"I pray people realize that they are a beautiful child of God, and become confident in that," Robertson posted on Twitter at the time of the book's release. "So do not throw away your confidence; it will be richly rewarded (Hebrews 10:35 NIV)."
Watch footage from Robertson's Sherri Hill photo shoot here.