'Duck Dynasty' Star Willie Robertson Endorses Donald Trump in Split From Phil Robertson's Pledge to Cruz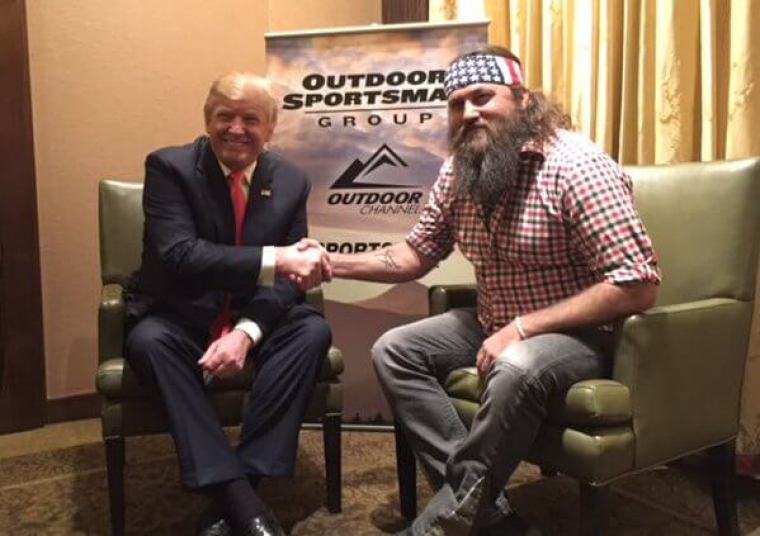 In a split from his father Phil Robertson's recent pledge to Ted Cruz that he had the support of the entire family, "Duck Dynasty" star Willie Robertson endorsed GOP 2016 presidential frontrunner Donald Trump Thursday.
"Mr. Trump is a real leader. He represents success and strength, two attributes our country needs. Like me, he is a successful businessman and family man and I endorse his candidacy for President of the United States," Robertson said in a press statement at the 2016 Outdoor Sportsman Awards in Las Vegas.
The statement comes on the heels of a pledge Phil made last week in an endorsement of Trump's rival Texas Sen. Ted Cruz in which the family patriarch said Cruz would be getting the votes of the entire clan.
"Cruz, the reason we are voting for you ALL OF US, is because you are one of us my man. That's why they're voting for you. It's now or never," Phil said near the end of the recorded endorsement posted to YouTube last Wednesday by the Cruz campaign.
In the video, Phil Robertson describes his qualifications for President of the Unites States as "rather narrow."
"Is he or she godly? Does he or she love us? Can he or she do the job? Finally, would they kill a duck and put them in a pot and make a good duck gumbo?" he asked.
"I've looked at the candidates, Ted Cruz is my man," he said. "It's the deal, he's godly, he loves us, he's the man for the job, and he will go duck hunting because today he's going," declared Phil. "Ted Cruz is my man, we're voting for him."
Trump who was present at the 2016 Outdoor Sportsman Awards, said he was honored by Willie Robertson's endorsement.
"He is a great person, has had tremendous success and a really terrific family. He believes in my message and knows that I am the only one who will Make America Great Again!" said the billionaire.