Duck Dynasty's Robertson Clan Meets With Sarah Palin in West Monroe, La.
Former Governor of Alaska Sarah Palin met up with the Robertson clan from the hit A&E reality television series "Duck Dynasty" over to weekend while promoting her new holiday-themed book, Good Tidings and Great Joy: Protecting the Heart of Christmas in West Monroe, La.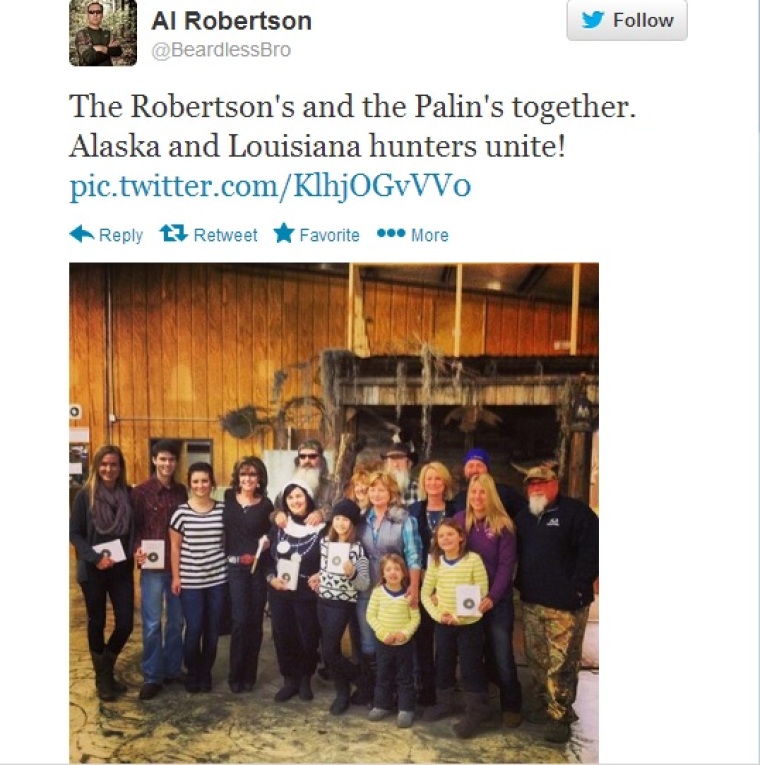 Palin, who was also on the 2012 vice presidential ticket for the GOP nomination, posted a photo of her with most of the Robertson family in West Monroe, Louisiana on Saturday. Several of the family members in the picture, including Kori Robertson, Miss Kay and John Luke Robertson can be seen holding Palin's new book, which discusses the importance of protecting the religious significance behind Christmas.
Alan Robertson, the only "beardless" member of the "Duck Dynasty" family who joined the show this season, tweeted his joy after meeting the Palin family. "The Robertson's and the Palin's together. Alaska and Louisiana hunters unite!"
Palin also commented on the meeting on her Facebook page, writing: "Had a blast meeting the Duck Commander gang as well as the great folks who came to the book signing yesterday evening," adding that she wished everyone a "happy happy happy" Christmas. The term "happy happy happy" is a catchphrase coined by the Robertson family patriarch Phil.
Palin previously met both Willie and Phil Robertson while speaking at the National Rifle Association's convention earlier this year. The former Governor advised the GOP to look to the lifestyle of the Robertson family to see what Americans really desire.
"To our GOP leaders in Washington, especially - this is what Americans desire and deserve; we're not rooting for your social truces. As Phil so rightly asks, 'What in the world has happened to us?'" Palin wrote on her Facebook in August. "Kudos to these Duck dudes for speaking their minds, and for their boldness in living the American dream of LIFE, liberty, and the pursuit of happiness - reminding us all that it's only with freedom that anything is possible."
Palin continues the rounds of her national tour to promote her new Christmas- themed book, and it was just announced earlier this week that the Republican politician will be getting her own reality show, "Amazing America with Sarah Palin," which will premiere beginning in April on the Sportsman Channel.
The show will focus on the "most original, interesting -- and sometimes inspiring -- people, places and pastimes connected to America's outdoors lifestyle," according to a Sportsman Channel press release. Palin previously had another reality show, "Sarah Palin's Alaska," which only aired one season on TLC.