Duck Dynasty's Willie Robertson and Luke Bryan Duet 'Hairy Christmas' on CMA Christmas Special (VIDEO)
Duck Dynasty's Willie Robertson and Luke Bryan Duet 'Hairy Christmas' on CMA Christmas Special (VIDEO)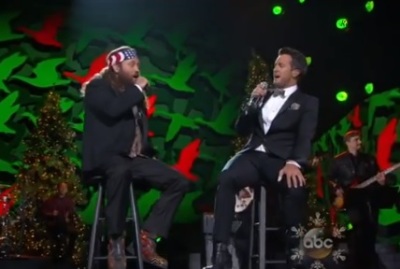 Willie Robertson, one of the stars of the A&E reality show "Duck Dynasty," appeared alongside country music star Luke Bryan at the Country Music Association's Country Christmas special Monday evening to perform a duet of the song "Hairy Christmas," one of the tunes off of the new Duck Dynasty Christmas album, "Duck the Halls."
Bryan, who recently released his new single "Drink a Beer," appeared onstage wearing a dashing tuxedo, while Robertson wore his signature American flag bandana and long curly hair accompanied by a suit and vest combination.
Bryan entered the stage by yelling to the crowd "Where my rednecks at?" before the two dived into their comedic duet that sings of an unconventional Christmas celebration in the south, presumably at the home of the Robertson clan in West Monroe, Louisiana. "
Buy the kids a big trampoline / Everybody gets a new shotgun / We're a camel short of a manger scene / But there's a guy in Texas who'll rent us one," the lyrics go.
"Hunt you down a Christmas tree / Thank god mama's cooking is free / Round up your redneck family and watch "Rudolph the Red Nosed Reindeer"/ Like Jesus and Santa Clause we got love behind these beards / Wishing you a Hairy Christmas and a Happy Happy Happy New Year," the song continues.
Bryan concluded the song by telling the audience: "Y'all have a hairy Christmas out there!"
The country music star is one of several well-known country musicians to have cameo appearances on the new "Duck the Halls" Christmas album. George Strait, Josh Turner and Alison Krauss also appear on the album to sing Christmas-themed songs with the whole Robertson clan, including Willie, Phil, Miss Kay, Jace, Uncle Si, as well as the children and grandchildren.
The songs on the album include Christmas classics such as "I'll Be Home for Christmas," sung by Missy Robertson, and "You're a Mean One, Mr. Grinch," sung by Uncle Si, as well as more eccentric Christmas tunes, like "Ragin' Cajun Redneck Christmas" and "Camouflage and Christmas Lights."
The Robertson and Bryan duet was just one of the entertaining highlights during Monday's broadcast of the "CMA Country Christmas" event that also included performances by Jennifer Nettles, who also hosted the event, Hunter Hayes, Kellie Pickler and more.