Dunkin Donuts Blackface Posters Criticized as 'Racist'; Company Issues Apology (PHOTO, VIDEO)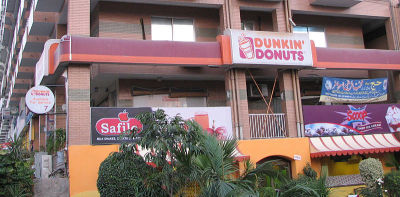 Dunkin' Donuts' new blackface advertising campaign has been widely criticized and has forced the company into issuing an apology for their "insensitivity."
The advertising campaign took place in Thailand and featured a woman in blackface makeup to promote a new chocolate flavored drink.
However, the campaign came under fire on Friday when Human Rights Watch labeled the adverts "bizarre and racist."
Quickly, Dunkin's chief executive in Thailand sought to defend the campaign, but as criticism continued to spread, the U.S. headquarters moved to issue a formal apology.
Dunkin' Donuts said in a tweet posted on its official U.S. Twitter page: "We are working with our Thailand franchisee to immediately pull the ad. DD recognizes the insensitivity of this spot."
The campaign was in fact launched last month to promote a new "Charcoal Donut" range, and shows a woman smiling covered in black makeup, as well as bright pink lipstick. The poster was launched with a slogan in Thai reading, "Break every rule of deliciousness."
Many critics have slammed the advertising campaign as being reminiscent of the Minstrel show, which was an American entertainment consisting of comic skits, variety acts, dancing, and music, performed by white people in blackface in the 19th and 20th centuries.
The Minstrel show was later criticized for lampooning black people as dim-witted, lazy, buffoonish, superstitious, happy-go-lucky, and musical.
After noticing the advertising poster for the Thai branches of Dunkin' Donuts, Human Rights Watch, based in New York, released the following statement through Phil Robertson, the deputy Asia director for the organization: "It's both bizarre and racist that Dunkin' Donuts thinks that it must color a woman's skin black and accentuate her lips with bright pink lipstick to sell a chocolate doughnut. Dunkin' Donuts should immediately withdraw this ad, publicly apologize to those it's offended and ensure this never happens again."
Following the initial criticism the company's chief executive in Thailand dismissed the criticism as "paranoid American thinking."
CEO Nadim Salhani said in a telephone interview: "It's absolutely ridiculous. We're not allowed to use black to promote our doughnuts? I don't get it. What's the big fuss? What if the product was white and I painted someone white, would that be racist?" according to The Associated Press.
Salhani did confirm that the Thai franchise of Dunkin' Donuts operates independently of the American operation. He claims doughnut sales have increased 50 percent since the campaign was launched two weeks ago.