Dzhozkar Tsarnaev Twitter: Social Media Account Comes Under Scrutiny for Boston Bombing Suspect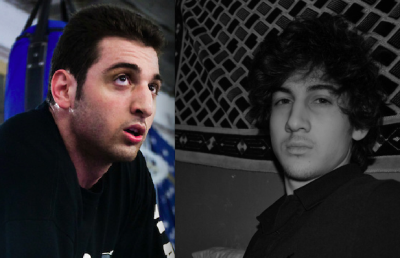 Dzhozkar Tsarnaev's Twitter account has become the subject of extreme attention on Friday as the Boston bombing suspect continues to be hunted by authorities.
The suspect has posted more than a dozen tweets since the bombings on Monday including, "Ain't no love in the heart of the city, stay safe people," and responding to another tweet he posted, "and they what "god hates dead people?" Or victims of tragedies? Lol those people are cooked."
Dzhozkar Tsarnaev posts under his American name Jahar with the handle @J_tsar. He has posted more than 1,100 tweets in total on the account and has 7,032 followers at lunchtime on Friday. He is also following 108 other people.
In another tweet he wrote: "Nowadays everybody wanna talk like they got somethin to say but nothin comes out when they move their lips; just a bunch of gibberish."
Another: "I'm a stress free kind of guy," posted on April 16.
Dzhozkar Tsarnaev's Twitter account can be seen by clicking here.
In major developments overnight one of the two suspects in the Boston Marathon bombings was killed in the early hours of Friday morning, following a frantic police chase and the fatal shooting of an MIT campus police officer by the suspects. The second suspect, Dzhozkar Tsarnaev, is still at large and is the subject of a massive manhunt that has locked down large parts of various Boston neighborhoods.
The two suspects have been identified as Dzhokhar A. Tsarnaev, 19, of Cambridge, Mass., and his brother, Tamerlan Tsarnaev, 26.
Tamerlan was the person labeled Suspect No. 1 on Thursday by the FBI, wearing the black baseball cap in images publicly released by authorities. He is also the brother who was killed during the police confrontations early on Friday morning.
Dzhokhar is the other suspect seen in a white baseball cap in the images released of the day of the Boston bombings. He reportedly escaped during the confrontation in which his brother was killed, and is currently being hunted.
The brothers were confirmed as ethnic Chechans, according to their uncle who addressed reporters just before lunchtime. The uncle also described them as Muslim but urged "this has nothing to do with Islam." He suggested that they were "losers" who were angry at others who had managed to settle in the United States successfully, where as they themselves had struggled to do so.