'E!' Anchor Jason Kennedy's Celebrity Bible Studies Influencing Hollywood 'Nice Guy Movement'?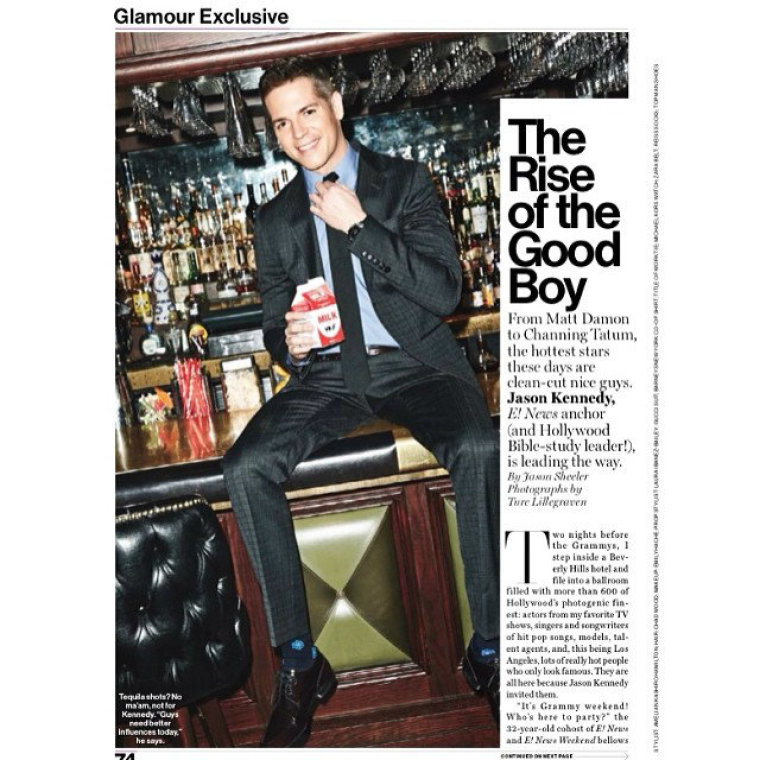 Jason Kennedy, "E!" TV host, was featured in a new Glamour magazine article that suggests the Hollywood Christian was "leading the way" in a "nice-guy movement" in Tinseltown, and that his celebrity-oriented Bible study meetings have grown in popularity since they were revealed last year.
Kennedy's star-studded Bible study gatherings, noted last year in a CP article, reportedly started out quite small and have been attended by Selena Gomez, Vanessa Hudgens and Justin Bieber. Nowadays, according to the Glamour article, attendance at the 32-year-old's Bible study gatherings has grown to hundreds from around town:
Two nights before the Grammys, I step inside a Beverly Hills hotel and file into a ballroom filled with more than 600 of Hollywood's photogenic finest: actors from my favorite TV shows, singers and songwriters of hit pop songs, models, talent agents, and, this being Los Angeles, lots of really hot people who only look famous. They are all here because Jason Kennedy invited them.

"It's Grammy weekend! Who's here to party?" the 32-year-old co-host of 'E! News' and 'E! News Weekend' bellows into a microphone. Lantern-jawed and Equinoxed, Kennedy gives the crowd a big smile, baring his white-picket-fence teeth. "You know, I was wondering if you guys were going to be at some fancy club tonight," he confesses, looking at his unscuffed Converse Chucks. "Or here with me praising God."
The speaker at that night's gathering was Judah Smith, pastor of The City Church in Seattle and reportedly Justin Bieber's pastor, who is described in the article as "a rising figure in contemporary ministry and a Hollywood regular." Smith reportedly preached about "positioning" in Hollywood for personal gain and how to handle being confronted with pornography.
Kennedy, who is in a relationship with former model and popular blogger Lauren Scruggs, said the Bible studies help him "survive Hollywood" and encourages him to be a better man and boyfriend.
Instead of "bad boys" like actors Jude Law, Hugh Grant or John Mayer, it is celebs like Kennedy, Channing Tatum and Aaron Paul of "Breaking Bad" who apparently are turning the tide in Hollywood, according to Glamour.
As for Justin Bieber, one celebrity who has drawn the "bad boy" label of late due to a recent run-in with the law, Kennedy suggested that the recording artist was not "trying to be outrageous."
Instead, the "E!" host said Beiber was "going through a struggle."
Read the full Glamour feature online: glmr.me/NdKVIA.