Earthquakes in China Today Kill Dozens, Force Thousands to Flee (PHOTO, VIDEO)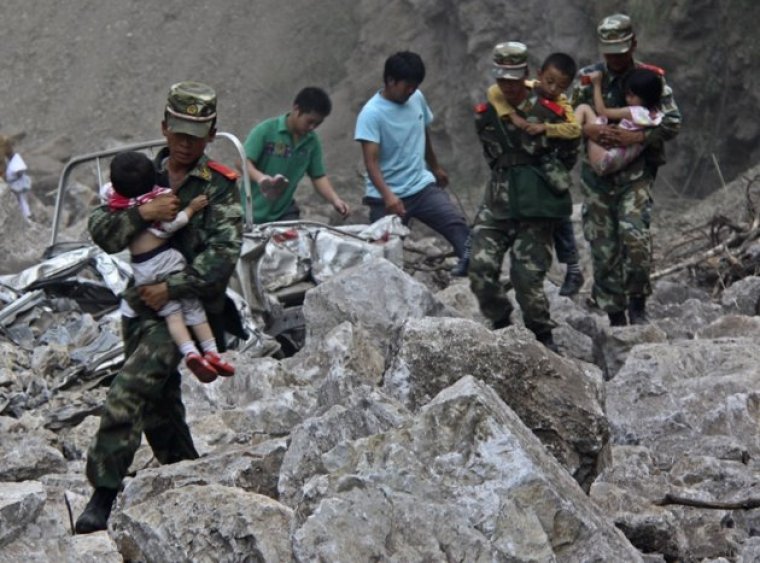 Multiple earthquakes, the strongest one measuring 5.7 magnitude, struck in China Friday, killing at least 64 people, injuring more than 715 others and prompting the government to call for mandatory evacuations from affected areas.
President Hu Jintao, currently in Russia for the Asia-Pacific Economic Cooperation meeting, has also called for disaster relief workers to concentrate their efforts in southwest China, where the quakes took place, according to local media reports.
In addition to the 5.7-magnitude quake, the other temblors measured at 5.6, 4.4 and 3.2. At least 60 aftershocks are reported to have occurred. The earthquakes occurred between 11:19 a.m. and 1:12 p.m. local time.
Officials fear the death toll may be higher, due to landslides likely caused by the earthquakes, as with previous disasters. In addition, an elementary school reportedly collapsed amid the quakes. It was not yet known if any students had died.
Russia Today has published video of one of the earthquakes that shook southwest China, razing buildings and triggering landslides:
Moment of Deadly China Earthquake, Landslide Caught on Camera
Residents in Yunnan province were especially hit hard due to it being a mountainous area.
"It is scary. My brother was killed by falling rocks. The aftershocks struck again and again. We are so scared," miner Peng Zhuwen told local media.
Reuters reported that the International Federation of Red Cross and Red Crescent Societies shared that structures in those areas are built from mud and timber, making them more susceptible to damage from earthquakes.
"On the other hand, extricating people trapped in these structures may be easier than from under concrete/brick homes, meaning that there could be many more injuries proportionate to the number of deaths," the news agency cited the organization as saying.
The IFRC shared on Twitter that it was sending sending 2,000 quilts, 2,000 jackets, 500 tents in response to the affected areas.
Reuters reported that in 2008, more than 87,000 people died in the southwestern province of Sichuan when a 7.8-magnitude quake struck the region; and that 3,000 died in the western province of Qinghai in 2010 when a 6.9-magnitude earthquake struck.