ECFA Named as Co-Conspirator in Lawsuit Against Mark Driscoll, Ex Mars Hill Chief Elder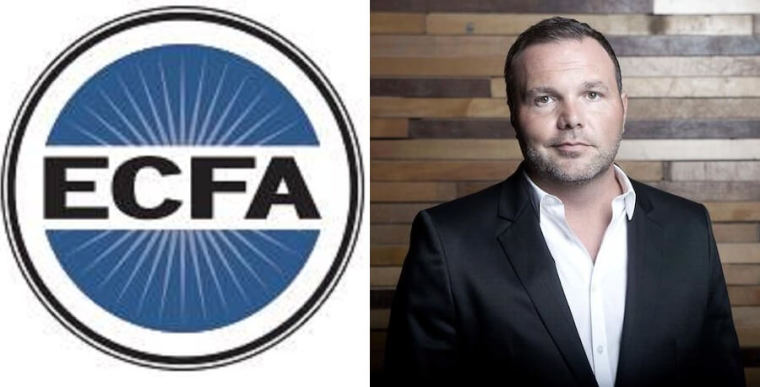 The Evangelical Council for Financial Accountability, an accreditation organization for many leading Christian nonprofits, has been accused of helping former Mars Hill Church Pastor Mark Driscoll, and his chief elder, Sutton Turner, engage in fraud and racketeering concerning donor contributions.
The ECFA, led by the organization's President, Dan Busby, is listed among a number of co-conspirators with defendants Driscoll and Turner in a new lawsuit filed Monday by the Law Office of Brian Fahling in the Western District of Washington U.S. District Court in Seattle under the Racketeer Influenced and Corrupt Organizations Act.
While Driscoll did not respond to a request for comment from The Christian Post by press time, the ECFA issued a statement to CP noting that the individuals bringing the lawsuit "have no direct knowledge of the ECFA's accreditation process" and are "wrong" about the ECFA's involvement with Mars Hill Church.
"Neither ECFA nor any of its employees are named as parties in a private lawsuit that has been brought against the leader of a formerly accredited ministry," said ECFA, which highlighted that it was not sued but was instead listed as a co-conspirator. "It also appears that the individuals bringing the lawsuit have no direct knowledge of ECFA's accreditation process and have the facts wrong regarding our involvement with the ministry in question."
"ECFA is committed to enhancing trust in Christ-centered churches and ministries, accrediting these organizations based on our Seven Standards of Responsible Stewardship. Additional details about our accrediting process can be found at ECFA.org," it added.
The ECFA, according to its website, accredits Christ-centered ministries in the areas of governance, financial management and stewardship/fundraising. Its seal "enhances trust of givers, which increases generosity, providing greater resources to help fulfill the Great Commission. ECFA accredits over 2,000 churches and nonprofits. These organizations have annual revenue of nearly $25 billion, receiving charitable contributions of nearly $17 billion."
In the lawsuit, former supporters of Mars Hill, plaintiffs Brian and Connie Jacobsen and Ryan and Arica Kildea, allege that the defendants took their donations along with those from thousands of others and used them for unauthorized purposes.
Among the unauthorized purposes is the use of $210,000 from the church's coffers to purchase a place for Driscoll's 2012 book Real Marriage on The New York Times' best-sellers list through a company known as Result Source.
"Beginning in 2011, or earlier, and continuing through 2014, RICO defendants and their co-conspirators engaged in a continuing pattern of racketeering activity by soliciting, through the Internet and the mail, contributions for designated purposes, and then fraudulently used significant portions of those designated contributions for other, unauthorized purposes," the complaint, a copy of which was obtained by CP Tuesday, charges.
"It was a pattern of racketeering activity that extended through a myriad of MHC projects, including the Global Fund, the Campus Fund, the Jesus Festival, and the promotion of Driscoll's book Real Marriage: The Truth About Sex, Friendship, and Life Together ('Real Marriage')," it notes.
The Jacobsens claim they gave more than $90,000 to the church from 2008 to 2014, while the Kildeas say they gave more than $2,700 from 2011-2013.
The couples charge that they trusted Mars Hill to be good stewards of their donations because of the ECFA's endorsement of the church.
"As a result of ECFA's ringing endorsement and declaration that MHC met the highest standards of financial ethics, faithfulness, and accountability, the Jacobsens, Kildeas, and thousands of other donors continued to be deceived, making donations to MHC they would never have made if ECFA had disclosed RICO defendants' wrongdoing, rather than making a 'a powerful statement' that MHC 'acts responsibly and honors its commitment to accountability,'" charges the complaint.
The ECFA it alleges, despite Mars Hill Church's "habitual pattern of racketeering activity," kept rubber stamping the church with its trusted seal until the church was run to the ground in 2014.
"At all times relevant hereto, from September 2012 forward, ECFA accredited MHC in spite of RICO defendants' ongoing and habitual pattern of racketeering activity involving RSI, the Global Fund, Campus Fund, and the Jesus Festival," the complaint charges.
"ECFA's accreditation of churches is, at best, a rubber stamp. In view of RICO defendants' fraudulent conduct detailed herein, it is inconceivable that ECFA would have accredited MHC and held it out to the public as meeting 'the highest standards of financial ethics, faithfulness, and accountability,'" it adds.
The complaint alleges, however, that that is exactly what the ECFA did.
"In a June 2014 'Confidential Memo' from Turner to 'Lead Pastors,' Turner states that he, another MHC pastor, and the MHC auditor from FY11, FY12, and FY14, had a 2- and-a-half hour meeting with Busby," states the complaint.
"In the memo, Turner indicates that the meeting was prompted because, '[a]s many of you are probably aware, critics started blogging back in April that Mars Hill was deceptive in our fundraising under Mars Hill Global. This triggered an investigation in May that completed yesterday.'
"The memo continued, '[a]fter [Busby] presented his ECFA's [sic] findings, Pastor Anthony and I presented our pre-planned proposed solution, which he thought 100 percent solved the current issue. He said that the changes that we made in April with videos, changes to the giving page, etc. were great and he would not do anything differently," alleges the complaint. "ECFA will be linking to our FAQs and put out a brief statement saying we are a 'Member in Good Standing.'"
The complaint further alleges: "ECFA did in fact state that MHC was a member in good standing. Busby disregarded ECFA's avowal that its Seven Standards of Responsible Stewardship 'are not standards that allow for grading on the curve. Rather, they are pass-fail standards. ECFA members must comply with all of the standards, all of the time.' Busby knew MHC failed the test, yet he deliberately deceived MHC donors by declaring MHC to be a 'Member in Good Standing.'"
Driscoll, who made a controversial exit from the now defunct Mars Hill Church, which had owned 15 properties in five states, in 2014, recently announced the launch of his new venture, The Trinity Church in Arizona.