Evangelical Leaders Reject Trump's Demonization of Migrants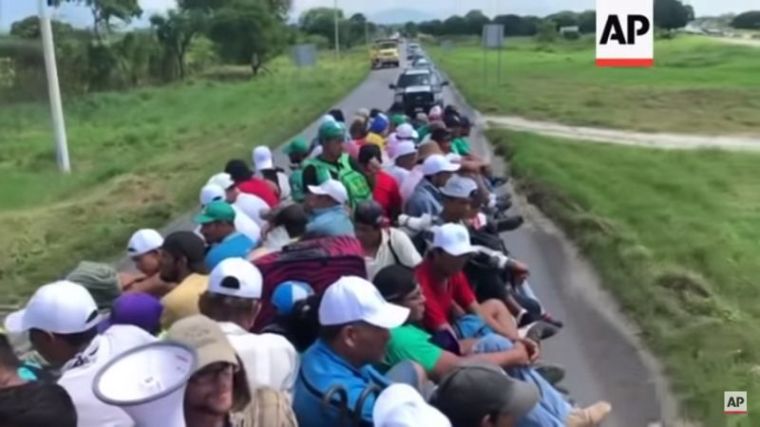 Ahead of the midterm elections, President Donald Trump has been demonizing a group of migrants while evangelical leaders responded by urging a compassionate response.
Trump defended his decision to place troops on the southern border in response to the migrant caravan by arguing that there are violent elements within the large group.
Thousands of migrants fleeing political and economic hardship in Central America have been traveling to the southern border of the United States of America, with President Trump sending several thousand soldiers to the border in response.
Trump was interviewed Wednesday by David Brody and Jenna Browder of CBN on Air Force One, with the interview scheduled to air on The 700 Club on Friday.
Excerpts from the interview were emailed to The Christian Post by CBN on Thursday morning, including an exchange in which Trump talked about the caravan.
During his remarks, Trump stated that there have been violent incidents associated with the caravan.
"You see a caravan that's pouring up to our country with thousands of people, maybe ten thousand people now, and then you see the violence that was caused by a second caravan that's forming on the northern Mexico side," said Trump, as quoted by CBN.
"You look at what's going on in Guatemala and Honduras and you look at the violence and people being hurt. Mexican soldiers being hurt and police. They're throwing rocks in their face."
Trump went on to tell CBN that when it came to the people in the caravan, "these are not angels as you would say, these are not angels."
"Look, we're not going to let them come into our country. We have ten and we might even go up to 15 thousand soldiers on our border. We are building a wall in its own way," continued Trump.
"We're putting up walls and barb wire and when you look at what we're doing, they're just not coming into our country. They might as well go back down."
Trump similarly tweeted a campaign ad Wednesday depicting the migrants fleeing persecution as murderers. 
The caravan's headline-grabbing presence has reignited political debate over immigration policy, including the admission of refugees and President Donald Trump's proposed border wall.
Entities like the Evangelical Immigration Table have called for a "compassionate response" to the migrants by churches and the administration.
"Beyond the role of the government, we encourage churches—both in the U.S. and in Latin America—to respond with Christ-like love to the vulnerable families and individuals who form this caravan," stated EIT.
"We also invite you to continue to join us in calling for a comprehensive solution to our deeply broken immigration system, which limits our government's ability to effectively manage a large influx of asylum seekers and to protect those whose lives are in danger."
EIT member and Southern Baptist Convention Ethics & Religious Liberty Commission President Russell Moore stated, "People fleeing for their lives are not to be used as political props. Those escaping violence and persecution in Honduras and elsewhere bear the image of God and should be treated with dignity and compassion. As Christians, we should share the heart of Jesus for refugees and others imperiled. Applying for asylum is legal in the United States of America, and the law should be carried out for everyone who seeks to apply. Not everyone will receive asylum, but everyone should have the opportunity to follow the law." 
Galen Carey, vice president of government relations for the National Association of Evangelicals and an EIT member, stated that the caravan is not an "invasion," as Trump has described it. 
"Politicians and journalists sometimes sensationalize news reports while obscuring the real story. A few thousand desperate people fleeing violence and seeking a better life does not mean that our country is about to be invaded. Our borders are relatively secure, and our laws, while urgently in need of modernization, at least provide an opportunity for those fleeing persecution to present their case and be considered. We should be proud that our country has historically been the world's leader in welcoming refugees. We urge our leaders not to overreact, and to allow those seeking asylum to have their day in court," he said. 
In response to Trump's campaign ad tweet, conservative Washington Post columnist and evangelical Michael Gerson said, "Anyone involved in this effort — Trump, but not just Trump — is tainted by bigotry. How can young people look at the GOP as a realistic option for moral people?" 
He also urged Republicans to reject any candidate who doesn't oppose Trump's demonization of the migrants. 
"Here is a project for active, responsible citizens. This video filled with toxic ethnic bigotry should be shown to every GOP candidate. They should be asked if this represents their views and their conception of the GOP's future. Those who aren't disgusted should be defeated," Gerson added.
The Reverend Tony Suarez, executive vice president of the National Hispanic Christian Leadership Conference and member of the president's evangelical advisory board, expressed sympathy for the migrants.
"There's nothing wrong or illegal with people approaching our border & applying for asylum. That doesn't mean we have to receive everyone that comes but they certainly can apply. This is one of those 'right ways' that people can come...like Ted Cruz's father when he sought asylum," tweeted Suarez in October.
"If it's wrong to seek asylum, remove this plaque from the Statue of Liberty 'Give me your tired your poor your HUDDLED MASSES yearning to breathe free the wretched refuse of your teeming shore. Send these the homeless tempest-tossed to me I lift my lamp beside the golden door!'"