Evangelical Left Leaders Jim Wallis and Others Respond to Planned Parenthood Videos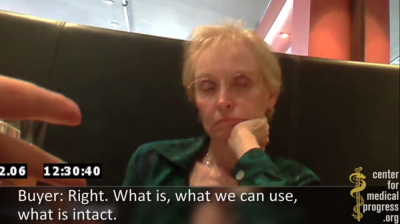 Evangelical Left figures have begun responding to an unfolding scandal involving Planned Parenthood and the alleged sale of organs from aborted children for profit. The authors and columnists join officials from the Southern Baptist Convention, U.S. Conference of Catholic Bishops and others in expressing concern about the allegations.
Controversy erupted last week when an anti-abortion organization, the California-based Center for Medical Progress (CMP), released an undercover video showing Planned Parenthood Federation of America (PPFA) Senior Director of Medical Services Dr. Deborah Nucatola discussing the sale of organs from aborted fetuses. A second video released this week shows Dr. Mary Gatter, president of the Planned Parenthood Medical Directors' Council, negotiating payment for the sale of baby body parts. Both videos have gone viral, with over 2.5 million views of the first, and the hashtag #DefundPP trending on Twitter. CMP has indicated that the videos are merely the first of a series of recorded conversations exposing alleged wrongdoing by Planned Parenthood and its affiliates.
"We confess to being at a complete loss of what to say in the face of humanity's brokenness," wrote Sojourners President Jim Wallis and Sojourners Web Editor Sandi Villarreal July 23 on the web site of the progressive Christian magazine. "Beyond the ethical questions of how an organization receives payment for tissue or the debates around the potential benefits of the patients' donations of fetal tissue, the videos are an in-your-face reminder of our culture's blatant disrespect for life."
Donation of fetal tissue is permitted under U.S. law with the express permission of the mother, but not for profit. Nine states and the U.S. House of Representatives Committees on Energy and Commerce and the Judiciary have launched investigations to determine if officials with Planned Parenthood broke the law. Planned Parenthood receives over $500 million a year in support from federal, state and local governments. The organization's total annual revenue is $1.3 billion.
The column by Wallis and Villarreal follows a July 22 article by Jonathan Merritt, in which the Religion News Service columnist takes The New York Times editorial board to task for leaving the issue unaddressed for a week and then defending the abortion provider.
"We have enough information—and not just in these two videos—to conclude that Planned Parenthood is neither worthy of the public's trust nor many of the millions our government grants them each year," Merritt writes. "American tax dollars should be spent in the most ethical way possible, and we must reject the false notion that Planned Parenthood is the only option for providing the reproductive services to women."
Fellow RNS columnist and Christian Ethicist David Gushee noted on July 22 that "The video seems pretty disastrous for her [Nucatola] and for Planned Parenthood" but observed that the alleged wrongdoing did not occur in a vacuum.
"People who help women end their unwanted pregnancies believe in the moral rightness of the work, so they get used to the less savory part of it. And then the products of their procedures turn out to have value to others. That value must be preserved. And we can talk about it over lunch," Gushee interprets of the cavalier tone of conversation in the video. "Yucky. But we created the beast itself. We chose to create a society in which the trade-off between our sexual practices and fetal life is won by our sexual practices."
The Mercer University professor does not address efforts to end government funding for Planned Parenthood, instead criticizing Republicans, asking "For all your pro-life rhetoric, would you really pull the trigger on rolling back abortion access in any serious way? Would you really want to face the political consequences of making abortion largely illegal, in this libertine country?"
According to The New York Times, Republican-led state legislatures have passed over 200 laws restricting abortion since 2011.
Gushee also questions Democrats, asking "Where's your energy for seriously driving down abortion rates — and being willing to talk about why such a goal would reflect your party's values of concern for the vulnerable and powerless?"
USA Today Columnist Kirsten Powers also wrote about the unfolding scandal on July 22, pronouncing the content of the videos as "stomach-turning stuff."
"But the problem here is not one of tone," Powers charges. "It's the crushing. It's the organ harvesting of fetuses that abortion-rights activists want us to believe have no more moral value than a fingernail. It's the lie that these are not human beings worthy of protection."
Powers quotes former Obama White House staffer Michael Wear who tweeted, "It should bother us as a society that we have use for aborted human organs, but not the baby that provides them."
Powers column has been shared nearly 80,000 times on Facebook, and was widely distributed over various other forms of social media.
Jeff Walton is Communications Manager for the Institute on Religion & Democracy and directs the Anglican program. He graduated in 2001 from Seattle Pacific University and is a member of Restoration Anglican Church in Arlington, VA.