Evangelical NFL tight end Benjamin Watson to retire, wants to focus on family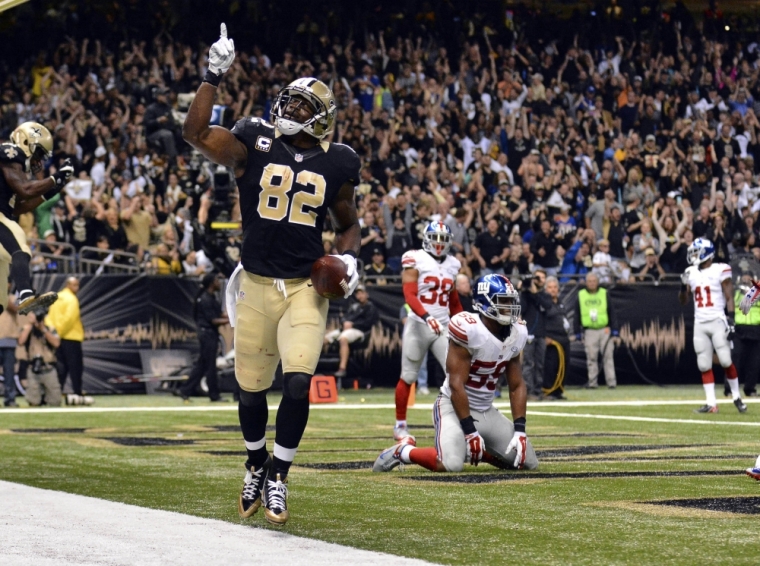 New Orleans Saints tight end Benjamin Watson has announced that he will retire at the end of the playoffs. 
Watson, a 15-year NFL veteran who has also played stints with the New England Patriots, Cleveland Browns and Baltimore Ravens, announced last week that he will hang up his cleats to focus on his family.
The University of Georgia graduate, who is the father of five children, announced with a touchdown celebration earlier this year that his wife, Kirsten, is pregnant with twins.
"It's time. It's time to be done," Watson said in a video shared by NFL Films. "I am going to finish strong."
After 15 years of football, @BenjaminSWatson is ready to hang up his jersey and fully enjoy his #1 job as a father of five, as he awaits his two newest additions. #NFLFilmsPresents: Ben Watson@Saintspic.twitter.com/pXnYlXL7hB

— NFL Films (@NFLFilms) December 27, 2018
In the video, Watson admitted that he previously contemplated retirement after he tore his Achilles tendon in his first preseason season in Baltimore in 2016. He took the year to rehab and write a book encouraging men who are going be fathers called The New Dad's Playbook: Gearing Up for the Biggest Game of Your Life.
Watson explained that it was a former teammate, Tedy Bruschi in New England, that taught him the importance of putting aside the identity as an NFL player to be a father to his kids.
"We have so much of our identity wrapped up in football, as it should be, that if it is not going well, sometimes, I am in the dumps or I feel like my self-worth took a dip. One thing somebody told me, a guy named Tedy Bruschi, 'when you come home, you got to be dad," Watson said in the video. "Whatever happened at work, to the best of your ability, you gotta leave it at work.'"
After rehabbing his injury, Watson returned to play the 2017 season with the Ravens. He contemplated retirement again last offseason as he was a free agent yet again. But a call from the Saints with an offer to rejoin the franchise for a second stint encouraged him to return to New Orleans for another season.
Although Watson's receiving production was not quite to the level of his 2015 career year with the Saints, Watson caught two touchdowns, including quarterback Drew Brees's milestone 500th career passing touchdown.
"I wouldn't want anybody else in this world to catch that ball," Brees told Watson on the sideline after the score.
As the Saints will go to the playoffs with the No. 1 seed in the conference, Watson will look to win his second Super Bowl before his playing days are officially over. He won his only Super Bowl in his rookie season in 2004 with the Patriots.  
Throughout his NFL career, Watson was known for being a great teammate, a hard work ethic and his hustle on the field.
He will be remembered by some for one of the "greatest forgotten" plays in New England Patriots history when he ran nearly 100 yards to chase down cornerback great Champ Bailey to prevent him from scoring a touchdown after an interception in a playoff game.
Watson is also a two-time finalist for the prestigious Walter Payton Man of the Year award, which is given to an NFL player to honor his charity and volunteer work.
He is a devout Christian who is not afraid to speak publicly about his faith or his pro-life views about abortion and Planned Parenthood. In the past he has spoken at events like March for Life and Evangelicals for Life.
The Watsons have donated ultrasound machines in 2018 to pro-life pregnancy centers in Maryland and New Orleans. The NFL player received the Evangelicals for Life Pro-Life Public Service Award. 
Also passionate about race relations in the United States, he wrote a book titled Under Our Skin: Getting Real about Race. Getting Free from the Fears and Frustrations that Divide Us. He held a forum in 2017 at a Florida megachurch on race and faith that included other former NFL players, commentators and coaches.
Other issues he continues to tackle are poverty and sex trafficking. Through Watson's One More Foundation, the Watsons host an event every year called the Big BENefit, where 25 underserved parents around the city Watson is playing in that season are given gift cards to help them buy Christmas gifts for their children.
Watson also participated in trips to the Dominican Republic to talk about International Justice Mission and its fight against sex trafficking. He met with Dominican Vice President Margarita Cedeño de Fernández in June on behalf of IJM to discuss efforts to combat sex trafficking.