Evangelicals Voted for Trump Out of Fear, Obama 'Really, Really Scared' Them, Matt Chandler Says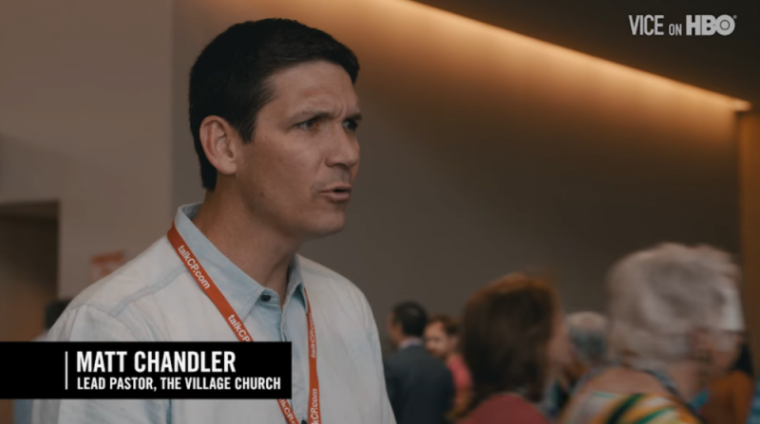 Some evangelicals "frightened" by the leftist push of transgender "bathroom bills" were triggered into voting for whoever was against it and "lost their souls" in the process, says Matt Chandler, pastor of The Village Church in Highland Village, Texas.
In a clip from a new episode of Vice's HBO series, where he discusses evangelicalism, Chandler explained that liberals, particularly those that live in cities, believe that America is more liberal than it actually is.
"I think some of the blind spots on the Left, is that the Left, specifically city Left, feels like the country is more progressive that it actually is. And the more it presses, the more it makes conservatives dig in their heels," Chandler said.
"When the bathroom bill had passed and I'm telling you, people were terrified by that bathroom bill. More than anything else, the thought that their children were going to be in a bathroom with the opposite sex, right? And I know all the arguments around that, but I'm using the language that would make sense to most conservatives, that made them go, whoever the opposition is to that I'm voting for, and then they lost their soul in it. Many of them did," he said.
When asked why most evangelicals voted for Trump, Chandler answered, "I think people are frightened. I think they're frightened at the speed at which things are changing culturally. And so I think they began to grasp for something that might help."
The Obama presidency, he added, "really, really scared evangelicals, and without any kind of help from pastors and ministers to help their people understand, the news media just whipped us into a frenzy and made people feel desperate."
In the run-up to the 2016 presidential election where President Donald Trump emerged the winner, multiple states such as Texas and North Carolina drew national attention for bathroom bills that angered the LGBT movement.
In May that year, the Obama administration also sent a letter to public schools requiring that transgender students be allowed, among other things, to use bathrooms corresponding with their gender identity.
"A school may provide separate facilities on the basis of sex, but must allow transgender students access to such facilities consistent with their gender identity. A school may not require transgender students to use facilities inconsistent with their gender identity or to use individual-user facilities when other students are not required to do so. A school may, however, make individual-user options available to all students who voluntarily seek additional privacy," the letter stated.
Just months after his election however, President Trump significantly rolled back the protections offered by the Obama administration's letter but noted that schools must protect transgender students from bullying.
In his interview, Chandler also noted that young people were being turned off traditional churches by "a sense of hypocrisy."
"My experience with the 'de-churched,' that's what I would call them, those who grew up in church and have left is that it's a sense of hypocrisy that they picked up on. A kind of cowardice among the church to address things that are serious and significant pains of our day," Chandler said.
"So whether that be domestic violence which the church has just been painfully quiet on, or even things like racial reconciliation, which, man, you step into those spaces, you're going to draw a lot of flak from the evangelical world.
"But I think especially around topics like homosexuality. We are quick to say it's a sin, you may not understand, which I'm not going to disagree that I would think from the Scriptures that that's not what ultimately God intends. But to pretend like that we're not talking about human beings with souls who sometimes are deeply conflicted, it's just a great error. And to be right the wrong way is to be wrong," he said.