Evangelist Acton Bowen Jailed for Alleged Sex With Young Boy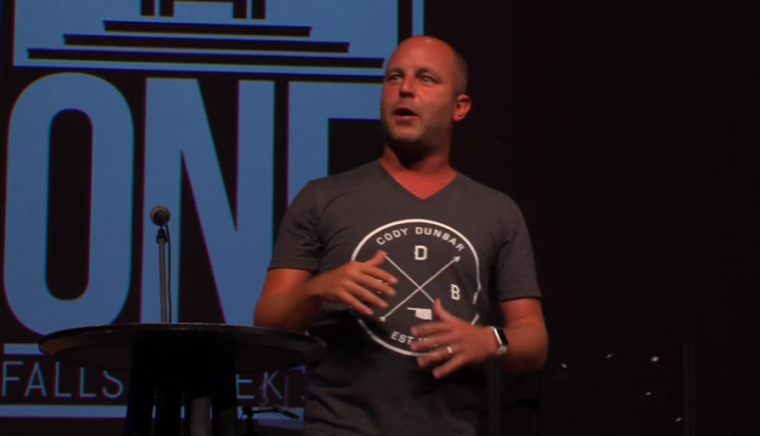 Acton Bowen, a popular, married and "highly respected" Alabama evangelist who served as chaplain for Team USA at the Summer Olympic Games in London in 2012 and was once recognized as one of America's leading student pastors, was arrested by police in Hoover, Alabama, Tuesday on child sex charges involving a young boy.
Bowen, whose full name is Paul Edward Acton Bowen, 37, from Etowah County was taken into custody by Hoover police at about 12:35 p.m. Tuesday, according to AL.com. The boy involved in the case is said to be older than 12 but younger than 16.
The evangelist who founded Acton Bowen Outreach Ministries was charged with second-degree sodomy, enticing a child to enter a vehicle or house for immoral purposes, and second-degree sex abuse.
On his now suspended website Bowen, who wrote two books aimed at youth, including the 2007 publication Escape the Noise: A Thirty-Day Devotional Journey for Students, is described as someone whose "only passion has been to connect people with the one, true God." He is also noted as a co-host of Top3 on the JuceTV Network and a regular contributor on Fox News in New York where he serves as a correspondent on Faith and Religion. Other publications listed him as once a personal friend and spiritual mentor of pop singer Justin Bieber.
Hoover police Capt. Gregg Rector described the case against Bowen as "disturbing."
"This is certainly one of the more disturbing cases that we've investigated in quite some time,'' Rector told AL.com."Mr. Bowen is in a highly-respected position of influence and he is trusted by many. We believe he betrayed that trust in the worst kind of way."
Rector said the victim in the case is an underage family acquaintance who "is currently doing well and has been in a safe environment since police were first notified."
He said the Hoover Police Department's Special Victims Unit first launched an investigation into the case against Bowen three weeks ago. Warrants were issued for his arrest on Monday.
"When we first learned of these accusations we wanted to make sure we investigated thoroughly in order to get the truth,'' Hoover Police Chief Nick Derzis said. "The victim in this case is a brave young man and he should be commended for coming forward. He and his family deserve our best effort and we believe that we've accomplished that. We will continue to work on their behalf as this troubling case progresses."
In a statement Wednesday, Trinity Broadcasting Network, which owns a minority interest in JUCE TV, said they were "shocked" by the charges.
"Everyone associated with JUCE TV was shocked and disheartened to hear of the egregious allegations made against Acton Bowen this week. Our prayers go out to those who may have been hurt and victimized. Mr. Bowen made four appearances on JUCE TV, an affiliate of TBN, the most recent last summer, but there are no on-going ties," TBN said.
Evangelist Scott Dawson, a Republican candidate for governor in Alabama, told AL.com on Wednesday that although he is listed on the board of advisers for Bowen's ministry, he denied playing that role.
He admitted to knowing Bowen and using him as a speaker in 2014 at one of his evangelistic events, AtlantaFest, but "never noticed anything that caused concern — I was not on his board."
Dawson previously endorsed Bowen, according to AL.com.
"As a gifted author and powerful speaker Acton clearly communicates what God's Word says about life and purpose. Experiencing his ministry on stage or in print will impact your life in a profound and irreversible way," he wrote.
When asked about the endorsement, Dawson said: "Sad. I've heard him speak and he was good. I've realized that God will always work through us when we speak His word. But it's my responsibility to live a life for Him to work in me."
In a message sent to his campaign team on Bowen's arrest, he called it "heartbreaking."
"When I got the news it surprised me — then I had to decide how to respond. Preacher? Politician? Neither. We respond as a follower of Christ. When I heard that I was listed as an adviser to him, it was a total surprise, but again, I am the least impacted. Let's pray for Acton and his wife. Pray for the family. We don't know what has happened or the result that will take place. All we know is that every time this happens it causes the world to doubt. Let's commit ourselves to be found faithful," he said.
Gadsden attorney Trenton Garmon, who also worked as an attorney for former Alabama Chief Justice Roy Moore during his failed campaign for U.S. senate last year, is listed as the attorney on record for Bowen's ministry, according to AL.com.
Bowen was released from police custody early Wednesday on $90,300 bond.