Evangelist Reinhard Bonnke Who Led Millions to Christ Announces 'Farewell Crusade'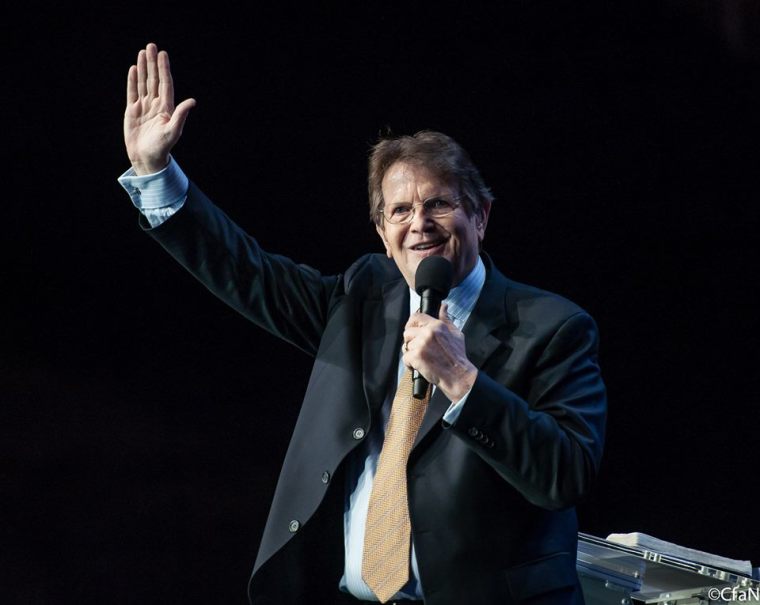 Prominent German-born evangelist Reinhard Bonnke, whose ministry has led 76 million people to Christ since 1974 and has had a profound impact on the continent of Africa, has announced his African "farewell" crusade.
The 76-year-old founder of the evangelist ministry Christ for all Nations, which has helped over 75,913,155 people make salvation decisions over the last three decades, will return to Nigeria to hold his "Farewell Gospel Crusade," where he plans on "passing the torch" to a younger generation of evangelists led by with CfaN's lead evangelist and Bonnke's successor, Daniel Kolenda.
The crusade will be held Nov. 9 through Nov. 12 in Lagos.
"The Lord spoke to me, that I should go back for one more crusade in Africa," Bonnke said in a statement. "I want not only to see a gigantic harvest of souls, but TO PASS MY BURNING TORCH to this generation. Recently, I traveled to Lagos, Nigeria to meet with the spiritual leadership there and they gave their unanimous support. I believe God is going to do something I have never seen before."
It was in Lagos where CfaN held its largest crusade to date — the Millennium Crusade in 2000. Over the span of the five-night crusade, over 6 million people attended, while as many as 3.4 million made decisions to accept or reaffirm their faith in Christ.
"Bonnke's return could inspire another historic global attendance as that of the Lagos," the press release claims.
The November 2017 CfaN crusade will also include day sessions that will focus on "passing the burning torch" to other leaders and church workers.
"[T]his crusade will be like none we have seen before," CfaN African Director John Darku said in a statement. "There is great excitement from all the churches in the country, and we are expecting a spectacular harvest of people coming to Christ."
Darku added that CfaN will recruit over 500,000 counselors, 200,000 intercessors, a 23,000-person choir, and a security team of over 10,000.
"I'm thrilled to join with Reinhard in this vision, and know that the results of this crusade will be farther-­reaching and of even greater consequence than we can even imagine," Kolenda said in the statement.
CBN News reports that Bonnke's missionary outreach in Africa began in 1969 when he and his wife, Anni, and their son moved to the African nation of Lesotho and served as missionaries there for seven years.
It was during that time that Bonnke said he developed a vision that he was to help win over the African continent in the name of Jesus and he started praying for souls to be saved across Africa.
In his statement, Bonnke said that vision is still "ever-present" and that it has never left him.
"Millions in Africa now know the Holy Spirit, thanks to one man's incredible commitment to a singular God-­given vision, and to his forming of a longstanding organization and formidable team of anointed future leadership around that vision," Peter Vandenberg, CfaN's executive vice president, said in a statement. "This November, Evangelist Bonnke will enter and leave Africa possibly for the last time, bidding a bittersweet farewell to a continent and people who he very much loves and have been the center of his life's mission."
CBN Senior International Correspondent George Thomas, who grew up in Africa, can testify to the impact that Bonnke and his ministry have had on the continent.
"I don't think personally that there is one single man or ministry that has had this much of a profound impact on the length and the breadth of this beautiful continent than Reinhard Bonnke," Thomas explained.