'Every Christian Is a Burning Bush,' and Other Quotes From Tim Keller at Movement Day 2013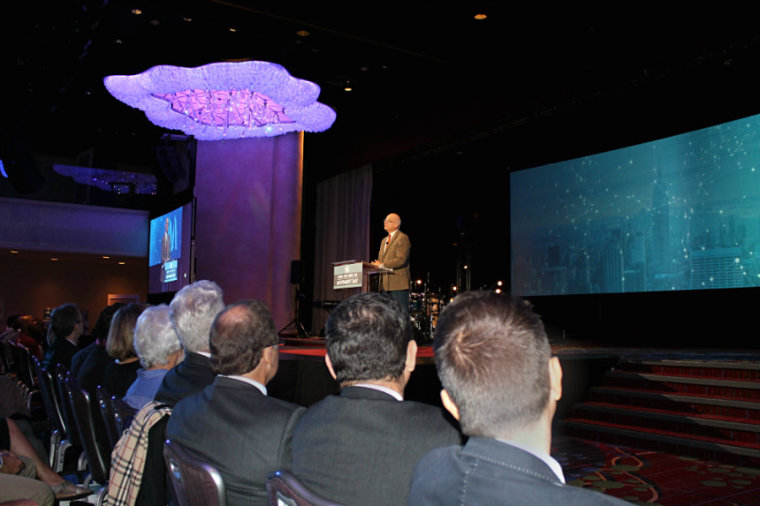 NEW YORK — Tim Keller, pastor of Redeemer Presbyterian Church in New York City, spoke at the fourth annual Movement Day gathering and told nearly 2,000 pastors, ministry and community leaders, and professionals in attendance that "every Christian is a burning bush, every Christian is a Mount Sinai."
Using the Acts 2 narrative of Pentecost, Keller spoke on the subject of movements, calling the birth of the Church the greatest movement in history.
Below are 10 excerpts from Keller's remarks on Movement Day 2013, a conference that brought together Christians from more than 300 U.S. cities and 30 countries around the world to help catalyze "leaders changing cities through Gospel moments."
Defining a movement:  "A movement is something that is usually marked by three things, or it's said it's marked by three things. First of all, a movement is something that's united around a common, compelling vision. It's got a broad base of involvement and participation, which is very broadband and spontaneous. And it's energized by a power that leads to innovation and sacrifice."
Signs of Pentecost: "There were three physical phenomenon that are associated with the Day of Pentecost and the descent of the Spirit, and those three things are: the sound of a violent wind, the appearance of tongues of flame over every believers' head, and miraculous cross-cultural utterance."
Sound of a violent wind: "This is God's power coming from the outside, not just from out in the world into their hearts, but outside of the world from heaven. … The sign tells us what was happening when the Spirit of God came, and that what was going on was not a psychological or internal experience. … This very idea puts us on a collision course with our culture, because here's what the culture tells us: your problems come from outside of you and you have within everything you need to deal with them. … The main problem, the Bible says, is in your heart is your sin, and the only solution is for a power to come in from way outside. Not just outside the world into it, but outside of the world."
Tongues of flame: "In the Old Testament, when God's presence, His royal, raw shekinah glory presence shows up, it often shows up as fire. … You remember of course when He appears to Moses in the burning bush, He appears as fire and says take off your shoes, you're on holy ground, God says. When God comes down on Mount Sinai to make His covenant with His people, it's fire, there's fire and smoke. The power of God, the glory of God — uh oh. And on the Day of Pentecost, every Christian believer now is a burning bush. Every Christian believer is a Mount Sinai. This fiery power, the glory of God, the power of God comes down into every believer."
Every single believer: "Let me just suggest something to you, in that room, in that upper room there were basically two kinds of people. There were apostles, and there was everybody else. Now would you say the apostles were ordained clergy? Yes, I would say they were the most ordained people in history. … Jesus trained them, Jesus came back from the dead in order to make them clergy. He instructed them for three years and then, of course they were still, like most of us after three years, they were useless. Then he comes back from the dead, and he instructs them again for 40 days. So you could say the apostles were the most ordained people in history. … But on that day, it wasn't just the apostles that got the tongues of flame. Every single believer, every single...the humblest, most illiterate, most untrained believer in that room became a burning bush. What does that tell you about the Christian movement? It's a movement, isn't it? That power comes into every single Christian — that's broad-base, that's grassroots, that's spontaneous."
The Holy Spirit: "What is it that the Holy Spirit does? … It tells you when the Spirit of God came down on Jesus Christ at his baptism, there was a voice. It was from the Father and the Father said, 'This is my beloved child in whom I am well pleased.' In Romans 8:16 it says 'the Spirit bears witness with our spirit that we are children of God.' In Galatians 4:6 it says the Spirit comes into our hearts crying 'Abba, Father.' Here's where the power is. The Spirit of God's job, Jesus says this in all of John 14, 15 and 16, he basically says the Spirit's job is to take what you know about me with the head and make it real to your heart. The Spirit's job is to assure you that you are loved by the Father because of what Jesus has done. Absolutely assure you. … And when you know you're that loved, that's power. That's power to break through any barrier, that's power to make any sacrifice."
Miraculous cross-cultural utterance: "The fact is that later on in the Bible whatever you think about tongues, say in 1 Corinthians 12, 13, 14 and other places, Paul assumes that the tongues that were being spoken in the Corinthian churches would need to be interpreted. He assumes that if you pray in tongues people aren't going to understand you so somebody needs to interpret. But what happened in Acts 2, whatever else it was, was a miracle in which all the people who were there in Jerusalem who represent all the different peoples on the face of the earth and all had different languages, heard the Gospel in their own language on that day. God deliberately, deliberately, miraculously made sure that on that day no one culture and no one language had precedence over any other."
Christianity's compelling vision: "Christianity was the most powerful movement that the human race has ever seen. It has affected more people than any other human movement, it has affected the world more deeply, more profoundly than any movement and if somebody might want to argue that, they would lose. And you know why? We said movements have a compelling vision. Here's a compelling vision for you: a reunited and redeemed humanity around the person of Jesus Christ. There's a compelling vision. Preach the Gospel to every nation, that's your compelling vision."
On Acts 2:42-47: "Generally speaking, we say movements are united by compelling vision, not just by rules. Movements have spontaneous broad-based appeal and not all controlled from the top by people in authority. And movements, of course, have this energy for innovation, whereas institutions conserve and they try to retard change. … Almost as soon as the church is born, it begins to develop some institutional marks. ... There are rules, there are some things you have to believe. There are some things worth conserving. You can't change the doctrine of Christianity every two months in the name of innovation, and expect to have any kind of unity. You can't just believe anything you want to believe — that's institutional."
Movements as institutions: "Movements have to institutionalize to a degree, or they won't stay dynamic. … At some point you have to say, 'What do we believe and what do we stand for?' And you have to guard it. Or you say spontaneous, grassroots, every believer is a burning bush. Does that mean there shouldn't be clergy? Does that mean there shouldn't be pastors or ministers? Does that mean there shouldn't be leaders? As everybody knows, as great as it is for a movement to have lots of grassroots participation, if you don't have someone who actually leads, it's chaos. Therefore, all movements need to some degree institutionalized in order to stay [a] movement. ...
"Institutions have to constantly be saying 'Have we gotten too far? … Are we too concerned about rules? Have we lost the vision? Institutions constantly have to repent of being too institutional. ... Movements at some point have to settle down with it, and they have to say unless we have some rules and unless we have some things that we're conserving, we're really not going to be reaching anybody, cause in the end we're just going to dissipate. We're going to be changing so much that nobody knows what we stand for any more. We're going to be so completely grassroots that nobody knows who's in charge."
Movement Day 2013 took place at the Marriott Marquis in New York City's Times Square on Thursday, Oct. 10, 2013.