EXCLUSIVE: Kendrick Brothers' Co-Executive Produce FamilyLife Film 'Like Arrows' (Trailer)
EXCLUSIVE: Kendrick Brothers' Co-Executive Produce FamilyLife Film 'Like Arrows' (Trailer)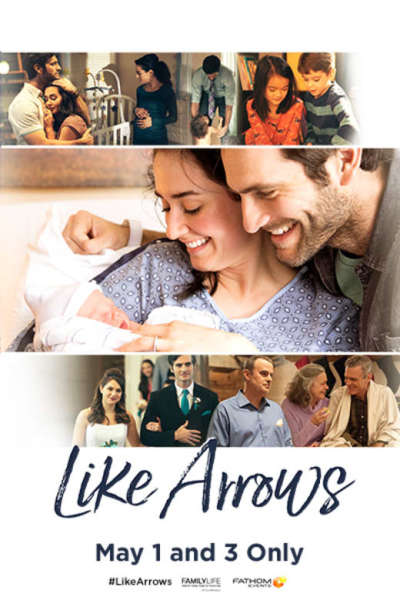 The upcoming film "Like Arrows" explores the impact parents have in shaping their children's lives and The Christian Post was given an exclusive first look at the film's teaser trailer.
"Like Arrows" is a FamilyLife film, co-executively produced by the Kendrick Brothers, that will hit theaters in the spring.
As seen in the teaser trailer, the film will focus on the important role a parent plays in the life of their children from birth to adulthood.
"The path a parent chooses is the legacy a parent leaves," the clip reads."
It also cites scriptures from Psalm 127:3-5 which is where the film's title comes from.
"Every parent is facing a battle. Every child is like an arrow in the hands of a warrior."
Synopsis: "When conflict, rebellion and resentment overwhelm their family, Charlie and Alice are forced to change their parenting strategy, and are surprised to find effective, life-long solutions in the one place they had never looked.
"FamilyLife's first feature film explores the joys and heartaches of parenting. Through a journey that unfolds over 50 years, Charlie and Alice discover the power of family, and learn that knowing and living by God's word is the most important key to parenting with purpose."
Familylife Ministries says as well as entertain, "Like Arrows" is intended to provide families educational information on the "importance of centering parenting strategies and home life on God and his word." The film will kick off a new parenting initiative from FamilyLife called "The Art of Parenting," which will include both video and practical resources to help parents on their journey of raising godly children.
Executive produced by the brothers behind "War Room" and "Fireproof" Alex and Stephen Kendrick, as well as FamilyLife's Barbara and Dennis Rainey and Bob Lepine, the film's website reveals that the parenting movie will have a limited release and will be in theaters for two nights only, May 1st and 3rd.
For more information on "Like Arrows" and to stay up to date on the family film, click HERE.