'Exodus' Tops Box Office But Christian Consumer Group Gives Film 2.5 Stars for Minimizing God's Role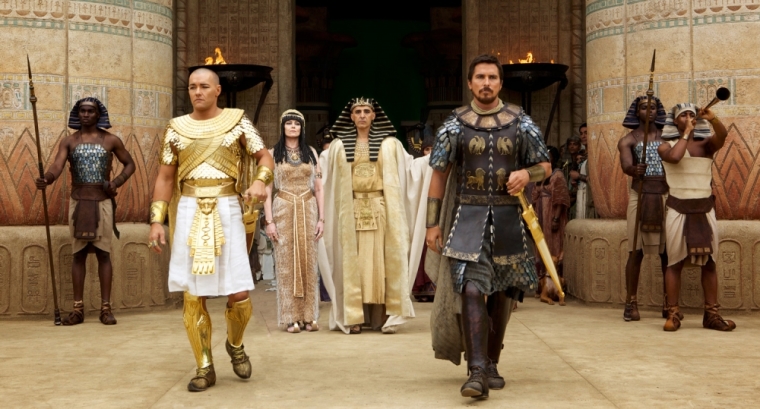 "Exodus: Gods and Kings" received mixed box office news over the weekend, earning $24.5 million in its debut and topping the U.S. box office, but failing to hit any industry heights. Christian group Faith Driven Consumer has meanwhile rated the Ridley Scott film 2.5 out of 5 stars, noting that it largely minimizes God's role in the Biblical story.
The Hollywood Reporter said that the film, starring Christian Bale, earned what industry insiders expected it to earn, but did not produce "the strongest of starts" for 20th Century Fox and Chernin Entertainment film. The film, which focuses on the story of Moses, cost $140 million to make, and will rely on strong earnings in the new few holiday weekends in order to deliver a decent return.
"Exodus" has received a number of negative reviews in the press, while Faith Driven Consumer, which routinely rates Bible-based movies both on their entertainment and faith-based value, gave the production a 2.5 out of 5 stars score.
"At 150 minutes in length, EXODUS: GODS AND KINGS is an overly long, somewhat slow-paced, but nevertheless entertaining, cinematically sweeping epic that's best seen in 3-D," the company writes. It argues, however, that the film takes a skeptical approach to faith and religion, and that God's part in the movie is "largely unnecessary and leaves you wondering if he is perhaps a figment of Moses' imagination."
Faith Driven Consumer reports: "This is not the Bible's spiritual battle between the all-glorious sovereign God and Pharaoh with his impotent gods, but between two very intense men, Moses and Ramses."
"Given that artistic license has been taken to create the central relationship of the film—between Moses and Ramses—very little in the story reflects the biblical account of Moses' God-directed interactions with Pharaoh," the review adds.
In a separate review, the New York Post's Lou Lumenick gave the film a single star, and argued that it offends not just Christians, but Jews and Muslims alike.
Lumenick wrote that the film "is an utterly clueless, relentlessly grim and rambling action epic guaranteed to displease devout Jews, Christians and Muslims alike, amuse atheists — and generally bore everyone."
He adds: "It's hard to imagine exactly who Scott and his committee of writers thought they were making this movie for — it's neither Oscar bait, satisfying popcorn fare nor a remotely faithful rendering of Scripture. Of the many plagues visited upon Egypt and invoked in the Passover Seder, none included giant alligators, as this film would have it."
"Exodus" also received a "B-" grade on Cinemascore, which surveys cinemagoers responses on movie's opening nights.