Explosions in Sri Lanka target churches, at least 185 dead on Easter Sunday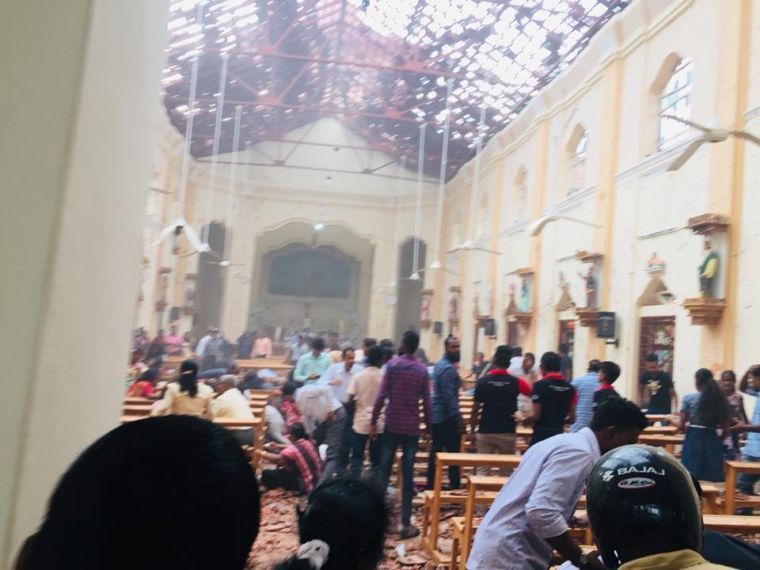 Three churches were attacked in Sri Lanka, with explosions killing dozens of Christians as they celebrated Easter Sunday morning. 
Three hotels — Shangri-La Colombo, Kingsbury Hotel in Colombo and the Cinnamon Grand Colombo — that were holding Easter breakfast buffets were also targeted in the attacks. Two additional explosions were confirmed by media in Dehiwela and Dematagoda areas. 
Police and hospital sources say at least 185 people, including children, have been killed and 469 have been injured in the attacks. 
At least 81 people are reported to have died at St. Sebastian's church in Negombo. St. Sebastian's posted photos of the carnage to its Facebook page showing distressed and injured worshipers and extensive damage to the building. Officials from the church reported that there were 500 people attending Mass at the time of the explosion. 
Local media reports say at least 27 people died at Zion Church in Batticaloa in Eastern Province; 24 people were killed at St. Anthony's Church in Kochchikade. 
The first of the explosions was reported to have occurred around 8:30 a.m.
Prime Minister Ranil Wickremesinghe condemned the violence and has ordered the military and police to launch an urgent investigation into the attacks. 
"I strongly condemn the cowardly attacks on our people today. I call upon all Sri Lankans during this tragic time to remain united and strong," he said in a tweet. "Please avoid propagating unverified reports and speculation. The government is taking immediate steps to contain this situation."
No group has come forward yet to claim responsibility. Police found a suspicious package in Colombo as well as explosive materials in a house near the Dematagoda blast site.
"Heartfelt condolences from the people of the United States to the people of Sri Lanka on the horrible terrorist attacks on churches and hotels that have killed at least 138 people and badly injured 600 more," said President Donald Trump in a tweet. "We stand ready to help!"
"POTUS and I are monitoring the horrific attacks on those celebrating Easter in Sri Lanka. Our hearts & prayers are with the victims & their families," said Vice President Mike Pence in a tweet. "This atrocity is an attack on Christianity & religious freedom everywhere. No one should ever be in fear in a house of worship."
Christians in Sri Lanka have experienced a sharp increase in attacks since last year, with 67 reported cases between January and September, according to the National Christian Evangelical Alliance of Sri Lanka.
The NCEASL said it "deplores" the attacks and is urging the government to find the perpetrators and bring them to justice. It has also called on the global Church to pray for the victims.
Evening services in Catholic churches in the Colombo district have been canceled. All government schools will be closed for the next two days, the Ministry of Education announced.