Exxon's Rex Tillerson: 5 Things to Know About Trump's Likely Secretary of State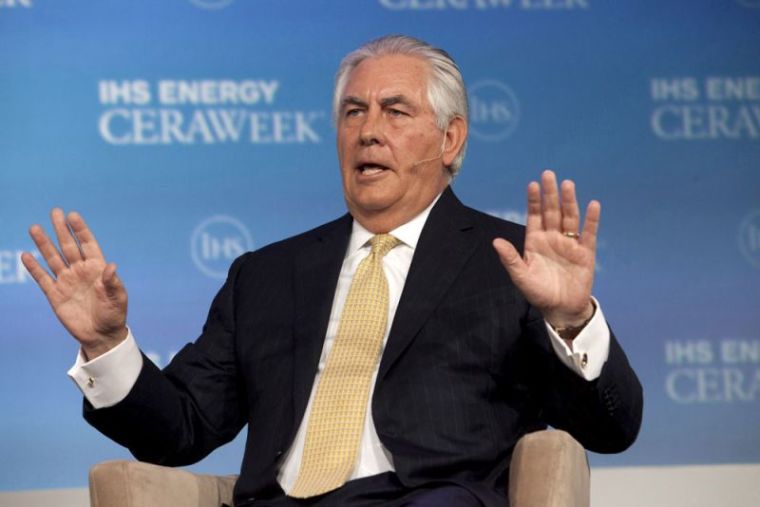 Donald Trump met with ExxonMobil's CEO Rex Tillerson for the second time this week amid reports that the longtime oil executive is the president-elect's top choice for U.S. secretary of State. Here are five things you should know about the businessman from Texas.
While Tillerson, who heads the petroleum giant which earned $16.1 billion last year, has no diplomatic experience, he has long been doing business with foreign governments. Trump met him Saturday morning, his second meeting in less than a week, according to The Guardian.
Several other media reports have quoted anonymous sources in Trump's presidential transition team as saying that Tillerson is the president-elect's top choice.
Here are five thing about the 64-year-old man who is likely to be America's top diplomat.
1. Tillerson has close ties with Vladimir Putin.
Former ambassador to Russia Michael McFaul tweeted Saturday that Tillerson was "very close" to Igor Sechin, CEO of the state-owned oil company Rosneft who is a former deputy prime minister and a friend of Putin since the 1990s. Sechin was a direct target of U.S. sanctions in 2014.
Tillerson "has had more interactive time with Vladimir Putin than probably any other American with the exception of Henry Kissinger," John Hamre, a former deputy defense secretary during the Clinton administration and president of the Center for Strategic and International Studies, told The Wall Street Journal.
In 2013, the Kremlin gave Tillerson an Order of Friendship award.
2. Tillerson spoke against sanctions on Russia.
In his more than 40-year stint with Exxon Mobil, Tillerson has struck business deals around the world, including many projects in Russia with Rosneft.
Speaking about sanctions imposed over Russia's annexation of Crimea, Tillerson said he generally opposes sanctions as imprecise and ineffective, and added he had discussed his view with U.S. officials, according to The Associated Press.
According to CIA assessments, Russia released hacked emails harmful to Democratic candidate Hillary Clinton to help Trump during the November election. Trump's transition team responded in a statement, saying that the officials making the assessment were "the same people that said Saddam Hussein had weapons of mass destruction."
3. Tillerson supported global emissions-cutting agreement forged in 2015 Paris climate summit.
Tiller acknowledged the threat of climate change and the company he heads endorsed a carbon tax and stated its support for the Paris climate agreement.
At a congressional testimony in 2010, Tillerson said his company acknowledges that humans are affecting the climate through greenhouse gas emissions to some degree, but one can't say "to what extent and therefore what can you do about it."
Exxon Mobil is committed to "reducing the risk of climate change in the most efficient way for society."
"The risk of climate change is clear and the risk warrants action," the company's website says. "Increasing carbon emissions in the atmosphere are having a warming effect. There is a broad scientific and policy consensus that action must be taken to further quantify and assess the risks. ExxonMobil is taking action by reducing greenhouse gas emissions in its operations, helping consumers reduce their emissions, supporting research that leads to technology breakthroughs and participating in constructive dialogue on policy options."
However, Exxon is currently facing an investigation by the New York attorney general over accusations that it failed to properly disclose the risks of climate change for years.
"While Rex Tillerson acknowledges the growing dangers of climate change and has expressed support for the vital Paris accord, his actions to counter the threat are what truly count," Natural Resources Defense Council president Rhea Suh said in a statement. "As the nation's top diplomat, he must embrace the spirit of that agreement: a commitment to shift away from the fossil fuels driving climate change and toward cleaner, smarter ways to power our future."
4. Tillerson supported the Boy Scouts admitting gay youths.
After the Boy Scouts of America voted to allow openly gay youths to join their troops and earn their merit badges, Eagle Scout Tillerson said at the organization's national meeting in 2014: "So we've made the decision we're going to change. Now what? No winners or losers. After we make the decision to change, it's the mission," according to The Dallas Morning News.
"He was instrumental in leading the organization through an important period of growth and development, while upholding the long-standing traditions of character and good citizenship that are essential to Scouting's mission," the Boy Scouts said in a statement to USA Today.
5. TIllerson has contributed to several Republican campaigns.
According to the Federal Election Commission records, Tillerson has given $442,284 as direct contributions since 2003, $72,200 as "joint fundraising contributions" and $5000 to a Super PAC. While he has contributed to George W. Bush, Mitt Romney, Mitch McConnell and Jeb Bush, he is not known to have given any money to Trump's campaign.