Facing Deportation, 19-Year-Old Aspiring Pastor's Faith in God Still Strong (VIDEO)
Facing Deportation, 19-Year-Old Aspiring Pastor's Faith in God Still Strong (VIDEO)
A 19-year-old man who was born in Mexico but grew up in the United States might be deported Thursday.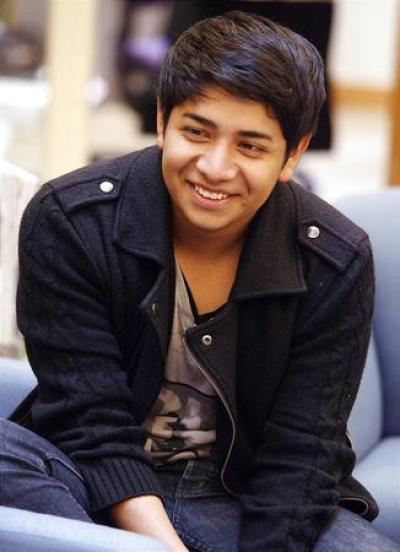 His story is not new; the U.S. government deported over 400,000 people this year alone – a record that is expected to be broken next year. However, Deyvid Morales is unique in the sense that, unlike many undocumented immigrants who are deported, he has had the opportunity to speak out about his ordeal.
Ever since the aspiring pastor was arrested by immigration officials on his way to Bible college in Louisiana, Morales has become an outspoken advocate of the DREAM Act – the immigration reform bill that will give undocumented youths the opportunity to earn citizenship by going to college or serving in the military – by using his story as a way to get people to understand the implications of deportation on individuals and families. In the process, he has become somewhat of a celebrity in his hometown of Salt Lake City, appearing in print and on TV, and radio to share his perspective on the immigration issue.
Morales has also been outspoken about his Christian faith, which has been applauded by many but criticized by some, including his own lawyers who have told him to tone down the talk out of fear from repercussions from immigration judges.
When asked why that could happen, Morales told CP: "It's like I'm challenging them and it's like I'm saying that God is with me," adding that he does not fear what could happen as a result of his speaking out publicly about his faith and his belief that God is watching over him.
Nonetheless, there is a possibility that Morales will lose his case on Dec. 8 and face deportation. However, he has tried to remain positive and keep faith that he will be able to stay in the U.S. He has not made any arrangements to move to Mexico.
"I don't even know the map of Mexico, so I don't know where I will end up," he said. "And I haven't really even made arrangements because if I feel like I start thinking 'what if I get deported?' I'll get into that negative mindset of, 'I may get deported.' So even if I do get deported, I still don't want to think about it until it happens. It's kind of ironic, but I just don't want to get into that negative mindset of ... because I'm trusting God and the whole world knows I am trusting God, and I don't want to seem like I'm interfering – just in case God doesn't show up."
Morales said that his faith helped him endure the fear that came with being arrested by immigration officials in January and he believes it will help him this time, as well – even if he does end up being deported.
"I'm really hoping and I have full faith that God will save me from this one," he said. "When I got arrested, God told me, 'Hey, chill out. Relax. I got this one.' I know that whatever happens, I will be saved, no matter where I am."
Keeping quiet about his faith is an impossibility for Morales, who says it is just a part of who he is and how he considers issues.
"Once you get into this activism and see how much injustice there is is going on, you just can't be quiet. That's just not in you anymore," he said.
Instead of living everyday in fear and anticipation, Morales says his faith has helped him remain positive about his outcome, despite colleagues who have told him he is "getting ahead" of himself.
"But I think that's where faith kicks in," Morales said. "You declare what you don't see and you believe what's not there yet. That's why I don't really mind if people think I'm saying too much or I'm too out there or I'm too optimistic or I'm too delusional of life. Because if you're not too delusional on life, then why are we living? I have to be optimistic about life, no matter what the circumstances are."
Aspiring Pastor Faces Deportation
Although the country, as well as Christians, are strongly divided on the immigration issue, with viewpoints ranging from granting amnesty to all undocumented people to kicking them all out and putting up electrified border fences, Morales does not want to appear like he is trying to force Christians to share his views on immigration.
"I don't want to push people into liking something or to being active in something or to agree or disagree on a subject. I would just tell any Christian to care about something, to care about someone. It doesn't have to be immigration. They can care about a homeless person down the street or a family that needs food ... I really don't want to tell people, 'Hey, you should care about immigration!' I just want people to care about someone no matter who it is."
However, Morales does encourage people to learn more about the issues – not just the numbers and the dollars, but the people.
"Statistics are just numbers until you meet [someone]," he said. "So I encourage people to, before they accuse anyone – and it doesn't have to be immigration – it can be a different subject, but before you accuse anyone, just try to get to know them and know that what you hear on Fox or CNN is not act actually true."
"I just want people to realize that this is real. It's not just one more news report. These are families. These are people who are being affected by this system that needs to be fixed. I just want people to realize that, in their tongue, they have the power of life or death. And we can either build America or destroy it by what we say. So, I just want people to be positive, no matter what situation they are going through."
Although Morales' outspokenness on immigration and his Christian faith has led to verbal attacks in person and online from people who have called him a "criminal" and even questioned the authenticity of his faith, Morales said he does not pay any attention to them.
"Somebody once told me that 'Your enemies only have as much power as you give them,' so if I stop and think about all the negative comments then I will get negative also," he said.
Despite the controversy surrounding him and the issue he represents, Morales does not resent the criticism that has been directed his way. Instead, he told CP he just wanted to use this opportunity to spread a positive message.
"I also want to thank everyone who has supported me and also those who don't. And I want everyone to know that if you consider yourself a Christian or a Christ-follower, you should care about someone else. It can be your uncle or it can be your neighbor or someone down the street. But the thing is if you have Jesus Christ in your heart, that love is in you and it has to come out because it can't be there forever. So, they should care about someone or something."
Morales' immigration trial will be held on Thursday in Salt Lake City, Utah. If his request for residency is denied, he will volunteer to leave the country to avoid direct deportation. Morales said he will apply each year for a visa to enter the country.