Family, friends give Luis Palau a final farewell during memorial service: 'Simplicity of faith'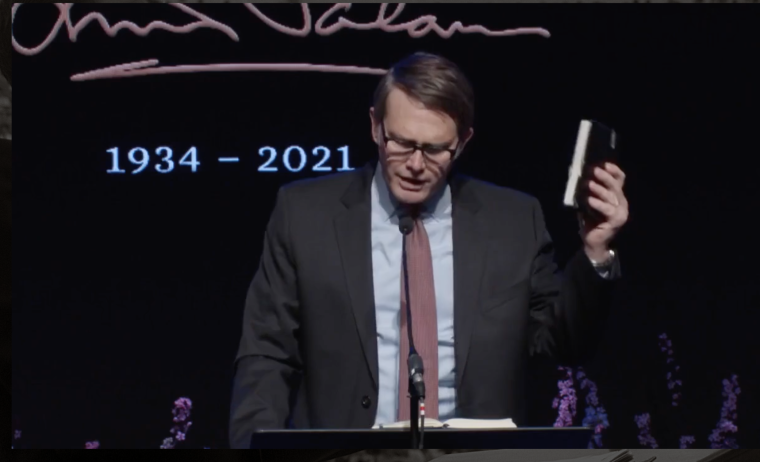 Luis Palau's family and close friends recalled the renowned evangelist's focus on Jesus, his seriousness for holiness, his love for all people and his humility during a livestreamed memorial service Saturday afternoon following his death earlier this month. 
Rich McKinley, the founding pastor of Imago Dei Community in Portland, Oregon, said the evangelist told him that he would use every opportunity given by his cancer to preach about Heaven. He said he knew where he was going: "to be with the Lord in heaven."
McKinley said Palau was given only about three months to live by the doctors when he was diagnosed with lung cancer in 2018, but he lived for three years. In his speech, McKinley said that Palau "had a short account with sin" and was "known for loving and caring for the local church."
"He took holiness seriously, not just as a thing to talk about," McKinley told the audience. 
The memorial service was attended by a small group of people but was livestreamed on the Luis Palau Facebook page and his personal website.
The evangelist died on the morning of March 11 at the age of 86 after the cancer battle.
Kevin Palau, one of the Argentina-born evangelist's sons, recalled how his father loved and cared for his family and gave his wife credit for his ministry as he often stayed away from home to share the Gospel with people around the world.
Palau was known for gathering large numbers of people for outdoor revival events that include music and preaching, often cooperating with local congregations. For example, Palau brought together more than 1,000 New York City churches to organize around 60,000 people in Central Park for an evangelism event in 2015.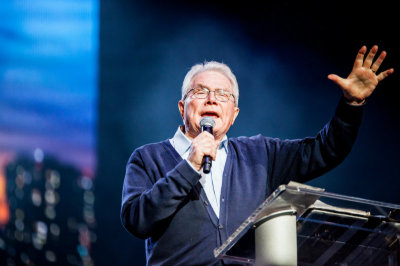 Keith Palau, another son, recalled that his father loved to write letters to family, friends and ministry partners. The preacher would end his letters with Psalm 20.
Palau's staff from Latin America, where he was tremendously popular, also shared video messages to pay their respects.
Josh White, the lead pastor of an Oregon-based family of churches called Door of Hope, said Palau's "sophistication flowed out of the simplicity of faith." 
White said Palau kept the cross at the center of everything, which helped him in holiness. He said Palau's legacy is that "he shows the world the simplicity of the Gospel."
As Palau is credited with leading more than 1 million people to Christ, White stressed that Palau's ministry will carry on. 
Pastor White recalled that Palau saw everyone with the same eye — from the heads of the state to servers in restaurants — and shared Christ with them all.
Andrew Palau, another son, shared that his father wanted the family "to only point to Jesus" at his memorial service and not make it "a big affair."
"We'll disobey him for one last time," the son remarked. 
Andrew Palau said his father wanted his headstone to say this: "Here lies Luis Palau. He wasn't perfect, but he sure loved Jesus."
Andrew Palau, who recently preached at an evangelistic event in Florida, also shared that John 10:10 was his father's favorite Bible verse.
"The thief comes only to steal and kill and destroy; I came so that they would have life, and have it abundantly," the verse reads. 
Wendy Palau, the evangelist's daughter-in-law, said that she learned from her father-in-law to "never move past" the Gospel "and always share it."
During his last days, she said, he encouraged her to "dream big."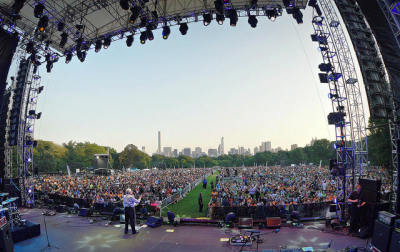 In 2018, the same year that the autobiographical film "Palau the Movie" was released depicting the evangelist's life story, Palau announced his cancer diagnosis. 
"To me, the first thing you do is cry," Palau stated in the announcement. "I think, 'Oh wow, I can be gone in a few months.' And one silly thought that came to mind is that I won't be able to pick up the phone and talk to the boys and hear their voice and talk to my wife."
"So everything is ready, and if the Lord wants to take me home in the next two months or two years, then I'm ready," he assured.
Palau continued to battle over the next couple of years. The evangelist reported in February 2020 that he was "actually feeling quite well," with the disease being "kept at bay." But at the end of February 2021, Andrew Palau announced that his father entered hospice care since his health condition "took a turn for the worse." 
Born in Buenos Aires, Argentina, in 1934, Palau moved to the United States in 1960 to engage in ministry work, eventually headquartering the Luis Palau Association in Portland, Oregon.
Palau is survived by his wife, Patricia; sons Kevin, Keith, Andrew and Stephen; daughters-in-law Michelle, Gloria and Wendy; sisters Matilde, Martha, Catalina, Margarita and Ruth; brother Jorge; and 12 grandchildren.