Fareed Zakaria Says Intolerant Liberals Are Silencing Conservatives
'Liberals think they are tolerant but often they aren't'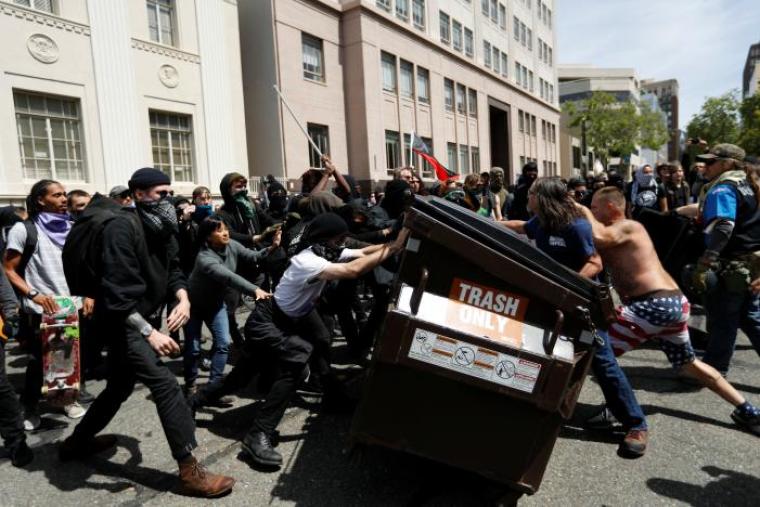 Noted left-leaning journalist Fareed Zakaria is decrying the intolerance coming from the left, particularly the overt censorship and intimidation of conservative speakers at university commencement ceremonies and on college campuses more generally.
For his "What In the World" segment of his Sunday CNN show "Fareed Zakaria GPS", Zakaria highlighted several episodes in the past few months where liberal campus "thought police" have shown themselves the intolerant people they purport to loathe.
"Liberals think they are tolerant but often they aren't," Zakaria said.
"American universities seem committed to every kind of diversity except intellectual diversity. Conservative voices and views are being silenced entirely," he explained, recounting how Notre Dame students walked out on Vice President Mike Pence at their graduation and students at Bethune-Cookman University students turned their backs on and booed Education Secretary Betsy DeVos during her speech.
Similarly, serious conservative thinkers like Heather McDonald and Charles Murray and right-wing provocateurs like Ann Coulter and Milo Yiannopolous have also faced intimidation in recent months from leftist groups who have prevented them from speaking on college campuses, situations that have often turned violent, he noted.
Meanwhile, liberal graduation ceremony speakers are not experiencing these indignities.
The hostile approaches these liberals are taking to speakers who espouse ideas with whom they do not agree is not even "liberal" in its truest sense, the host of CNN's flagship foreign policy show continued. 
"The word liberal in this context has nothing to do with today's partisan language, but refers instead to the Latin root, pertaining to liberty. And at the heart of liberal tradition in the Western world has been freedom of speech. From the beginning, people understood that this meant protecting and listening to speech with which you disagreed," Zakaria explained.
A strain of anti-intellectualism exists on the political right, he continued. But that now exists on the left too.
This left-wing version displays "an attitude of self-righteousness that says we are so pure, we're so morally superior, we cannot bear to hear an idea with which we disagree," he said.
He urged people on both sides to "come together in a common conversation" and speak seriously and respectfully.
The video of this segment, which was posted to CNN's Facebook page Sunday, has already received over 3.4 million views. 
"Recognizing that while we seem so far apart, we do actually have a common destiny," Zakaria said.
The Christian Post reported in March that a mob of Middlebury College in Vermont, students shouted down American Enterprise scholar Charles Murray who was supposed to give a lecture on his book Coming Apart. He was unable to speak and a liberal professor who accompanied him was assaulted by someone in the mob, sending her to the emergency room with a neck injury. According to the Washington Post Monday, Stanger is stuffering physically rom her oderal.
Last Tuesday, Middlebury disciplined 67 students for their role in the disruption, 41 of them receiving "sanctions" and the remaining 26 students slapped with punishments ranging from "probation to official College discipline," as reported by The Washington Examiner.
In a tweet the night he was to speak he wrote that though the Middlebury staff was professional in handling the situation the students were "scary."
"If this becomes the new normal, the number of colleges willing to let themselves in for an experience like Middlebury's will plunge to near zero. Academia is already largely sequestered in an ideological bubble, but at least it's translucent. That bubble will become opaque," Murray said at the time.
Zakaria is the author of In Defense of a Liberal Education, a New York Times bestseller in 2016.