Inside a father's fight to save his son in 'trans sanctuary state' of California
'If you love your children, you need to flee California,' state lawmaker warns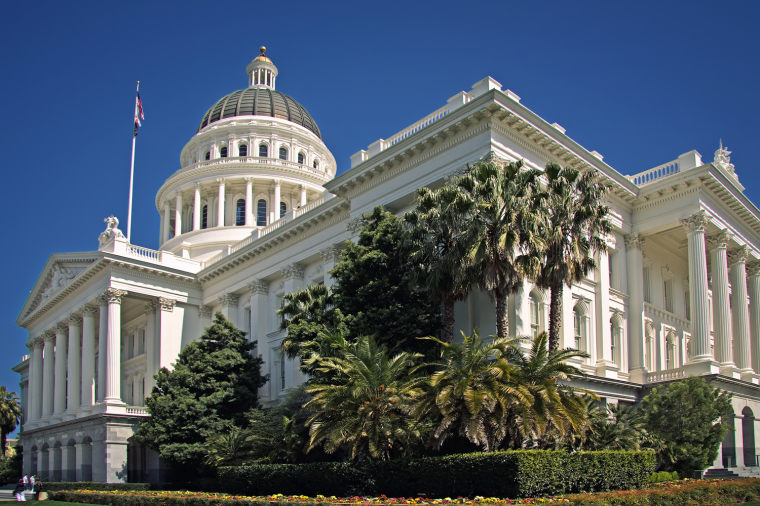 After a state family court severed Ted Hudacko's joint custody from his trans-identifying son, the California father was left twisting inside a legal straitjacket while his son underwent a procedure that even violated a California court order protecting the child, a scenario countless parents across the U.S. might face given the state's commitment to being a "sanctuary state" for underage sex change procedures, he says. 
Legal recourse for parents who object to "gender-affirming" care and seek to prevent irreversible bodily harm to their children seems all but impossible in light of systemic changes in California law — of which Hudacko's is a case study.
The Bay area father told The Christian Post that his plight is a harrowing example of what other parents across the U.S. can expect to happen if their child who's struggling with gender confusion moves to California.
Last September, Gov. Gavin Newsom signed Senate Bill 107 into law. In the Golden State, minors can obtain experimental puberty blockers, opposite-sex hormones and body mutilating surgeries, effectively creating what some call a "trans sanctuary" state.
That law, which went into effect in January, amended California's Uniform Child Custody Jurisdiction and Enforcement Act (UCCJEA). Changes to the statute permit California state courts to trump the jurisdiction of other states' courts where the parents might be prosecuted because harming children via chemical or surgical sex-change procedures is prohibited.
States that have passed laws protecting children from trans procedures or where state medical boards have ruled against allowing such experimental practices to be performed on children and teenagers younger than 18 include Arkansas, Alabama, Arizona, South Dakota, Mississippi, Utah, Florida, Nebraska, Montana, Indiana, Missouri, North Dakota, Idaho, Kentucky, Iowa, Texas and Tennessee. Some of these states' laws are presently being contested in the federal court system. 
A handful of other states have introduced similar legislation this year, and the status of those bills remains pending. Concurrently, progressive-leaning states such as Vermont and Minnesota are going in the opposite direction and are either considering or are in the process of enacting laws similar to California's to become a sanctuary state for trans sex-change procedures.
What appears to be emerging is an extremely fractious culture war dividing deep-blue and deep-red states on this matter. "Especially if it becomes an intersection with the family court situation," Hudacko stressed. Family courts, he adds, "are a giant racket." 
Hudacko has not seen his trans-identifying son, Drew (whose name has been changed in this report to protect his identity), for over three years. He retains shared custody of another son — who does not suffer from gender confusion — and has been forced to navigate the complex world of Bar complaints against the attorney who represented Drew to facilitate a hormonal "gender transition" against his father's wishes.
In 2020, California Superior Court Judge Joni Hiramoto stripped Hudacko of shared custody of Drew following a contentious court battle. His lengthy ordeal was detailed in a 4,800-word investigative piece published in City-Journal in February 2022 by journalist Abigail Shrier, the author of the 2020 book Irreversible Damage. Hiramoto happens to be the mother of a trans-identified child. But it was her appointment of Daniel Severin Harkins — the minor child's counsel who Hudacko says undermined him at every turn — that was, as Shrier put it, "the final nail in the coffin of his parental rights."
Documents shared with The Christian Post reveal previously unknown details about Harkins' identity and his role in the case.
For example, in an Aug. 3 response to Hudacko's complaint to the California State Bar, deputy trial counsel Mark Harvey of the California Bar referred to Harkins 17 times using the feminine prefix "Ms" and is repeatedly referred to with female pronouns "she" and "her." Until then, the Hiramoto-appointed minor child's counsel had been referred to with male identifiers, and there had been no indication that the lawyer, who is a man, was experiencing gender discordance and himself identified as female.
Harkins did not respond to The Christian Post's requests for comment.
In response to CP's questions about the case, the State Bar of California said in an emailed statement that it has "no authority over any local, state or federal courts, or the judges who oversee them" and it "cannot share or confirm any personal details of any licensed attorney other than what is available on their attorney profile, or via any publicly available discipline reports." The Bar added that it could not find any discipline record for Harkins.
Hudacko now retrospectively wonders if this had been hinted at during a custody hearing in June 2020 when Hiramoto first announced her intention to appoint Harkins as his son's attorney. Court transcripts show the judge mentioned Harkins' "transgender experience" and that he had "special training," but she did not clarify what "experience" or "training" actually meant.  
Hudacko, after initial setbacks, requested that the California Bar grant an extension of the investigation period for a good cause pursuant to several provisions outlined in the California Bar's Rules of Procedure. The response letter from Harvey characterizes Hudacko's complaint as pertaining to Harkins' "duty to perform legal services" on his behalf, when Hudacko maintains the crux of his grievance is about code of ethics violations, none of which were ever addressed.
If the California dad's case is indicative of the prevailing "trans sanctuary state" climate, parents with similar complaints about their minor child's appointed counsel in the family courts are unlikely to get traction with the State Bar. In fact, only a minuscule number of lawyers found guilty of misconduct ever face repercussions, according to state records. Appendix A in the California State Auditor's Report shows that from January 2010 to November 2021, 221,185 complaints were filed against lawyers for malpractice. Only 2% resulted in disbarment and 2.8% resulted in suspension, 0.2% received public reproval, and 0.1% resigned with charges pending.
A surgery that violated the court order 
While going back and forth with the California Bar over ethics questions, Hudacko was astonished to find a nearly $210,000 bill that had been charged on his insurance statement in October 2021. He subsequently confirmed with his ex-wife that a hormone-blocking implant had been placed in his son's arm and that his son had also started taking cross-sex hormones, both of which were administered without Hudacko's knowledge or consent. Unlike other hormone blockers, which can be injected or taken orally, the hormone-blocking implant was inserted into Drew's arm via a surgical procedure in August 2021. It was thus a violation of the court's order.
Section 7b of a follow-up order dated Aug. 26, 2020, where the court awarded sole temporary legal custody and physical custody of Drew to Hudacko's ex-wife, a restriction was included, specifically that the boy "will not be permitted to undergo any gender identity related surgery until they are 18 years of age, absent a written agreement by both parties." 
According to medical records reviewed by CP, four different types of blockers, also called gonadotropin-releasing hormone agonists (GnRhA), were discussed at the clinic where his son was treated, the Child and Adolescent Gender Center of UCSF Benioff Children's Hospital. Leuprolide acetate (Lupron) and triptorelin are injections and spironolactone is an oral tablet. By contrast, the subcutaneous implant (histrelin acetate) requires a surgical procedure.
The surgery to insert the hormone-blocking implant occurred months before Hudacko realized it had happened when Drew was 17, violating the court order. Its contribution to the child's eventual sterilization might also violate the California Family Code Section 6925(b)1, which does not authorize a minor child to be sterilized without the consent of the child's parent or guardian. 
That law has been upheld and reaffirmed in several state court cases, including in American Academy of Pediatrics v. Lungren, a 1997 case that centered around an underage girl obtaining an abortion. The California Supreme Court also held in that ruling that the disclosure of medical information to a child's parent was minimal and necessary and did not impede on the underage girl's decision to have an abortion.
Similarly, in a 1978 case that reached the U.S. Supreme Court, Stump v. Sparkman, the decision held that regarding the sterilization of a minor, not only is it inappropriate, but it's also not protected by judicial immunity. By this established precedent, while Hiramoto is immune since she is a judge, Hudacko maintains that Harkins is partly culpable and thus subject to further recourse, given that his underage son's sterilization was enabled.

Among Hudacko's main grievances to the California Bar is that he alleges Harkins violated Rule 4.1 in the California Rules of Procedure for attorneys. That rule states that when representing a client, a lawyer "shall not knowingly make a false statement of material fact or law to a third person." Likewise, it adds that failing "to disclose a material fact to a third person when disclosure is necessary to avoid assisting a criminal or fraudulent act by a client" is prohibited. 
Hudacko believes Harkins allegedly did this by advising Drew and his ex-wife to pursue going ahead with the medicalization, despite the violation of the court order. The California Bar, however, concluded in correspondence with him that he did not "present sufficient facts to support an investigation" into Harkins.
In an interview with Lynne Kohm, a professor of family law at Regent University in Virginia Beach, Virginia, CP asked about the legal ethics pertaining to judicial disclosure when a family court judge appoints counsel to represent a trans-identifying minor, and it's later disclosed that the appointed counsel had been in the process of changing their own "gender identity," particularly if gender medicalization is an issue in a custody dispute. She replied that it certainly sounds like a conflict of interest, referencing the professional code of conduct all lawyers must abide by at all times. 
"And conflict of interest is not a political thing," Kohm stressed, noting that lawyer misconduct is delineated in Rule 8.4 in the American Bar Association's Model Rules of Professional Conduct, and every state has adopted some version of them.
A key portion of Rule 8.4 section G states that it is misconduct to engage in conduct that the lawyer knows or reasonably should know "is harassment or discrimination on the basis of race, sex, religion, national origin, ethnicity, disability, age, sexual orientation, gender identity, marital status or socioeconomic status in conduct related to the practice of law."
But today, Kohm said, this rule is being used "as a hammer to make people not be able to have any opinions opposing gender identity." 
"The whole idea of this rule is to not undermine the public confidence in the legal profession but it's doing exactly that because it's carving out special treatment for those who are ideological [about these issues]," she said, adding that parental rights are "especially precious as they are pre-Bill of Rights and inalienable."
"To have your parental rights restricted there had to be abuse, abandonment, or neglect. Now, 'abuse' is being defined differently," Kohm explained.
This is becoming even more complicated as some states are passing laws restricting trans medicalization for minors while others are enabling parents to take their children to states that permit it, such as California.
Progress note documents prepared by the UCSF gender clinic's medical director, Dr. Stephen Rosenthal, show that Hudacko's ex-wife and Drew were "navigating [a] complex family situation," notably insurance issues as Drew was using his father's plan. The notes show that Hudacko was not in support of Drew's "gender care" and that his ex-wife had "complete medical custody."
When Hudacko first learned of these experimental protocols for youth expressing gender dysphoria or temporary confusion about their sex, he reached out to Dr. Erica Anderson, a gender psychologist based in Oakland, California, and Dr. Michael Laidlaw, an endocrinologist in private practice in Rocklin, California, both of whom, he said, informed him about how these drugs contribute to sterilization.
All hope that Hudacko had that the sterilization of his son might be reversed is gone, as it has now been many months since his son was launched on a path of experimental medicalization. A pediatric endocrinologist from Georgia said in an email to CP that, assuming the drug regimen was consistently followed, the combination of a hormone blocker implant plus opposite-sex hormones makes infertility permanent, adding that surgery to remove the genitals would, naturally, "seal the deal."
Hudacko maintains that Hiramoto's deliberate selection of Harkins to be Drew's legal representative, coupled with a formal Bar complaint process where few filings ever materialize in any meaningful action, leaves parents with virtually no options and no hope for accountability. State officials with whom he has interacted have used frustratingly bureaucratic language that leaves considerable wiggle room for evasion; few non-lawyers can understand it. 
CP asked Matt Malone, public information officer for the Contra Costa County Courts, how many cases where there has been a custody dispute around a trans-identified child did Hiramoto appoint Harkins as the child's counsel.
Malone replied in an email that such inquiries fall under the public records request provision in California called Rule 10.500, which "obligates the Court to provide records when they are obtainable from inquiry into a single court-maintained database, such as our case management system. (See Cal. Rules of Ct., rule 10.500 (e)(1)(B).)" 
"But the Court's case management system is not capable of searching for and/or selecting cases based solely on the identity of particular counsel. Nor does the Court's case management system identify a case based on the gender identity of a minor or of particular counsel. Thus, the Court has no responsive records," Malone said.
The court lacks any information to assess whether the gender identity of particular counsel is public knowledge, he added.
Hudacko says he will continue to pursue every possible avenue, but the environment is bleak.
"It would be very easy to want to crawl up in a corner and lick my wounds and go away and hide. But that doesn't solve anything. Not myself, not for Drew [or anyone] who may currently be entrenched in this. As much positive reinforcement in accolades he is being given and is reinforced, starting with his mother, and the first licensed marriage and family therapist ... and then of course, the canard that parents [of trans-identified children] are told: 'Do you want a trans daughter or a dead son'?" Hudacko said.
"And the pressure and tools used as a bludgeon to separate and label parents such as myself who have questions and seek a proper differential diagnosis, and [who want] to look at a panoply of possible causes [rather] than just simply jumping to the conclusion that, 'Aha! He's trans, we've got to social transition him. And then, the subsequent steps,' basically, labeling parents such as myself as toxic or unsafe. And then, a concerted gang effort to separate that child from the parent."
Patricia Campbell, Hudacko's former attorney, was a great lawyer for him, Hudacko recalls. Sadly, she died from cancer last year. 
"One of the great challenges I had throughout the entire proceeding from the get-go — I talked to many attorneys — was finding attorneys who didn't conflate transgender with being gay. Very few attorneys seemed to get that these procedures are sterilizing. And if they don't understand that they're sterilizing procedures, they don't understand the child endangerment issues." 
Hudacko continues searching for lawyers with the courage to take on a broken and abusive system. "How are we going to stop this? How are we going to change? Is this thing stoppable or not? I see mixed signs," Hudacko said, noting increased coverage in more mainstream outlets. 
He added: "It's very Orwellian; it's very upside-down, the new-speak. I don't think we'll have much of a society for very long if we don't do something about this trend. It really comes down to how do we change this. We're certainly trying through the legislative process."
"But the process in California is broken."

As if to underscore that very point, the process is so dysfunctional that it has led some elected California state officials to urge parents to move out of the state, lest they want to be changed with child abuse for trying to save their children from medicalized gender transition. 
Speaking before a group of parents at a state Senate Judicial Committee, California state Sen. Scott Wilk, a Republican, warned against language in yet another pending bill, AB 957, which a Democratic state senator had amended to change the California Family Code to include "gender affirmation" alongside a child's need for "health, safety, and welfare." Critics of the bill believe that failure to affirm a child's "gender identity" and wishes to undergo experimental sex-change procedures will put parents at risk of being charged with child abuse.
"In the past, when we've had these discussions, and I've seen parental rights atrophied — I've encouraged people to keep fighting," Wilk said on June 13, adding that he has since changed his mind on that approach.
"If you love your children, you need to flee California. You need to flee," he said.