First-Ever State Dept. Ministerial on Religious Freedom Will Be 'More Than Talk,' Pompeo Says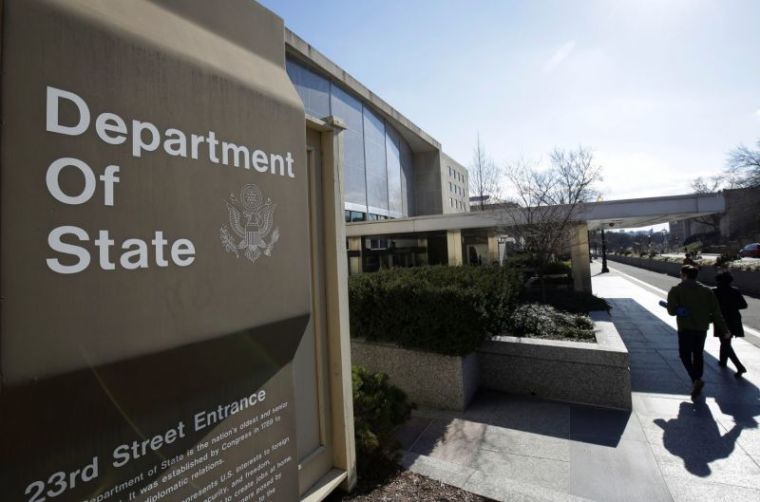 The United States State Department is gearing up to host what is being described as the first-ever three-day ministerial to promote and advance religious freedom in Washington, D.C., which will be attended by delegations and leaders from over 80 countries.
International religious freedom will be the talk of nation's capital this week as Secretary of State Mike Pompeo expects to host nearly 40 of his counterparts from countries around the world for the Ministerial to Advance Religious Freedom, taking place from July 24 to July 26.
The ministerial seeks to discuss "concrete outcomes" to reaffirm international commitments to protect and preserve the religious freedom rights of all people and to discuss "concrete ways to combat religious persecution and discrimination, and ensure greater respect for religious freedom for all."
In addition to the formal events hosted by the State Department, dozens of side events on religious freedom will be hosted by human rights organizations and NGOs all week throughout the city. Hundreds of religious leaders, civil rights advocates, and leaders of civil society organizations from across the world are expected to attend the ministerial and the events.
"This has not happened ever in the world and we are delighted that we are the first to host it," U.S. Ambassador-at-Large for International Religious Freedom Sam Brownback told reporters on a conference call.
Pompeo announced the ministerial in May during the release of the State Department's annual international religious freedom report.
The ministerial comes as the State Department has been criticized for years for not taking the issue of religious freedom seriously when it comes to the priority it takes over other U.S. interests. However, the Trump administration has vowed since coming into office to place religious freedom as one of its top priorities — at home and abroad.
"For years, the foreign policy establishment has really not wanted to engage on the issue of religion and just seeing and not being sure how to handle it or what to do," Brownback said. "But now, you are seeing more people saying that it is a key component for what is taking place in the world today and we just got to deal with this."
According to a schedule, the formal ministerial will kick off next Tuesday with meetings designed to equip and empower civil society organizations and NGOs to help them access U.S. financial support and grants to help improve the lives of persecuted religious minorities across the globe and promote religious freedom.
Next Wednesday, religious leaders and survivors of persecution will be invited to share their stories. That night, Pompeo will host a formal reception for foreign delegations, members of Congress, civil society groups and others.
The next day, the State Department will host a plenary session on the "role of government" for government representatives. The day-long session will focus on identifying global challenges to religious freedom and developing "innovative" responses to religious persecution. Thursday's session will also share new "commitments" to protect religious freedom.
"We expect this to be far more than just talk," Pompeo said Thursday during an interview with conservative evangelical radio host and activist Tony Perkins. "We do believe that just putting people from all around the world in a room and talking about this topic will empower them to go back to their home country and advocate for religious freedom as well. It's difficult in many countries to even speak about religious freedom. So, we hope to provide a support system and a basis for some of them to head back to their countries."
Pompeo added that Vice President Mike Pence will also be speaking.
"[We] will be laying out a path where we are hopeful that the State Department here in the United States can lead a process where religious freedom is raised as a priority for the citizens of every country," Pompeo said. "We will have our teams in the subsequent weeks and months in the field talking about religious freedom on a continued basis. We will have just three days here but this will be a mission of the State Department everyday."
Brownback told reporters that there are key initiatives the U.S. government is hoping other nations will take away from this meeting. The U.S. will be asking the foreign governments to host regional and national religious freedom events and roundtables with civil and religious leaders to discuss religious freedom.
Additionally, the U.S. will be calling on other countries to appoint religious freedom ambassadors or special envoys who will push for the betterment of religious freedom within those nations.
Brownback explained that there are some "aspiring" nations that are scheduled to attend the ministerial that don't have the best record when it comes to promoting human rights and religious freedom. However, he would not name those countries and would not confirm that any nations currently or previously designated by the State Department as "countries of particular concern" on religious freedom will be in attendance.
"We are just not releasing the countries ahead of time on this," Brownback said. "We want to see who ends up coming too. There could be last-minute people who say they will come but don't and others that say they can't come but will."
Brownback assured there are certain countries he is glad to see planning to attend.
"We have had a process of more of a name-and-shame process where we would identify bad actors and we would shame them and that is about [all] that would end up happening," he said.
"What we are trying to do — we are still going to name bad actors — but we want them to come and say, 'Let's work together to get off of this list. We'll put in effort and you put in effort towards this.'"
Perkins, a newly appointed commissioner to the U.S. Commission on International Religious Freedom who will also attend the ministerial, said that the demand to attend the event is so high that there is a "waiting list."
"It is indeed oversubscribed, which we consider an enormous blessing," Pompeo responded. "We are going to do our best to accommodate each and every one of them so that they can come and be a part of this."
The ministerial is already earning praise from some religious leaders.
"There is real violence and abuse being perpetrated against Christians and other religious minorities around the world. This must stop. We need action," Jerry A. Johnson, the CEO of National Religious Broadcasters, said in a statement. "I thank the Trump administration for sending a strong message to the world that America means what our founding documents declare. Liberty is not an afterthought. Liberty is fundamental for a truly healthy society."