Church of Satan Lauds Library for Hosting Five-Horned 'Killer Klown' Drag Queen at Kids' Storytime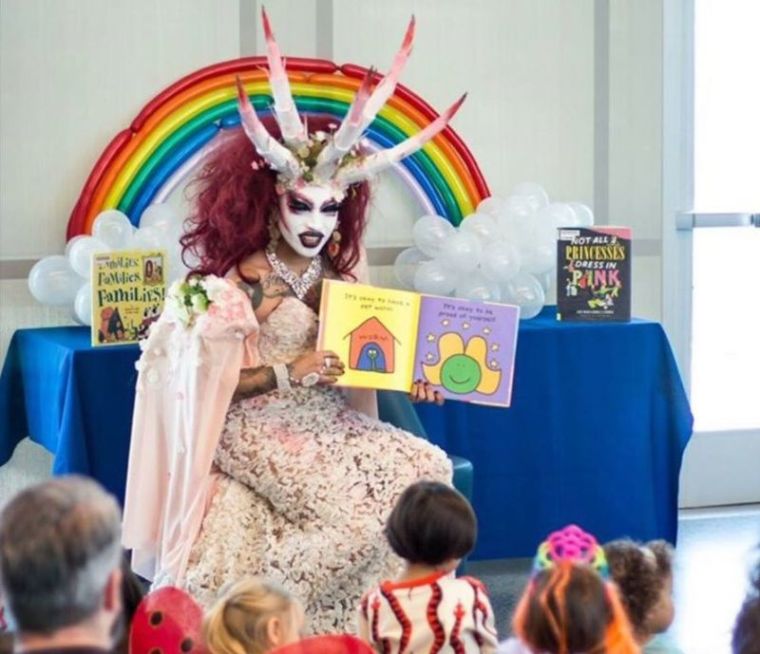 A California public library is drawing criticism from Christians and praise from the the Church of Satan for hosting a children's story hour featuring a drag queen dressed as a five-horned demon.
As part of LGBT history month, the Michelle Obama Neighborhood Library in Long Beach hosted drag queen Xochi Mochi for its Drag Queen Story Hour on Saturday, The Blaze reported.
The library posted a photo of Mochi reading to the children on its social media sites, which went viral, but later removed the image amid public outcry.
Several local residents and parents were outraged that the event was permitted.
The CBS affiliate in Los Angeles reported Monday that Omar Navarro, a Republican running against Democrat Maxine Waters for her congressional seat, asked: "What are we teaching kids in school? Demonic teachings alive in Long Beach. I'm outraged they would allow this."
American Conservative Editor Rod Dreher, author of The Benedict Option, opined on his blog Tuesday: "Remember, public librarians invited this lunatic to come read books to children. And parents chose to send their little ones to hear it."
"Nope, nothing wrong with this culture of ours," he mused sarcastically.
Mochi, however, was glad for the opportunity, describing it on Instagram as "one of the best experiences I've been given as a drag queen."
"It's so important to have representation and normalize all the letters in LGBTQIA+ in everyday lives. I saw so many excited faces it filled my heart with so much joy and hope to come back again soon!" Mochi wrote.
Several commenters expressed their delight, one of whom responded: "Thank you so much for coming to the library, reading to kids and being MARVELOUS!" and "I'm sorry you're getting hatred. I'd give you a great big hug if I could."
In an interview with The Drag Enthusiast blog in December 2015, Xochi Mochi described himself as "a killer clown from outer space," who "embodies different cultural clowns such as the traditional American White Face, French Pierrot, Japanese Harijuku and sexy interpretations of aliens with combinations of each other to embody a certain look or emotion."
Likewise, Mochi's Twitter bio reads: "Attention Earthlings: This is Xochi Mochi your resident killer Klown from outer space. I dress up in drags and love tacos."
Writing on his Facebook page Monday, former New Ager-turned-Christian Steven Bancarz, who told CP in an interview last year that his introduction to the demonic spirituality first came into his life through a History Channel program "Ancient Aliens," called the display "appalling."
"Do we really think the problem with our world is that we aren't loving and accepting enough? That we aren't united or conscious enough? The problem with the world is that we hate God. We are wicked, sinful, and at enmity with God and do not want anything to do with Him as He really is, and would rather chase after the lusts of the flesh, the lusts of the eyes, and the pride of life than Jesus," Bancarz said.
"We do not fear, love, or value God. It says in Romans 1:30 that such as these are "haters of God," as I was before Jesus drew me saved me by grace." Bancarz now runs Reasons for Jesus, an apologetics resource website that frequently exposes the deception of the occult.
In response to a man on Twitter who decried the "satanic" drag queen reading to children at the public library, the Church of Satan tweeted: "Hail Satan."
The Long Beach Public Library collaborated with The LGBTQ Center of Long Beach, the GSA Network and The Imperial Court of Long Beach, to host the event. The story hour with Mochi was followed by and LGBT-themed "Art Space and Resource Sharing" and a "LBGTQ History Timeline Workshop."