FL Dad High on Meth Tries Performing Exorcism on Son: 'You Are the Demon and Know What I Must Do'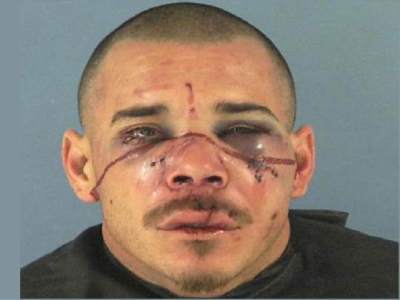 A man in Okeechobee, Fla. is facing numerous charges after taking his 11-year-old son into the woods in order to perform an exorcism and free him from a demon. Police arrived just in time to rescue the boy, but the man then turned on them and wound up having to be tased before being taken into custody.
"You are the demon and you know what I must do with you," Bryan Adams reportedly told his son, according to police reports.
Adams took the boy, who was only wearing pajama pants and a t-shirt, into the woods. Police quickly responded a call about the situation and took a K-9 with them in case he ran farther into the woods. They were found lying down in the woods, but as police approached, Adams became more physical.
"I then observed Bryan (Adams) getting up off the ground and lunging at Deputy Hazy," Deputy Leland Schoonmaker noted in his report. "Bryan then turned around and began punching me in the chest with both hands. One wrist did have a handcuff on it and he was swinging it around as he was punching me."
Adams dashed into the woods while other officers took the child to nearby EMS. Police then released their dog, named K-9 Nero, in order to locate Adams. It wasn't long before the dog began giving the signal for police to engage.
"I could see the bottom half of Bryan and K-9 Nero – Bryan appeared to be lying on his back," Deputy Mark Margerum said in the report. "Bryan was punching K-9 Nero in the left side of K-9 Nero's head while K-9 Nero was holding Bryan's right leg with his mouth."
Police could hear Adams yelling, "I have to stop the demons. I have to do it."
Adams eventually stopped resisiting, but not before police used a taser gun on him at least four times. Officials said that he admitted to being high on methamphetamine and had just injected himself before running into the woods. The responding officers are all okay, as is the 11-year-old.
Adams has been charged with a litany of felonies, including: child abuse, three counts of aggravated battery on a law enforcement officer; use of a deadly weapon/battery on a police K-9; five counts of resisting an officer with violence and battery of a law enforcement officer. He is currently being held in lieu of $170,000 bond.