Florida Church Threatens to Boot Member for 'Financial Delinquency;' Gives Her 90 Days to Overcome 'Hardship'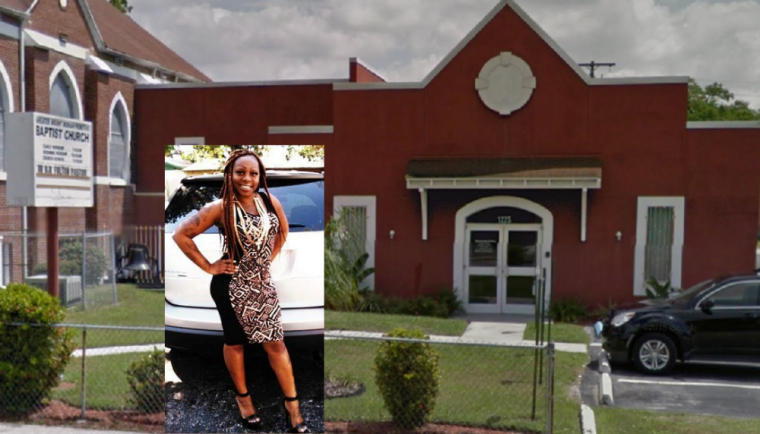 A Florida church concerned about the failure of one of its young female members to pay a monthly financial contribution to its operations has threatened to strip her from its roll if she doesn't pay up and has offered her a grace period of 90 days to make nice if she is experiencing financial "hardship."
The threat to "Candance Petterson" as the young woman is identified in a letter posted to Facebook, came from the more than century old Greater Mount Moriah Primitive Baptist Church in Tampa, Florida, according to church member Bonnie Maxwell who spoke with The Christian Post on Tuesday.
The young woman who posted the letter to her Facebook profile Pretty Peterson on Saturday said she was surprised that the church would insist that she owed them anything since no one even bothered to call her to find out how she was doing even though she had not been attending the church for a while.
"What Church does this ... why would I want to go to a church that everybody talk about everybody. ... Christ don't have nothing to do with this paper you typed. ... They said I owe a fee for not coming to church. ... I just haven't been back to that church. ... If I'm such a member why no one called to check on me," wrote Peterson.
The letter, from assistant administrator Ladreda Spencer and B.R. Fulton Jr., pastor the church, highlights a number of fees an adult member of the church needed to pay to be "in good standing and have the right to vote." The contributions include a general minimum contribution of $50 monthly; a $15 assessment for Mount Moriah Day, and a $15 assessment for the church's anniversary.
"In sending this letter, it is with much regret. We value you as a member of our congregation and your attendance in the worship services. You are currently delinquent in your financial support," said the letter which then highlights what appears to be church rules noting that "anytime a member fails to contribute the minimum assessed amount for three or more months in the year [they] become a delinquent member."
Then came the gentle threat: "In order to not be removed from the church roll, your attention to this matter [is] greatly appreciated."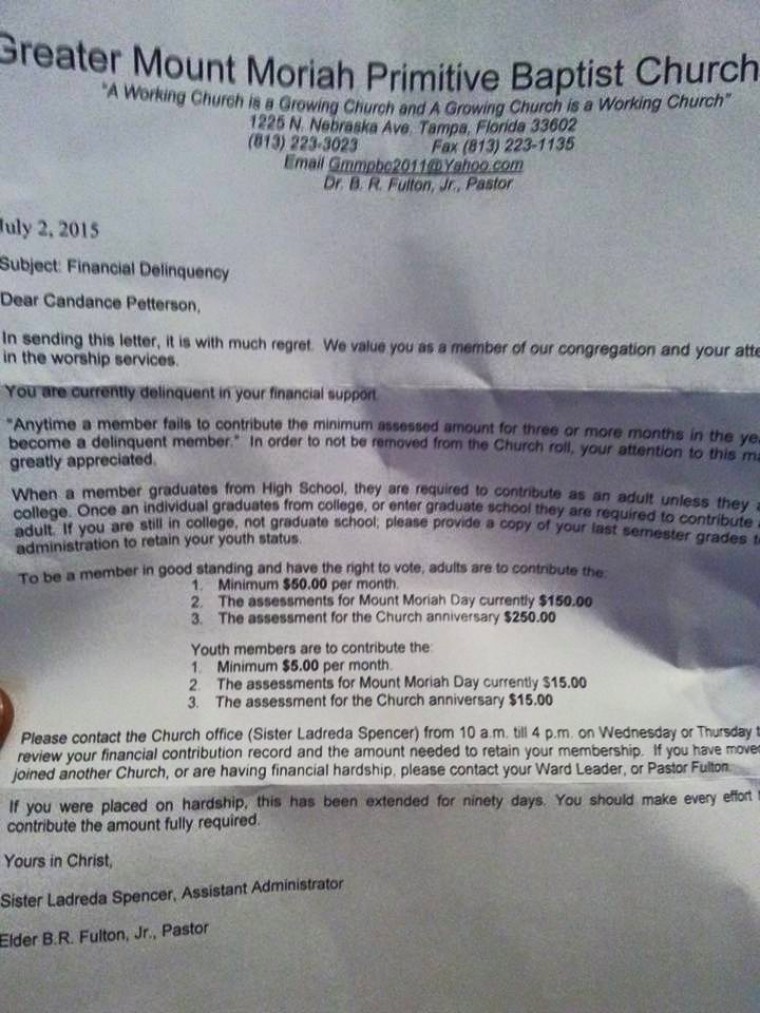 The young woman, who appears to be a recent high school graduate, was also reminded that high school graduates are also required to pay contributions to the church as adults unless they are in college.
"When a member graduates from high school, they are required to contribute as an adult unless they are [in] college. Once and individual graduates from college, or enter graduate school they are required to contribute [as an] adult. If you are still in college, not graduate school, please provide a copy of your last semester grades to the administration to retain your youth status," the letter noted.
"If you have moved, joined another church, or are having financial hardship, please contact your ward leader, or pastor Fulton. If you were placed on hardship, this has been extended for 90 days. You should make every effort to contribute the amount fully required," the letter ended.
The church did not respond to calls or email from CP Tuesday but Bonnie Maxwell, a church member in "good standing," chided the young church member for posting the letter to Facebook in a social media post and defended the church.
"I am a member of Greater Mount Moriah P B Church. I love my church and my pastor. I know people have their opinions regarding the letter that was sent out to this young lady and put over social media. I don't understand why so much negativity about paying a monthly assessment of $50 a month, that you already knew about. If you go to a club or a bar whatever you wish to call it every weekend, you are paying about $10 or maybe more to get in the door and then paying again for drinks," she said.
"As Christians we are required to be obedient. The Bible states that you should give 10 percent of your earnings, it never stated it had to be money, that is what man came up with and most churches abide by it. Everyone is commenting, saying that if you don't pay you will not be allowed in the church. "Not True." The letter states that if you are 90 days delinquent, you will not be able to vote on important issues pertaining to the church. It also states that if you have a hardship to speak to your leader," she continued.
"We are a good church that has been around for 120 plus years. I am sure if anyone attends a church, there are bylaws you are required to abide by. All this information is given during orientation. Find a place that you are comfortable with and not try to degrade our church and posting negative comments. No matter what is said 'WE ARE STILL STANDING STRONG,'" she ended.
Watch pastor B.R. Fulton preach below: