Floyd East Jr., Married Father of 2, Identified as Officer Slain by Texas Tech Student Hollis Daniels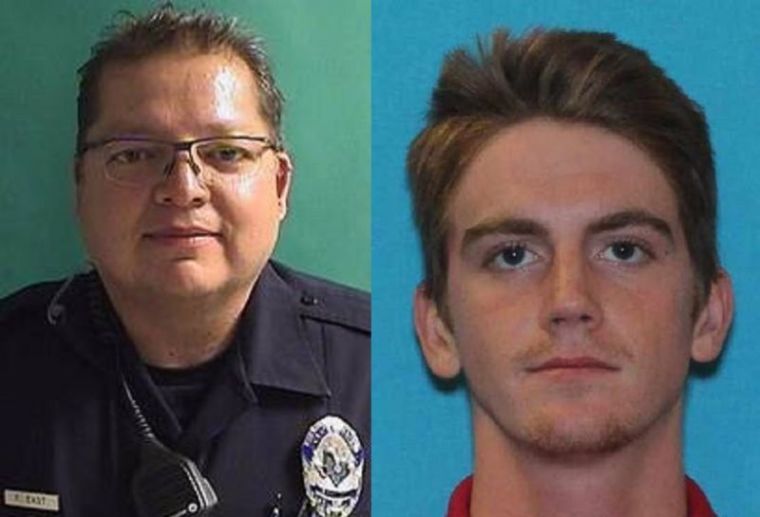 The Texas Tech police officer shot dead by 19-year-old freshman Hollis Daniels in Lubbock Monday night has been identified as 48-year-old Floyd East Jr., a married father of two who had only been working at the campus location just over five months.
Tech Police Chief Kyle Bonath told KSAT that East was hired by the university in 2014 and was working at the school's El Paso campus until he was transferred to the Lubbock campus on May 1, 2017. East leaves behind his wife, Carmen, and two daughters, Anna and Monica.
"The events last night began when TTPD received information about a student acting erratically who was reported to be in possession of a weapon," Bonath said. "Officers responded to the dorm to conduct a welfare check and during the welfare check, noticed paraphernalia present in the dorm."
A Dallas Morning News report said, officers were told that Daniels might have a weapon.
The student was apprehended without incident and taken to the campus police station on a drug charge without handcuffs. An arrest warrant said Daniels was standing near an officer in the department's briefing room while he completed paperwork to arrest the student. Another officer reported leaving the room then hearing a bang. He returned to the room and found East fatally shot in the head while Daniels and the officer's body camera were missing.
It was only during the search for Daniels that the school's counseling center revealed that his family had called to say he was making comments about suicide and were worried he had a weapon, Bonath explained.
He was held near the Lubbock Municipal Auditorium along with a loaded .45-caliber pistol and a police body camera which was found nearby.
Daniels reportedly told officers "that he was the one that shot their friend," according to the arrest warrant and revealed in a later interview that he messed up and did "something illogical."
He was charged with capital murder of a peace officer and his bail is currently set at $5 million.
On Tuesday, thousands of Texas Tech students and faculty along with other community members gathered to remember East, according to the Lubbock Avalanche-Journal.
"He was a great guy," Tech Police Sgt. Amy Ivey said. "Very easy to talk to, he was very interested in police career. It was something that has been his dream since he can remember. ... I could walk up to him and have a great conversation with him. His personality was always one that you could rely on. He was always eager to learn and be there to help each other out. We always had each other's back."
"Today we mourn a loss in the Red Raider community," Tech Student Government Association President Robbie Meyer said in a statement. "Today is a time for us to mourn and reflect as we stand together to not only honor the brave officer but also to honor the men and women who risk their lives every day."
In an earlier letter to the school community, Texas Tech President Lawrence Schovanec asked for prayers for the slain police officer.
"Please join me in extending our prayers and heartfelt condolences to the family of one of our Texas Tech police officers who was mortally wounded Monday evening. We will provide more information once all members of the family are notified. I know that the Texas Tech community will respond with support for the family and one another," Schovanec said.
Texas Gov. Greg Abbott also shared his condolences in a statement.
"First and foremost, our hearts go out to the family of the police officer killed at Texas Tech University. I have spoken to Chancellor Robert Duncan to offer my condolences, and I have mobilized the Texas Department of Public Safety to offer any assistance to the Lubbock Police Department. As the Texas Tech campus deals with this heartbreaking tragedy, Cecilia and I pray for the continued safety of the students and the entire community," he said.