Former Christian Radio Host John Balyo Confessed to Raping 12-Y-O Boy Says Prosecutor; Denied Bail and Now Faces Life in Prison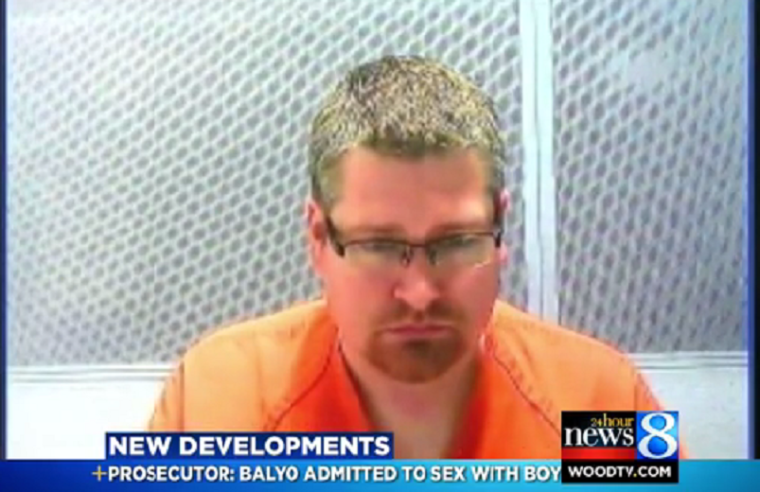 Former Michigan Christian radio host John Balyo, who was arrested while at the Big Ticket music festival last Friday, confessed to raping a 12-year-old boy, according to a Calhoun County prosecutor at his arraignment in court Monday where he was denied bail and could now spend the rest of his life in prison.
Balyo, 35, of Caledonia, Michigan, allegedly paid 41-year-old Ronald Lee Moser of Battle Creek to arrange sexual encounters with underage boys, according to an earlier CP report. Moser operated a website that offered customers sex with underage boys for a fee. Authorities said they discovered Moser with a 12-year-old boy and seized child pornography during a raid of his home earlier this month.
In a USA Today report, prosecutor David Gilbert revealed that the former Christian DJ confessed to raping a 12-year-old boy.
"The defendant did make admissions to count one of the complaint," Gilbert told Calhoun County District Court Magistrate David Heiss.
Police allege that Balyo engaged in a sexual activity with the boy in Battle Creek on May 17. He was charged with first-degree criminal sexual conduct, which is a penetration offense and one count of second-degree criminal sexual conduct — a touching offense.
A preliminary examination of the charges is now set for July 7. Over the weekend, preliminary bail had been set for Balyo at $500,000 but after hearing from the prosecutor, the judge in the case ordered Balyo to be held without bail "because the proof of the defendant's guilt is evident."
In an updated response to the revelations from the arraignment, WCSG radio, which fired Balyo on the weekend, explained that the station and Cornerstone University that runs the Christian outfit had cut ties with the former DJ. This action included the scrubbing of all information from the station's website connecting them to Balyo.
"This past Friday, the WCSG family was shocked and saddened to learn that WCSG morning show host, John Balyo, was arrested amid allegations which have since been much publicized. On Saturday, WCSG and Cornerstone University ended its affiliation with John," said Chris Lemke, executive director of Cornerstone University Radio in the statement.
"We sincerely grieve over these recent events, in particular the tragic impact on victims and their parents. The trafficking and exploitation of minors is absolutely deplorable.
The WCSG family is deeply aching and know you may be hurting as well," he noted.
"We know that no one, absolutely no one, is immune from falling into the darkness of sin. And yet, we have hope. Those who truly follow and live for Jesus Christ know He alone has the power to restore broken lives and broken trust," he continued before asking the public to pray for everyone affected by the situation.
"I want you, our radio family, to know that more than ever WCSG exists to serve as a Christ-centered influence through compelling content, relevant platforms and compassionate relationships. Our vision is to be the encouraging, engaging and equipping media influence for Christ, his church and his kingdom, here in West Michigan," said Lemke.