Former Today Show Anchor Reveals Dark Past; Survivors Say Leaving Abusive Relationships Is 'Complicated'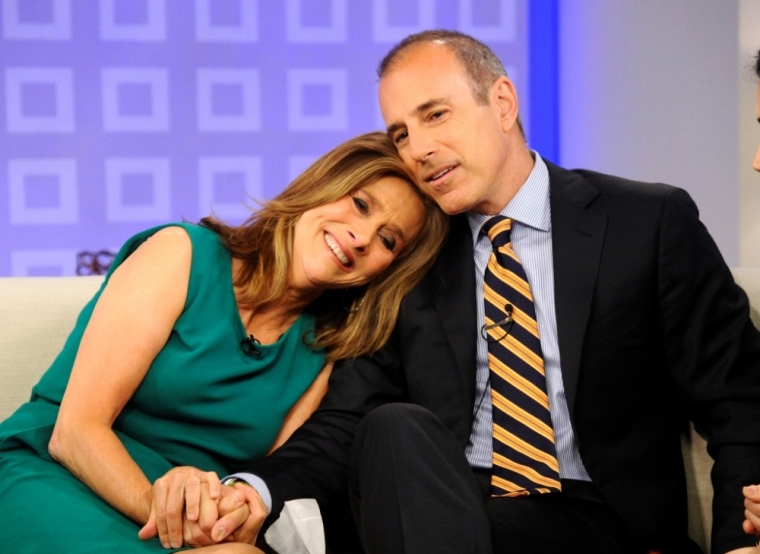 Meredith Vieira revealed her past abusive relationship in the Wednesday episode of her new talk show, noting that domestic abuse can happen to anyone and making the decision to leave is not always black and white.
"When people talk about domestic violence it is really, really a complicated issue," she told the audience of the Meredith Vieira Show. "It's not so easy to get away. You think it would be but it is not."
Vieira, taking her cue from the many #WhyIStayed, #WhyILeft abuse stories swirling around social media since a leaked video of Former Ravens running back Ray Rice delivering a knock-out blow to his now-wife Janay, shared why she stayed with a boyfriend who repeatedly put his hands on her.
Sitting facing the audience, Vieira confessed, "It started out, we would have a fight and he would just sort of grab my arm and you know, I didn't think a lot about it and then it turned into pushing me against the wall and then it went beyond that to taking his hand and grabbing my face and saying I could ruin your career if I wanted to and no one would want you."
The abusive boyfriend even tried to publicly humiliate her. Vieira described, "And then there was the night, we were sharing an apartment, when he threw me into a shower naked in scalding water and then he threw me outside into the hallway – we lived in an apartment building – and I hid in a stairwell for two hours until he came, again crying saying he wouldn't do this again."
Each time Vieira said fear and her then-boyfriend's tears swayed her to stay in the relationship.
"Now this is going on. I'm a smart woman. A lot of people say who would stay in that situation; maybe someone who doesn't have the wherewithal to get out, the means to get out. I had that. I had a job at the time and I kept in this relationship and I've done a lot of thinking about why and I think part of it was fear. I was scared of him and scared that if I tried to leave something worse could happen to me. Part of it was guilt because every time we would have a fight he would then start crying and say I promise I won't do it again and then I would feel like I contributed somehow to this and they're saying this about Ray Rice's wife that you know, it takes two to tango," she said.
Janay Rice – then Janay Palmer—was engaged to the Baltimore football star when he assaulted her in the elevator of an Atlantic City Hotel. Following the incident, she accepted partial blame for the violent episode, saying they both had been drinking heavily. Later, they both attended counseling and married.
After the video was released, Janay Rice took to Instagram to blast the media for ruining their lives. Many have criticized Janay Rice online for marrying the star player and defending her husband's actions.
Autumn Miles, a Christian radio show co-host who recently wrote the memoir Appointed detailing her abusive marriage, said it is easy to condemn abuse victims who stay with their partners, but no one can truly understand what is like until they are in a similar situation.
"People can judge and point fingers at Janay all the time and say that she's crazy or whatever but [staying with an abusive partner] that is a very normal victim abuse reaction," she told The Christian Post.
Many victims stay, Miles said, because their attackers have worn them down psychologically. "One of the reasons victims stay is because they're scared of stepping out because they've been told that they will not amount to anything after that."
She continued, "You stay for fear, for the fact that you don't know any better and, as I said a lot in the last week, you stay because abuse is comfortable. It might not look comfortable, it might look frightening but to someone who that's what they've known for a long period of time, they know what to expect, they know how to navigate it and the fear of leaving is more intense than the fear of staying under those circumstances."
Miles' abusive relationship began after she married her teenage crush. The abuse escalated from verbal taunts and attacks to manhandling her, throwing her against walls and dragging her around their home. She finally realized it was time to leave her husband after he physically attacked her for making an innocent remark during a football game.
"One of the last things that my ex-husband told me after I said I am leaving you, he looked at me and then he said you'll be nothing but a waitress your whole life," revealed Miles.
Miles advised men and women in abusive relationships to step out in faith and tell someone they can trust about the abuse. "Another thing would be call a domestic abuse hotline," she said. "A lot of [the operators] have been former victims. They will not out you. You can trust them."