4 Nepali Christians Imprisoned for 'Witchcraft' Prayers Released After 9 Months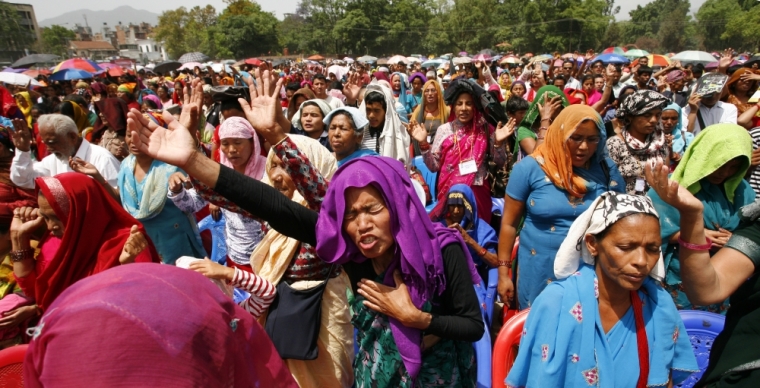 Four Nepali Christians who were sentenced for "violence and witchcraft" for praying with a mentally ill woman have been released after nine months in prison.
Persecution watchdog International Christian Concern, which led a petition in their name, reported on Wednesday that Lali Pun, Bimkali Budha, Ruplal Pariyar and his wife, Ganga, have all been released after their sentences were reversed.
"International Christian Concern is so pleased that this situation has reached its rightful resolution. However, the imprisonment of these Christians should have never taken place as the facts of their innocence were clear," said Nate Lance, ICC's advocacy manager.
"This is a step in the right direction for religious freedom in Nepal, but there is still much work to be done. No one should fear imprisonment for the free expression and practice of their religion."
The Christians were convicted back in December after the father-in-law of Seti Pariyar, the mentally ill woman, accused them of abuse.
The father-in-law had reportedly brought the woman to a local church in hopes that prayers could heal her.
Pariyar apparently left the prayer service at the time, and was later found in a forest "harming herself and yelling before being taken home."
Although Pariyar and her husband later testified in District Court that the Christians were not abusive toward her, with the woman even claiming that she had been healed, the four were still found guilty and sentenced to prison.
In August, the minority Christian population in Nepal found itself in fear of a government crackdown after the country's parliament passed a bill criminalizing religious conversions and the "hurting of religious sentiment," which critics say aims to restrict evangelism.
The U.K.-based Christian Solidarity Worldwide pointed out at the time that certain clauses in the bill are similar to controversial blasphemy laws in other countries, such as Pakistan, which are often used to target Christians and other minorities.
ICC described the wrongful imprisonment of the four Christians and the new anti-conversion laws as "Nepal's continued backslide on issues of religious freedom."
C.B. Gahatraj, general secretary of the Federation of National Christians, Nepal, told The Christian Post in January that believers face a number of challenges in the country, such as a lack of burial land, forcing some to bury relatives hidden away in forests.
"When Christians die in Nepal, they have two pains. One is they suffer, they grieve because of their loved ones who are no more; secondly, they have no place to bury their loved ones," Gahatraj told CP at the time.
"If Hindus find Christians buried in their area, they force Christians to dig them out from the graveyard, and bury the bodies in another place."