Francis Chan Warns Against Criticizing Church Leaders: 'Be Careful With the Lord's Anointed'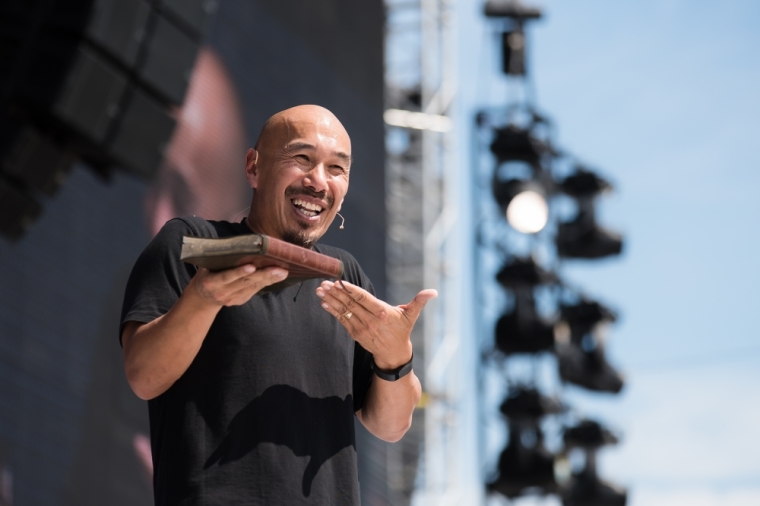 Popular Christian preacher and founder of Cornerstone Church in Simi Valley, California, Francis Chan recently invoked Scripture in warning Christians to be careful of how they criticize church leaders.
Lamenting how social media has given Christians the power to speak openly about spiritual leaders in an interview with Charisma, Chan pointed to the principles highlighted in Psalm 105:12-15 and Ephesians 4 in urging Christians against bashing leadership.
"There are times to speak strongly," Chan said. "But let's remember the story of David with Saul. Where's that spirit in the church today? I just want to be careful with the Lord's anointed. We're surrounded by a culture that tries to reserve the strongest words to bash leadership. That's really a way to be heard and make our own names known. Let's seek to be different in the church and show more grace. Like Ephesians 4 says, be 'eager to maintain the unity of the Spirit,' while everyone else is so quick to fight."
Chan, 50, explained that he has intentionally been avoiding social media because the relentless feedback "would kill his soul."
"We live in a time when people are very quick to speak. The Bible commands us opposite of that. With social media, there's just a lot more words. It almost seems like the goal on social media is to say something as loudly as you can for the shock value so that you catch people's attention. Yet that's not what Scripture tells us," he said. "Scripture tells us with the abundance of words sin is not absent. Scripture tells us to be quick to listen, slow to speak, slow to become angry."
He said the culture of relentless feedback and criticism in which pastors work today has made it much more difficult for them to lead.
"We live in a time when people are quick to criticize church and leadership, with this assumption that they know better. It's just a very, very difficult time for Christian leaders to lead," he said.
He urged Christians to be like David, who modeled a spirit of humility and submitted to Saul because he knew that God would fight his battle for him.
Chan revealed last summer that he left the megachurch he founded in 2010 because he was frustrated biblically.
"I got frustrated at a point, just biblically," he said during a talk at Facebook headquarters in California. "I'm going 'wait a second. According to the Bible, every single one of these people has a supernatural gift that's meant to be used for the body. And I'm like 5,000 people show up every week to hear my gift, see my gift. That's a lot of waste.' Then I started thinking 'how much does it cost to run this thing? Millions of dollars!'
"So I'm wasting the human resource of these people that according to Scripture have a miraculous gift that they could contribute to the body but they're just sitting there quietly. ... [T]hey just sit there and listen to me," he said.
Chan said he was also concerned that the church wasn't following God's command to love one another, noting that members would just greet each other for 30 seconds and mainly hang out in cliques once a week.
"I was like, 'God, you wanted a church that was known for their love. You wanted a group of people where everyone was expressing their gifts. ... We're a body. I'm one member, maybe I'm the mouth. But if the mouth is the only thing that's working and ... I'm trying to drag the rest of the body along, chewing on the carpet ...," he said.