Franklin Graham Encourages Christians to Get Involved in Politics Since 'Gays, Lesbians and Anti-God People' Are Already There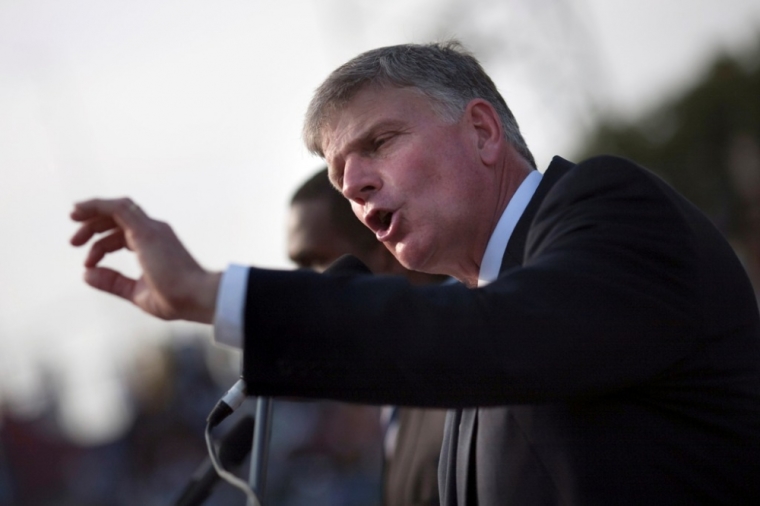 The Rev. Franklin Graham is encouraging Christians to "get involved in government" and "in politics" in order to work for Christian values against "gays and lesbians in politics" as well as the "anti-God people."
"I'm here to tell you, church, God loves each and every one and Christ died for our sins, and we've got a responsibility to take this message to the ends of the earth," Graham said on Jan. 26 at the Oklahoma State Evangelism Conference. "And I want to encourage you to take a stand in your communities."
Graham went on to encourage those in the audience to get involved in government and politics.
"Who says we can't be in politics? The gays and lesbians are in politics, I can tell you that. All the anti-God people are in politics. They're there. Why shouldn't the church be there? Who says we can't speak up? Who says our voice can't be heard? Get involved," he asserted.
Graham, the son of evangelist Rev. Billy Graham, is the head of the Billy Graham Evangelistic Association. He is well-known and outspoken on issues close to his heart, including politics, religious freedom, and organizations such as Samaritan's Purse. The same day he gave his sermon, Graham announced that he would be holding a BGEA festival in Oklahoma City in August.
The pastor issued a stern warning to those who would heed the call to enter politics as a Christian who follows the ways of Jesus Christ and the Bible.
"Let me tell you something, there is a price to be paid. There is a cost and you better understand it. Because if you accept Christ, there are people that will mock you. There are other people when you go to school or you go to work, they'll go, 'Oh, you're one of those Bible thumpers now. Right?' They're going to mock you and they're going to turn their back on you, and they'll be neighbors that may have been your friends that are not going to be your friends anymore. There is a price to be paid. Count the cost," Graham said.
"I'm here to tell you that the only way, the only hope is not a Republican, it's not a Democrat or whoever," he added. "The only hope is that this country repents of its sins and turns once again to the God of our fathers, and to His Son, the Lord Jesus Christ — otherwise, there is no hope."