Franklin Graham meets sanctioned Russian official, says VP Pence approved of his trip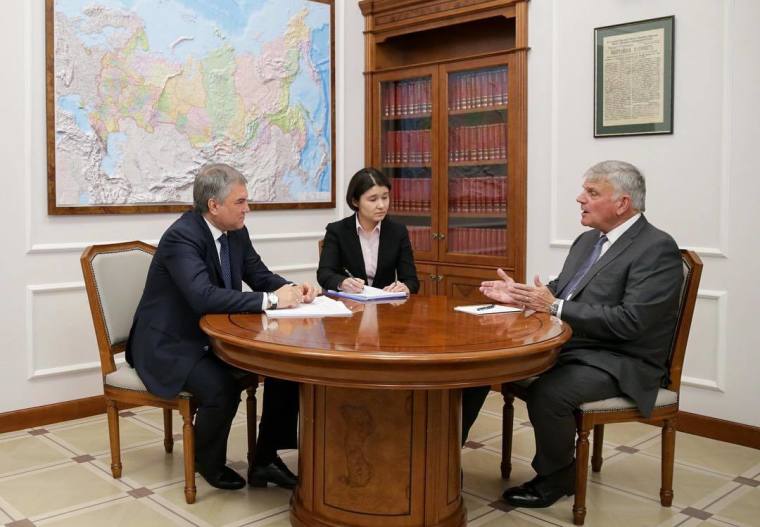 Leading American evangelical Franklin Graham recently met with a Russian official sanctioned by the U.S. government during a trip to Moscow that he says Vice President Mike Pence "wholeheartedly supported."
At the beginning of March, the 66-year-old Graham, the chair of the Billy Graham Evangelistic Association, visited with religious and political leaders in Moscow.
In addition to a meeting he had with Russian Orthodox Bishop Patriarch Kirill of Moscow and evangelical leaders, Graham also met with the leader of the lower house of the Russian Federal Assembly, State Duma Speaker Vyacheslav Volodin.
As reported by the left-leaning news site Think Progress, Volodin is among seven Russian government officials sanctioned by the U.S. Treasury Department in 2014 on grounds that Russian leadership failed to take "concrete steps" to deescalate the situation of Russia's "unlawful" actions in Ukraine.
The sanctions came weeks after Russia annexed the Ukranian territory of Crimea. The Treasury Department stated that "Putin's decision to move into Crimea is believed to have been based on consultations with his closest advisers, including Volodin."
At the time, Volodin was the first deputy chief of staff of the Presidential Executive Office.
According to a picture of the meeting posted by the State Duma Instagram page on March 4, Graham and Volodin talked about their views on the state of U.S.-Russia relations and the implementation of humanitarian projects. Additionally, they discussed the possibility of "intensifying contacts between the State Duma and the U.S. Congress."
In his own Instagram post from March 6, Graham said it was an honor to meet Volodin and called him a "gracious man." Graham explained that Volodin told him his grandfather was a priest who was killed by communists for "baptizing children in the river."
"Remember to keep him in your prayers," Graham asked his followers.
The Christian Post asked Graham for a comment on his meeting with Volodin but was informed that he is traveling to a remote part of Alaska and is unable to provide comment at this time.
In an interview with a Russian state-operated news outlet, Graham, who is also head of the evangelical humanitarian organization Samaritan's Purse, explained that he was not dissuaded from going on the trip.
Graham has been a vocal supporter of the Trump administration and has on occasion participated in events for evangelical leaders at the White House.
Although the trip comes at a time in which many questions still surround Russia's and other countries' interference in the 2016 presidential election, and allegations by Democrats that the Trump campaign was involved in collusion, Graham explained that he talked with Vice President Mike Pence personally about his trip before leaving.
[B]efore I left home, I called up with Vice President Mike Pence to inform him that I was going to Moscow," Graham was quoted as saying. "He was very happy to hear this news. And he admitted that he wholeheartedly supported my decision."
Graham's trips to Russia come as American evangelicals have been working build ties with religious leaders in Russia for some time.
Graham's trip earlier this month was not the the first time he has traveled to Russia or has met with high-profile Russian government officials.
In 2015, Graham met with Russian President Vladimir Putin, according to one of Graham's social media posts from 2017.  
In October of that year, Graham traveled to Moscow and met with Patriarch Kirill to discuss Christian persecution worldwide, the global refugee crisis and the need to reach the younger generation brought up in secular schools and secular culture.
As a result of that visit, Graham announced in 2016 that the BGEA's World Summit in Defense of Persecuted Christians will be held in Moscow.
But later that year, Graham and BGEA moved the summit out of Russia to Washington, D.C. because Putin signed a law severely limiting religious liberties and legal evangelism. Critics feared the law is unfair for evangelicals and other believers who were not part of Orthodox Christianity.
Even though the event was not held in Moscow, a delegation from the Russian Orthodox Church was invited to take part in the D.C. Summit.  
In Graham's meeting with Kirill this month, the two again discussed how the Russian youth can be reached with the Gospel. Graham took part in a ceremony organized by the Russian Orthodox Church launching a book it published containing 50 of Billy Graham's (Graham's father) sermons.
"I appreciate his strong stand with biblical truth on issues such as abortion. In a world where many church leaders are losing their moral voice, @PatriarchKirill is refreshing," Graham wrote.
Graham added that he also met with evangelical leaders in the country while he was there.
"I'm meeting with the Russian churches on how we can share with more young people about faith in Jesus Christ!" Graham wrote in a March 3 Instagram post. "That's not 'collusion,' but it is collaboration for the sake of souls."
Trump has reportedly met with Putin on different occasions since taking office and has taken heat from media over the fact that the meetings were done in private and were not recorded. Upon his first meeting with Putin in 2018, Graham praised Trump.
"Nothing would be easier politically than to refuse to meet, to refuse to engage, but that would not accomplish anything," Graham wrote in a social media post last July. "I would rather take a political risk in pursuit of peace than to risk peace in pursuit of politics."