Franklin Graham Says Islam Should Not Be Mocked; Condemns Draw Muhammad Event in Garland, Texas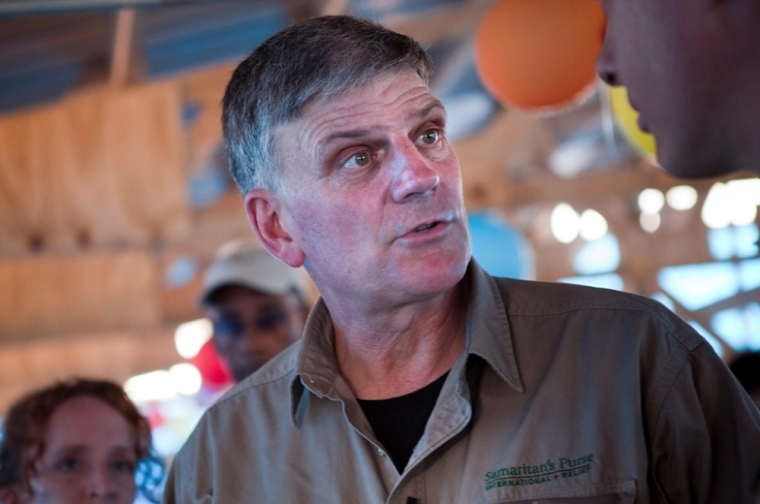 Franklin Graham, the head of nonprofit Samaritan's Purse, said he was discouraged by the impetus behind the draw Muhammad event in Garland, Texas, which some claim sparked the attack from two Muslim gunmen, allegedly affiliated with the terror group ISIS.
"What this event was doing in Texas was mocking Islam. I disagree with [them]," said Graham in a Fox News interview on Wednesday.
Graham said he wouldn't want anyone mocking Jesus Christ, and for this reason poking fun at Islam is off limits for him.
"We need to respect one another … and those that believe differently [from my faith]," he said. "I'm not going to mock them."
Graham, however, condemned radical Islam for attacking people outside their faith and reiterated his point from a previous interview in which he said the U.S. should "halt all immigration of Muslims from countries that have active terrorist cells."
"It's wrong to prefer violence, period," he said. "The Muslims have no right to go around shooting people because someone mocks them. … We should not be allowing immigration into this country from any countries that have active terrorist cells."
Graham condemned the attacks which took place two Sundays ago when two gunman opened fire at the Curtis Culwell Center where the "Muhammad Art Exhibit and Contest" was taking place. One security guard was injured in the melee and the terror suspects were shot and killed by a Garland police officer.
The event, attended by around 200 people, awarded a $10,000 prize to the best depiction of the Islamic prophet Muhammad. Such depictions of Muhammad are considered blasphemous under Shariah law.
The Muahmmad art exhbit was hosted by political blogger Pamela Gellar, president of the American Freedom Defense Initiative, and freedom of speech event held in response to the Charlie Hebdo terror attacks and the controversial Islamic "Stand with the prophet" conference that was held at the same Texas location on Jan. 18 that featured Imam Siraj Wahhaj, an alleged 1993 World Trade Center bombing "co-conspirator."
The gunmen were identified as Elton Simpson and Nadir Soofi.
The terror group ISIS claimed responsibility for the shootings at Geller's event on Tuesday and warned that more attacks could be on the way. Simpson might've had online ties to British ISIS recruit Junaid Hussain.
"We say to the defenders of the cross, the U.S., that future attacks are going to be harsher and worse," said an ISIS member on an Al Bayan radio station, based in the Syrian city of Raqqa.