Franklin Graham Sells 'Pray for 45' T-Shirts for Trump After Walmart Pulls 'Impeach 45' Clothing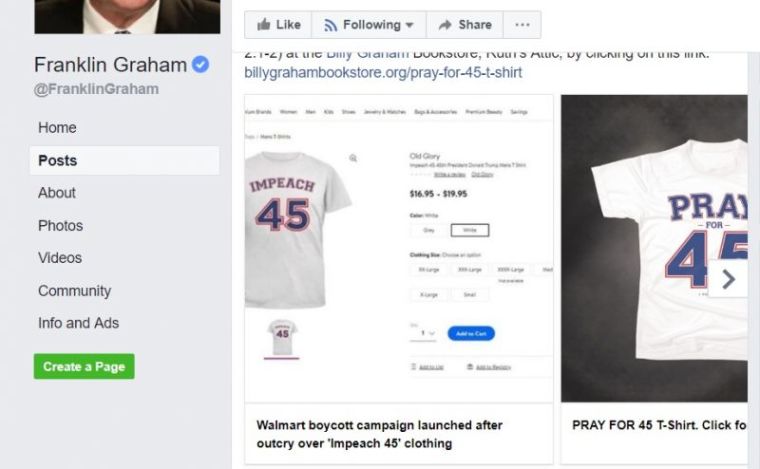 Evangelist Franklin Graham announced on Tuesday that the Billy Graham Bookstore will be selling T-shirts with the message "Pray for 45," in reference to President Donald Trump, following controversy over "Impeach 45" T-shirts that Walmart recently pulled.
"Walmart was in the news today for selling a T-shirt online that promotes 'IMPEACH 45.' That brought about a boycott against them, and rightfully so. I'm glad that they've now removed the shirts from their online store 'pending review' — that's a good move on their part," Graham wrote on Facebook.
As Fox News reported on Tuesday, social media saw a #BoycottWalmart trend after some users discovered that "Impeach 45" apparel was listed on the retailer's website.
A Walmart spokesperson said that the T-shirts would be removed for now.
"These items were sold by third party sellers on our open marketplace, and were not offered directly by Walmart. We're removing these types of items pending review of our marketplace policies," the company said.
Graham suggested that people can choose an alternative message for a similar style T-shirt.
"In the meantime, we came up with a T-shirt to promote something that can really make a difference — PRAYER! You can order 'PRAY for 45' (1 Timothy 2:1–2) at the Billy Graham Bookstore, Ruth's Attic," the Billy Graham Evangelistic Association president offered.
A description for the "Pray for 45" T-shirt states that it is "a reminder that God instructs us to pray for those in leadership: 'I exhort first of all that supplications, prayers, intercessions, and giving of thanks be made for all men, for kings and all who are in authority, that we may lead a quiet and peaceable life in all godliness and reverence' (1 Timothy 2:1–2, NKJV)."
"Wear it to remind yourself and others of the power of prayer, and ask God to give our president wisdom as he leads," the website advises.
In the past, Graham has said that Christians cannot trust in either Republicans or Democrats to fix the nation, but he has called for prayers for Trump. In an interview with "Fox & Friends" in April, he said that the president "understands the power of prayer."
"I appreciate that we have a president who understands prayer and solicits prayer," the evangelist said at the time.
He added, "The Bible tells us to pray for authority, not that those in authority are perfect people — they're not. They're imperfect, and that's why God wants us to pray — to pray for the president, all those that are in leadership."