Franklin Graham Tells Kate Middleton to 'Keep Your Top on' After Duchess Sues Over Topless Photos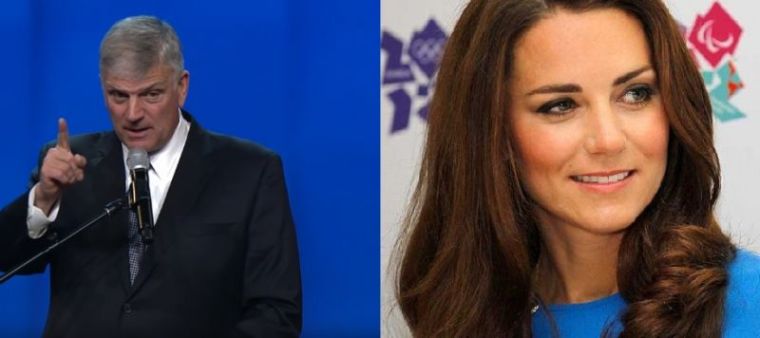 Evangelist Franklin Graham said Kate Middleton, the Duchess of Cambridge, should probably "keep your top on outside," commenting on the news that the Royals are suing for $1.6 million in damages over topless photos of Middleton published in a French magazine in 2012.
"I feel for them. We all appreciate our privacy, but we live in a high tech, digital age where it seems there's no privacy. Cameras are everywhere. Kate Middleton, of all people, should know this. She is followed by paparazzi from all around the world," Graham, who leads the Billy Graham Evangelistic Association and Samaritan's Purse, wrote in a Facebook post on Wednesday.
"If you don't want topless pictures of yourself taken, it might be a good idea to keep your top on outside. This is also a reminder to all of us that even though it seems people are always watching—more importantly, God is always watching," Graham continued.
Middleton's husband, Prince William, argued that the invasion of privacy from the paparazzi was unacceptable, and explained that the photos were taken while the family was visiting France for a few days at a secluded villa, away from the public.
"We know France and the French, and we know that they are, in principle, respectful of private life, including that of their guests. The clandestine way in which these photographs were taken was particularly shocking to us as it breached our privacy," William said in a statement.
The topless photos taken of the duchess while she was sunbathing have now taken to trial six people associated with France's Closer magazine and regional newspaper La Provence.
Lawyer Paul-Albert Iweins, representing Closer, tried to argue that the publication of the photos did not crate a negative image of the Royals, and instead gave them even more media attention concerning their wedding.
"The photos show a favorable image of the couple," Iweins said, according to Forbes, and denounced "an Anglo-Saxon rationale for punitive damages."
A palace spokesman said back in 2012 that the French publication and the photographer invaded the couple's privacy in a "grotesque and totally unjustifiable manner."
"The incident is reminiscent of the worst excesses of the press and paparazzi during the life of Diana, Princess of Wales, and all the more upsetting to The Duke and Duchess for being so," the spokesman added, referring to Diana's tragic death in Paris 15 years ago as she was fleeing photographers in a car.
"Their Royal Highnesses had every expectation of privacy in the remote house. It is unthinkable that anyone should take such photographs, let alone publish them." 
Forbes noted that French authorities banned any further reproduction of the nude photos of the duchess at the time, but they had already been reprinted in numerous other publications around the world.
A verdict in the case is expected by the Tribunal de Grande Instance de Nanterre on July 4.