Franklin Graham Warns Christians Will 'Lose This Country' If They Don't Vote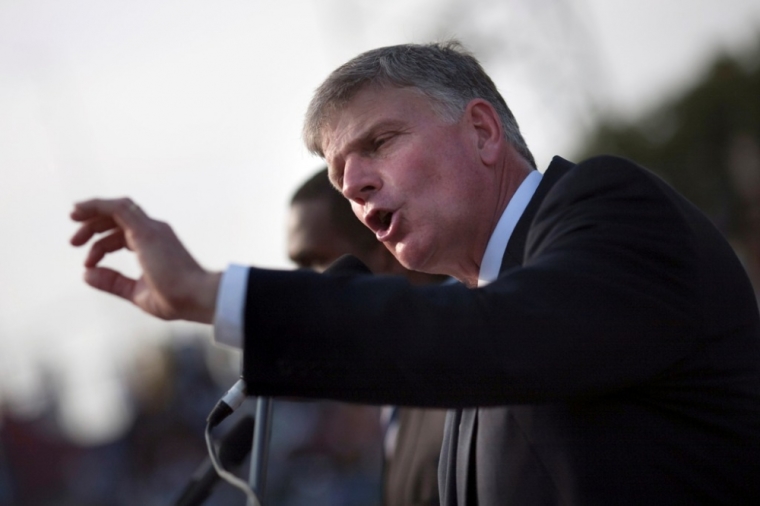 The Rev. Franklin Graham implored Christians to vote based on their biblical values in South Carolina on Tuesday, warning that they may "lose this country" if they don't participate in the 2016 election.
Graham, head of the Billy Graham Evangelistic Association, made his comments while on his latest stop in Columbia, South Carolina, as part of his Decision America Tour.
The evangelical leader told the crowd of over 7,000 that although he is not endorsing any one political candidate, Christians must remember their biblical values when voting in the upcoming election, warning that if believers don't get involved in politics, "we're going to lose this country."
"America is being stripped of biblical heritage," Graham said while speaking at the State House in Columbia this week, adding that he encourages American Christians to "vote for candidates who stand for biblical truth and biblical principles, and are willing to live them."
"I want to get to as many Christians as I can to vote in the next election," the evangelical leader continued. "Our country is going in the wrong direction. And I think some of the politicians that are running have tapped into the anger and the frustration in this country. And I want Christians to know that their vote does count and we've taken God out of government, schools and everything else and we need to get God back into it."
"Our society is unraveling and it's coming apart," Graham added.
The evangelist's latest stop in South Carolina comes ahead of the state's presidential primary set to take place on February 20. Graham has already stopped in Iowa and New Hampshire ahead of their recent Caucus and primary votes, respectively.
The religious leader echoed a similar sentiment on his recent visit to Georgia, where he encouraged an audience in Atlanta to fight against society's use of political correctness.
"You try to lift up the name of Christ in any public form, and what happens? The lawyers come and say 'we're gonna sue you.' And so people begin to back up; people go 'I don't want get sued.' Let me tell you: Get sued. Get sued," Graham told the crowd.
When speaking in Des Moines, Iowa, in January, Graham said he has "zero hope" for either political party, instead telling Christians that they must rely on their own moral conscience to make the right decision for the country.
"I have no hope in the Democratic Party. I have zero hope in the Republican Party [...] My only hope is in the body of Christ," Graham told the crowd of over 2,000.
On the Decision America website, Graham states that his goal with his nationwide tour is to "challenge Christians to live out their faith at home, in public and at the ballot box," adding that he will also "share the Gospel" during his visits.
Although Graham has not officially endorsed any political candidate, he did applaud the recent results of the Iowa Caucus on social media, focusing on the large amount of evangelicals who turned out to cast their vote.
"The polls show that more evangelical Christians came out to vote last night than in 2008 or 2012. I hope that this will be true for both the Democratic and Republican parties and spread to every state," Graham posted on Twitter earlier this month.
"If men and women who love God and fear Him will stand up and let their voices be heard at the ballot box, it will make a difference in our country. God bless America!" Graham added.
As The Christian Post previously reported, voter polling data from Edison Media Research found that in the recent Iowa Caucus, 64 percent of Republican voters identified as evangelical.