Franklin Graham Wonders About Muhammad Ali's Soul, Says 'Islam's Muhammad Can't Save You'
Muhammad Ali on Billy Graham: 'If I was a Christian, I'd Want to Be a Christian Like Him'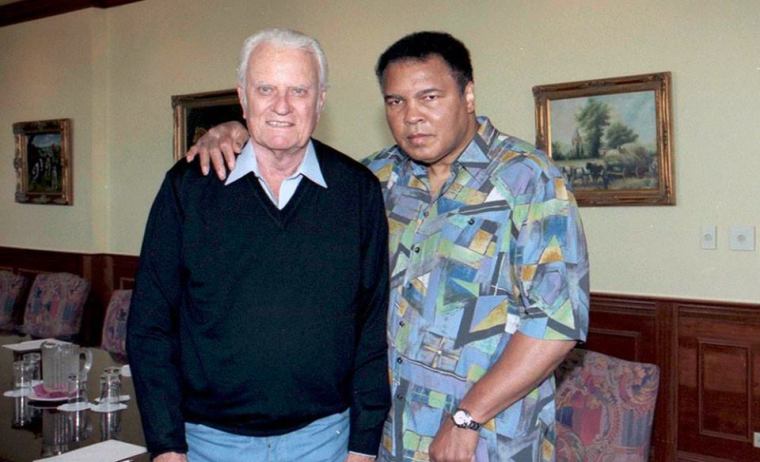 Franklin Graham, the son of famous Evangelical leader Billy Graham, has recalled a meeting between his father and boxing great Muhammad Ali, where the latter, a devoted Muslim, said if he were a Christian, he'd have wanted to be like Billy Graham.
Franklin Graham also wondered, however, about the state of Ali's soul, arguing that his Islamic faith would not have saved him.
In a Facebook post on Thursday, he shared a photo of a meeting between Billy Graham and Ali in Louisville, Kentucky, in June 2001, and recalled that they had met before in North Carolina in 1979. After that meeting, Ali apparently said:
"I've always admired Mr. Graham, I'm a Muslim and he's a Christian, but there is so much truth in the message he gives, Americanism, repentance, things about government and country — and truth. I always said if I was a Christian, I'd want to be a Christian like him."
Graham reflected: "My father always hoped Ali would give his life to Christ. I've wondered if he put his faith and trust in Christ before he slipped into eternity. I sure hope so. Islam's Muhammad can't save you, only Jesus Christ can save."
Ali died on June 3 at the age of 74, following a bout of respiratory illness, leaving behind a legacy that stretches not only throughout sports, but is also felt in his influence as a civil rights fighter and cultural icon.
The former boxing champion was known to have been a devoted Muslim, with his daughter, Hana, revealing on Twitter details about his final hours:
"All of us were around him hugging and kissing him and holding his hands, chanting the Islamic prayer.
"All of his organs failed but his HEART wouldn't stop heating. For 30 minutes ... his heart just keep beating," she added.
"No one had ever seen anything like it. A true testament to the strength of his Spirit and Will!"
Ali is set to be buried in his home city of Louisville, BBC News reported, with tens of thousands of people expected to attend the service. Notable figures from sports, Hollywood and politics are set to participate, including former boxing champion Lennox Lewis, actor Will Smith, and former President Bill Clinton.
Turkish President Recep Tayyip Erdogan and King Abdullah of Jordan are also expected to attend, though President Barack Obama will miss out due to his daughter's graduation.
"This week we lost an icon. A person who for African-Americans, I think, liberated their minds in recognising that they could be proud of who they were," Obama said in a video message.
The Muslim-American community has been mourning the loss of its most famous representative, with Hamza Shah, a doctor in Louisville, stating:
"With the stuff going on these days, most of the time, you see in the media there's a bad image of Muslims. The one person we can definitely get a good image of was Muhammad Ali, and he portrayed what the real Islam is."
Chicago-based imam Syed Hussein Shaheed added, "He stood up as a man of truth, and Muslim countries look to people who not only are truthful but also compassionate and merciful."