Gabrielle Douglas Combats Hurtful Olympics Bullying With Love
Gabrielle Douglas Combats Hurtful Olympics Bullying With Love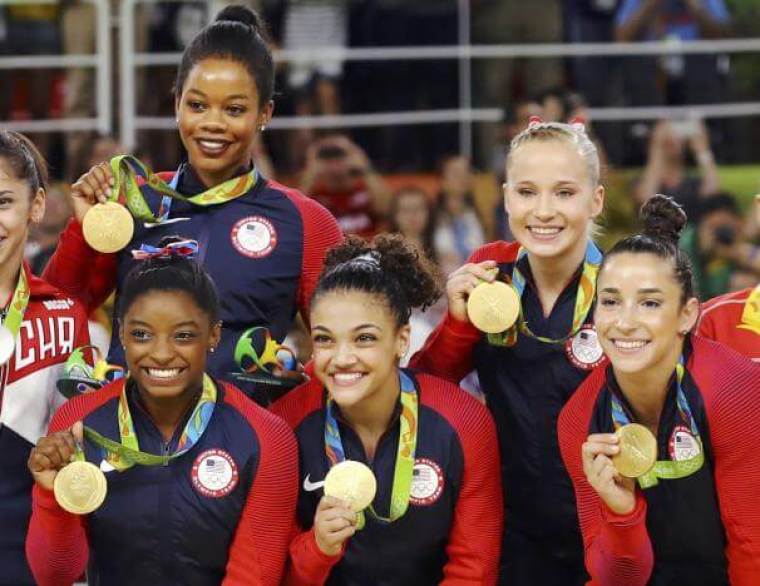 When the world laughed at her and accused her of being unpatriotic, Gabrielle Douglas responded with love.
Along with a gold medal for the women's team all around competition, the 20-year-old gymnast has received a great deal of criticism on social media. From her appearance to her not standing up to cheer for her teammates' individual events, Douglas has endured some harsh words from spectators watching the Olympic games.
While the overwhelming amount of negativity has left Douglas feeling emotional, the Christian athlete chose to respond with love.
"I've been through a lot," she told reporters Sunday. "I still love the people who love me. Still love them who hate me. I'm just going to stand on that."
Still, Douglas was in tears when she explained just how hurtful the criticisms were.
"When they talk about my hair or me not putting my hand up on my heart or me being very salty in the stands, they're really criticizing me, and it doesn't really feel good," she admitted. "It was a little bit hurtful."
Her mother, Natalie Hawkins, defended her daughter against the verbal attacks she has been receiving on social media.
"She's had to deal with people criticizing her hair, or people accusing her of bleaching her skin. They said she had breast enhancements, they said she wasn't smiling enough, she's unpatriotic," Hawkins told Reuters. "Then it went to not supporting your teammates. Now you're 'Crabby Gabby.' You name it and she got trampled."
Even her mother was left emotional by the onslaught of verbal jabs that she called bullying. When Douglas was caught on camera not cheering for her teammates during their individual competitions, her mother said it was a product of the bullying she was enduring.
"We've been brought to many tears because I don't know what she's done to warrant such an attack. To me it looks like she is being bullied," Hawkins said. "What I saw in the stands was someone who was hurting and she was also angry. What was going through her head was 'I'm being attacked for everything I do so I might as well not do anything.'"
However, Douglas insisted that she supports her teammates and apologized for the perceived behavior she was exhibiting.
"Everything I've gone through has been a lot this time around and I apologize if [I seemed] really mad in the stands. I wasn't," she said. "I always will support them and respect them in everything they do. I never want anyone to take it as I was jealous or I wanted attention."
Douglas and her mother are no stranger to facing obstacles, having overcome serious issues like homelessness, health issues and a broken family. The Olympian previously told The Christian Post that those hardships have made her stronger.
"I think (those experiences) helped me become a stronger and more mature person and that was my motivation. I remember my mom telling me that we were homeless," Douglas previously revealed. "Stories about that, that was my motivation… I went through hardships like a blood disease, homelessness, moved to Iowa, injuries and I had to overcome all of those things to get to where I am today."
Because of her Christian faith, Douglas insists she has been able to rise above tough times.
"It was definitely important for me to praise God because he's given me this God-given talent to go out there and represent him and share my faith with everyone," she said.