Gay 'Big Bang Theory' Star Plays God in New Broadway Comedy Based on Book by Twitter's Popular @TheTweetofGod Author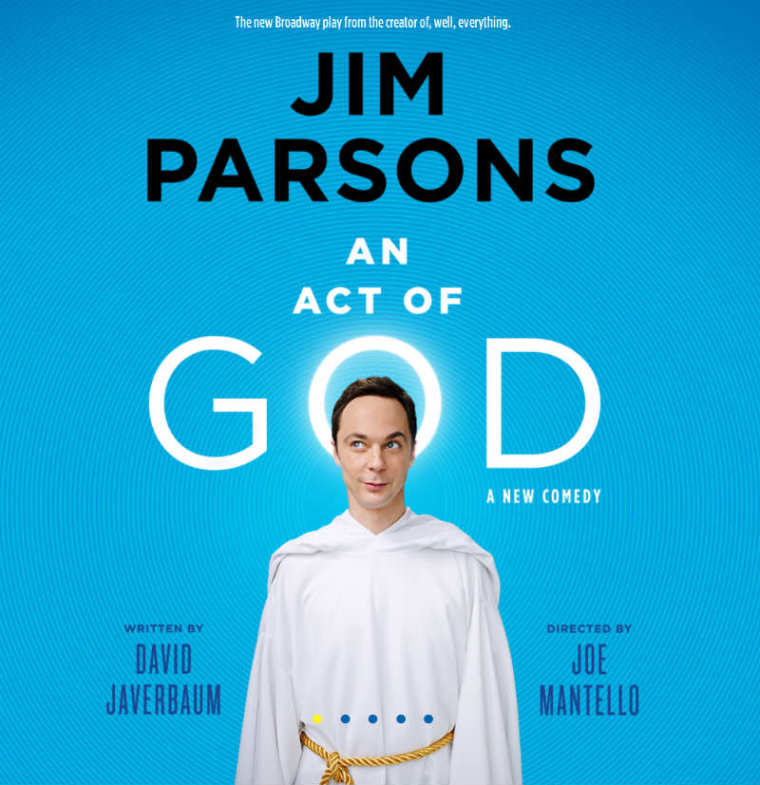 Jim Parsons, who plays Sheldon Cooper in the popular television series "The Big Bang Theory," portrays the Creator of the universe in the new tongue-in-cheek Broadway play titled "An Act of God," written by the author who runs "TheTweetOfGod" account that has nearly 2 million followers on Twitter.
The satirical and irreverent play is described on the official website as "a 90-minute comedy where the Almighty and His devoted angels answer some of the deepest questions that have plagued mankind since Creation. He's finally arrived to set the record straight … and He's not holding back!"
"An Act of God" officially opened May 28, and also features Christopher Fitzgerald and Tim Kazurinsky as the archangels Michael and Gabriel, in addition to 42-year-old and openly gay Parsons in the titular role.
The play is based on the 2011 book, The Last Testament: A Memoir By God written by "God" and multi-Emmy award winner David Javerbaum. Javerbaum, who has written for "The Daily Show with Jon Stewart" and the 2008 production "Cry-Baby," gives writing credit to "God" for the play as well, and credits himself as the transcriber.
Javerbaum told the New York Daily News that the intent of "An Act of God" was not to "undercut religion."
"Religion isn't the primary or even the secondary subject of what God's talking about," he said. "We do cover the Bible's greatest hits. There's also a lot of comments about contemporary America and celebrity and sports. As a comedy writer, adapting the point of view of God was a way to make jokes about anything. God can talk politics or Britney Spears or reality TV. He's down with it all. That was the idea for me."
Javerbaum also handles the popular yet unverified Twitter account, "TheTweetOfGod," which he launched in 2010. "TheTweetOfGod" has nearly 2 million followers and usually tweets snarky authoritative comments about religion and topical issues. Two of Javerbaum/God's most popular tweets of all time include a list of "The New 10 Commandments" and a derogatory jab at boxing champ Floyd Mayweather, who recently defeated Manny Pacquiao.
Parsons, who previously appeared in "Harvey," "The Normal Heart," "Merton of the Movies" and many other roles on Broadway, can be seen in action in "An Act of God" in the video below in which he discusses being omniscient:
When asked what kind of research he did to prepare to play the part of God, Parsons told Playbill, "I went to church every Sunday growing up, so I'm pretty familiar with everything I'm saying. But I did have to bone up on the difference between the words 'omnipotent,' 'omnipresent' and 'omniscient.' I say them a lot in the show and I have to make sure I keep them straight."
Parsons explained that he grew up Lutheran in "not the strictest of churches." He added, "I mean, they have moral values. It's just not fire and brimstone."
The crew for "An Act of God" includes director Joe Mantello, producer Jeffrey Finn, scenic designer Scott Pask, costume designer David Zinn, and several other notable names. The play runs through August 2 at New York City's Studio 54.