There's no such thing as 'gay marriage,' says John Piper: 'It's dishonorable and shameful'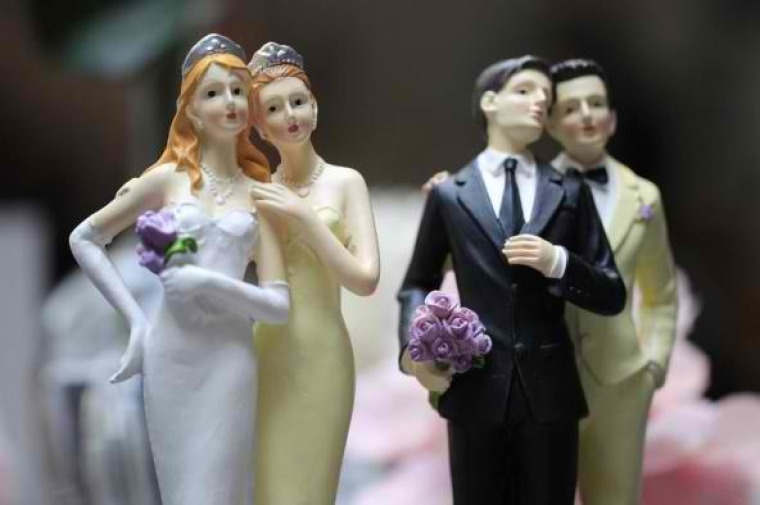 The sexual union of two men or women is not "gay marriage" — it's no marriage, biblically — and when they come to Christ, that former relationship has no binding authority, John Piper has said.
In a recent podcast, Piper, chancellor of Bethlehem College & Seminary in Minneapolis, Minnesota, weighed in on a question from "Cameron," who asked whether same-sex couples living together and practicing homosexuality should remain in that relationship once they come to Christ.
"No, I would not recommend that two men or two women living together, practicing homosexuality, remain in that relationship," Piper responded. "The reasons are several."
He explained that while it's possible for men and women to enter into a marriage wrongly, a prohibited heterosexual relationship can become a consecrated and holy one.
"I conclude that while it was an adulterous act to marry under the conditions that Jesus disapproves of in Luke 16, nevertheless, it's called a marriage," he explained. "A marriage is a matter of covenant faithfulness between a man and a woman. Therefore, I would encourage that couple to repent of what they did wrong and to ask for forgiveness and to consecrate their union, which, though it should not have happened, may nevertheless be holy before the Lord."
But the same principles don't apply to same-sex relationships, Piper contended, because two men or two women entering a relationship of sexual union with promises is not a marriage.
"You can't consecrate a marriage that should not have taken place if it is not a marriage at all," he said. "The union of two men and two women is not gay marriage — it's no marriage. I don't like the idea that so many people are willing to use the term gay marriage instead of calling it so-called gay marriage, because there is no such thing in the universe as so-called gay marriage."
"That's the main reason one relationship can be consecrated as a holy marriage and the other one can't," he said. "One is a marriage and the other is not a marriage — no matter how many thousands of times legislators and laws and judges and news commentators say that it is. It isn't. That's the first difference."
It's impossible, Piper continued, to make honorable what God has said by nature is dishonorable.
"In other words, homosexual behavior is not wrong just because it's commanded that we don't do it. It's wrong because, by nature, it is dishonorable and shameful," he said. "In other words, sexual relations between a man and a woman are not, by nature, dishonorable and shameful.
No amount of repenting, faith, or consecration can turn that which is by nature dishonorable and shameful into an act that is holy or pure or honorable, the pastor explained.
"That's why I would encourage two men or two women involved in such acts to renounce the sin, repent, ask for forgiveness in the name of Jesus, and no longer make any provision for the flesh, as Paul says in Romans 13:14," he concluded.
According to a comprehensive new religious freedom and pluralism report released by the Barna Group this year, nine in 10 pastors (90%) believe it is a major part of their role to help Christians have biblical beliefs about specific social issues.
However, half of Christian pastors say they frequently (11%) or occasionally (39%) feel limited in their ability to speak out on moral and social issues because people will take offense.
"The stakes are high in the public square," the researchers wrote. "The issues pastors feel most pressured to speak out on are the same ones they feel limited to speak on," with LGBT issues and same-sex marriage at the top.
Bruce Miller, pastor of Christ Fellowship Church in McKinney, Texas, and author of Leading a Church in a Time of Sexual Questioning: Grace-Filled Wisdom for Day-to-Day Ministry, previously told The Christian Post that while the Church needs to hold fast to the idea that marriage is between a man and a woman, it must nevertheless "go overboard" in communicating their welcome to homosexual persons, considering the history.
"What's really hard to convince someone of is that we really love you, that we really want you to come and hear about the grace of the Lord Jesus Christ," he said.
"We've got to bend over backward to show the unconditional love of Christ and the amazing love and grace of the Father to hurting people."
It's important to be clear about one's theological convictions but at the same time, "it's important that we don't throw stones at each other and give each other the grace to sort this issue out," he noted.
"People get really nervous that love is going to compromise truth and it doesn't," he said. "Hugs don't compromise theology. We can love people unconditionally without diminishing truth. It's not that we want to push truth down to have more grace … Jesus came full of grace and truth. We need to have 100 percent of both."