Gaza Protests, Killings: 6 Things to Know About Israel-Palestine
5. U.S. Response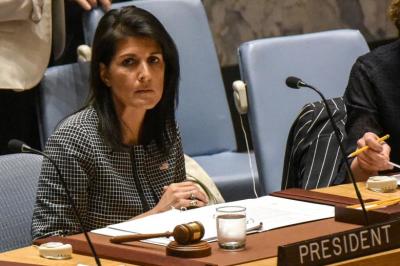 U.S. Ambassador to the U.N. Nikki Haley insisted on Tuesday that Hamas and Iran are responsible for the violence, pushing back against accusations from the U.N. and other nations.
"Let's remember that the Hamas terrorist organization has been inciting violence for years, long before the United States decided to move our embassy," Haley said at a U.N. Security Council Emergency Meeting on Tuesday. 
"This is what is endangering the people of Gaza. Make no mistake, Hamas is pleased with the results from yesterday."
Haley pointed to the reports of Palestinian protesters using Molotov cocktails attached to kites to attack Israeli soldiers, and said that Hamas has been urging protests to get closer to the border fence using recordings and loudspeakers.
"No country in this chamber would act with more restraint than Israel has. In fact, the records of several countries here today suggest they would be much less restrained," she said.
"As our President said when he announced the decision in December, the location of our embassy has no bearing on the specific boundaries of Israeli sovereignty in Jerusalem or the resolution of contested borders," Haley added.
"It has no bearing on Jerusalem's holy sites. It does not prejudge whatever the parties might negotiate in a peace agreement. It does not undermine the prospects for peace in any way. And yet, for some, this is supposedly a cause for violence."
U.S. Deputy Press Secretary Raj Shah also blamed Hamas for the violence.
"We believe that Hamas is responsible for these tragic deaths, that their rather cynical exploitation of the situation is what's leading to these deaths, and we want them to stop," Shah declared.