Georgia police officer who wrote 'God designed marriage' was forced out over Christian beliefs, attorneys say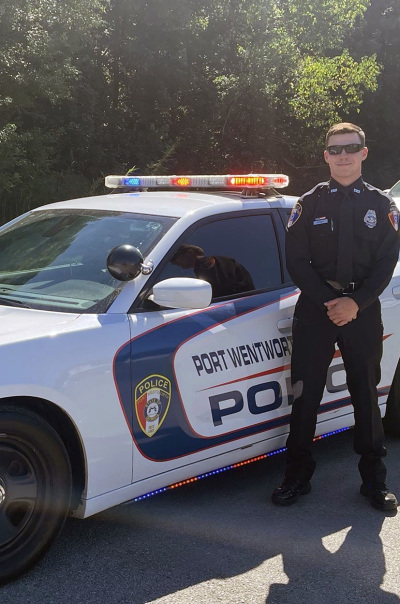 Attorneys representing a former Georgia police officer who expressed his Christian beliefs on social media say he was forced out of his job because of religious discrimination.
Port Wentworth Police Officer Jacob Kersey resigned in January after being told by his supervisors he could be terminated for sharing his religious views on marriage.
Kersey, 19, was placed on paid administrative leave following his refusal to take down a Facebook post from two days earlier in which he paraphrased the Apostle Paul's letter to the church at Ephesus.
"God designed marriage. Marriage refers to Christ and the church. That's why there is no such thing as homosexual marriage," he wrote.
According to attorneys with First Liberty Institute in Plano, Texas, Kersey was given a letter of notification that warned him he could be fired if he posted any more "offensive" content on social media.  
After further meetings with leadership, attorneys say he realized that he faced a choice between compromising his deeply held religious beliefs or continuing as a police officer with the department. He resigned on Jan. 17.
Prior to his resignation, Kersey had been a police officer with Port Wentworth PD since May 2022.
In a letter sent Monday to Port Wentworth Mayor Gary Norton and Assistant Police Chief Major Bradwick Lee Sherrod, attorneys accused Port Wentworth of "unconstitutionally forcing Mr. Kersey out of his job because of his deeply held religious beliefs."
"The Department's actions send a message to Christians who hold traditional biblical beliefs about marriage that they are unwelcome as police officers or city employees," the letter stated.
According to attorneys, in a meeting on Jan. 4 with Norton and Sherrod, Kersey was told that his post about his religious beliefs was the "same thing as saying the N-word and F--- all those homosexuals." 
He was also told, according to the letter, that his free speech was "limited due to his position as ... a police officer" and that Kersey "could not post things like that."
After being placed on leave, attorneys say Kersey received a letter of notification from Sherrod explaining that while there was not "sufficient evidence" to terminate him, Kersey could be terminated "for any post on any of his private social media accounts or any other statement or action that could be perceived as offensive."
Sherrod noted that Kersey's posts and podcasts are "likely offensive" to certain communities and urged him to "take this situation as a learning lesson."
Forced to choose between his private religious speech and the job he loved, attorneys say Kersey had no choice but to resign.
Stephanie Taub, senior counsel for First Liberty Institute, said not only does the city owe Kersey an apology, but they also need to create policies that protect the First Amendment rights of city employees.
"It is a blatant violation of state and federal civil rights laws to discriminate against someone for expressing their religious beliefs," Taub said in a statement. "The city owes Jacob a public apology.  And it needs to adopt policies that recognize the free speech and free exercise rights of its employees.  
"Forcing Jacob to choose to either censor his private religious speech or remain employed as a police officer is simply unconstitutional."
In early February, just days after Kersey resigned, Port Wentworth Police Chief Matt Libby announced his retirement in a brief letter.
Speaking with The Christian Post earlier this month, Kersey said he believes Libby was forced to resign.
"The police chief was forced to resign after my story made national headlines," he inferred, "America wants to know why." 
In addition to demanding a public apology from the other members of the Port Wentworth police command staff, Kersey also wants to know when the city is going to address the story.
"What happened to me should never happen again — not in America and certainly not in Georgia," he said.