Giant George, World's Tallest Dog, Dies: 7 Foot 3 Inch Great Dane Passes Away (PHOTO, VIDEO)
The world's tallest dog named "Giant George" has died, sending dog lovers into mourning around the world. Giant George was a famous 7 foot 3 inch tall Great Dane, and until his death held the world record for world's tallest dog. He died recently aged 7 years old, weighing 245 pounds.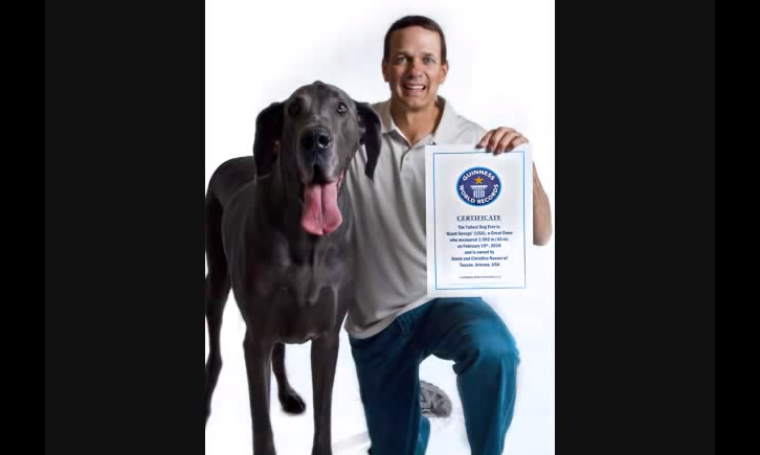 According to reports, Giant George died peacefully with his owners Dave and Christie Nasser by his side in Tuscon, Arizona.
Giant George was officially registered as the world's tallest dog by the Guinness World Records, and was just short of his eighth birthday when he passed away on October 17.
Christie Nasser posted a message on Facebook announcing his death, "It is with a heavy heart that we announce Giant George died last night. George passed away peacefully surrounded by loved ones; one month before his eighth birthday. We appreciate the love and support you have given Giant George over the last several years."
Giant George was hugely popular with animal lovers and his Facebook page has over 200,000 fans.
A website was also created for George - GiantGeorge.com. The website states: "Giant George is the World's Biggest Dog and was officially verified by Guinness World Records on February 15, 2010 as the World's Tallest Dog. It wasn't long before George had made larger-than-life appearances on the Oprah Winfrey Show & Live with Regis & Kelly and started working on his first book."
A message reads: "In honor of what would be Giant George's 8th Birthday, we are celebrating Giant George Service Day on November 17. Donate your time and/or money to an animal cause or charitable organization that is important to you and your family."
Here is a video showing Giant George: