Glenn Beck: Why Do American Christians Care More About Memories Pizzeria Than Christians Beheaded by ISIS?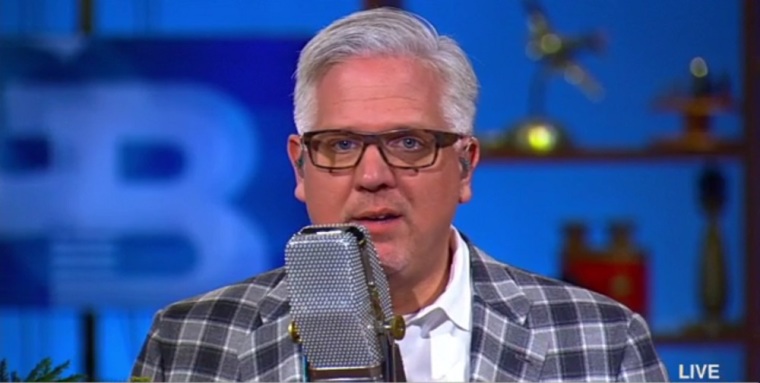 In his Monday program on TheBlaze TV, popular conservative commentator Glenn Beck criticized American Christians for giving an outpouring of support to Christian-owned businesses that are being attacked for their beliefs while doing nothing to rally in support of Christians who've been beheaded for their faith by the Islamic State.
Before making his point, Beck played a clip of the ISIS video, which was released on Sunday, that showed the beheadings of 30 Ethiopian Christians in Libya. Beck then asked why it is that most Christians in the U.S. don't care about the barbaric killings of their brothers and sisters in Christ.
Beck found it weird that when the Christian owners of Memories Pizza in Walkerton, Indiana, received death threats for saying that they would not serve a gay wedding, there was an overwhelming amount of support and charity given by other Christians. But, when Christians in Libya were beheaded by ISIS because of their faith, Christians in America looked away and did not seem to care.
"When we talked about a Christian pizza parlor just the other day, Christians responded in large numbers when Christian-owned businesses are threatened for their beliefs. Here people are getting executed," Beck stated. "Shouldn't the response be exponentially greater when Christians are literally being beheaded and crucified, children being raped and killed every single day? Why is the response so muted? I don't have an answer. I have this question and I cannot find an answer that I am comfortable with."
Beck said he can understand why people in other parts of the world don't care about ISIS' persecution of Christians, but he can't figure out why Christians in America are so apathetic toward it.
Beck further explained that Christians in China and the Middle East have become so desensitized to violence toward Christians that it has become a normality in their lives, and it makes sense that they don't care as much. He also explained that Europe has become so immersed in multiculturalism that Europeans are afraid to speak out against Muslim acts of violence toward Christians.
"I guess I can kinda see how the rest of the world doesn't react to this. But I don't understand us. It is not an excuse [that] Christianity just isn't their thing," Beck asserted. "That can explain the lack of major action from all of them but what is our excuse?"
In trying to answer his own question, Beck reasoned that since the Christians that have been featured in ISIS' publicized mass execution videos have been Ethiopian and Coptic, Christians in America don't identify with them well enough to care about their slayings.
"We don't know what the Coptic thing is. Are they Christian? Would we care if the victims are Methodists or Baptists or Catholic or Mormon? I guarantee you we would," Beck said. "Is the president right? If the victims were white instead of Arab or black, would we care more? I thought maybe we are too far removed in our creature comforts here in America that it is not even real to us. And we don't have the energy to care about something that is happening half of the world away because our world is burning down here."
Another reason that Beck came up with was that American Christians are "helpless" and don't know what can be done to prevent more Christians from being beheaded by ISIS.
"The only thing that I come up with that I am comfortable with is that we feel helpless and we don't know what to do, so we do nothing. … [T]hat is not an excuse, not for Americans," Beck argued. "Necessity is the mother of invention. We are told all the time that we can't go to the moon, you can't do that, can't have the Internet. We always think our way out of the box. We are told that we can't do it and we do it."
The notion that American Christians can't do anything to help Christians who are at the mercy of ISIS is completely false, Beck contended, explaining that some Americans are already making efforts.
"There are soldiers right now, we have shown you, soldiers, American soldiers, who have joined the fight, not for ISIS but against ISIS. [They are] going over there on their dime, risking their life because they couldn't take it anymore," Beck explained. "There are churches who are clothing and feeding the Christians over there. … I don't buy into the fact that we don't know what to do."
Beck also criticized the fact that Americans don't want to watch the sickening ISIS beheading videos but they will watch graphic TV shows like "The Walking Dead." He further asserted that it's important for Americans to watch the ISIS execution videos.
"They will win if we don't watch it. They want you to look away. They need you to look away," Beck commented. "Did you hear what he said? 'We will haunt you even in your dreams.'"