'God's Not Dead 2' Ad Rejected by Billboard Company Over Phrase 'Judged by God'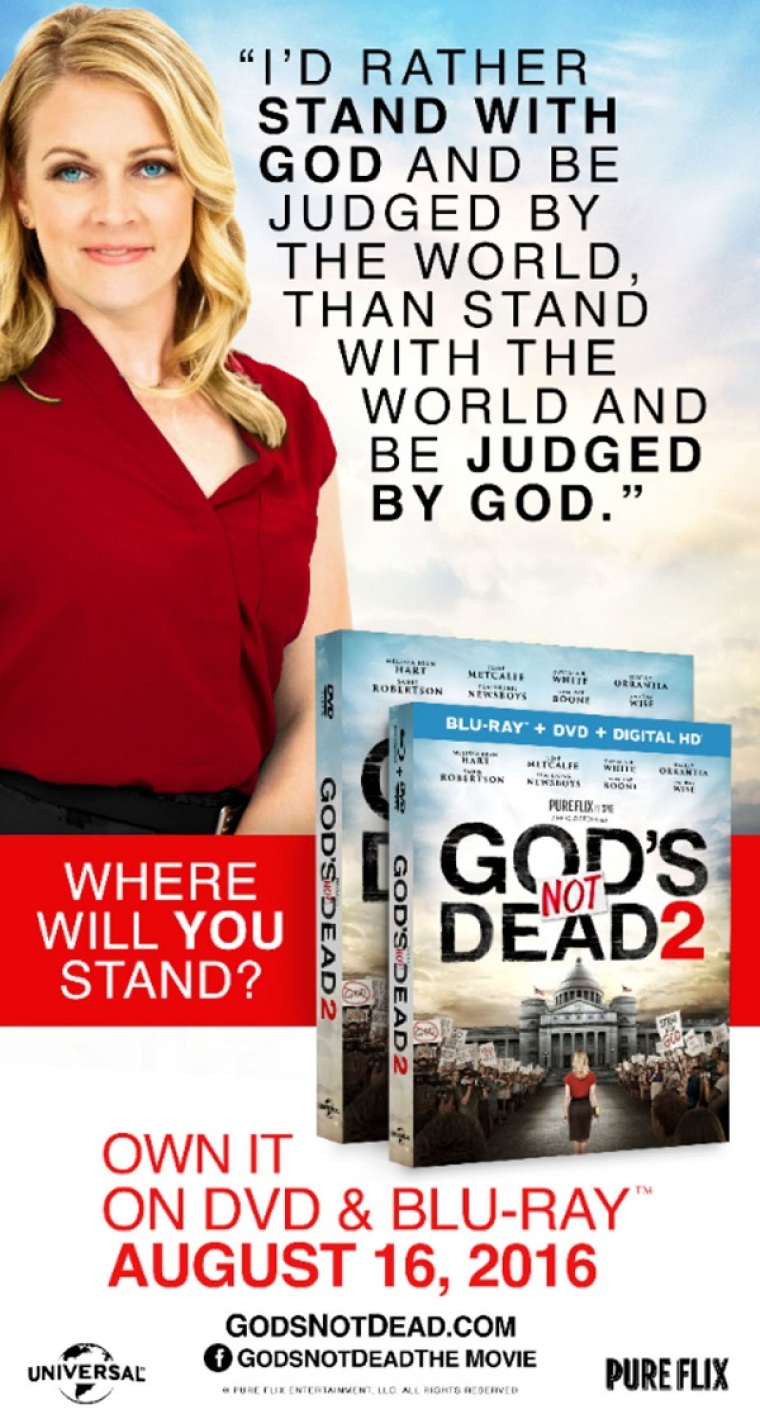 A billboard company in Cleveland, where the Republican Party will hold its convention next week, has rejected a giant ad promoting the release of "God's Not Dead 2" for being "too incendiary," but a quote by former President Ronald Reagan used on a pro-atheist billboard has been approved.
The Hollywood Reporter said on Wednesday that the "God's Not Dead 2" ad was rejected by Orange Barrel Media for its text, which reads: "I'd rather stand with God and be judged by the world than stand with the world and be judged by God."
Orange Barrel reportedly told Pure Flix, the distributor, that it did not like the phrase "judged by God," claiming that it was "too political" and "way too incendiary."
The film, which was released earlier this year, is about a high school teacher, played by Melissa Joan Hart, who answers a question about Jesus in class, which leads to a high-profile court case.
The billboard would have measured 32 feet by 60 feet, promoting the Aug. 16 DVD release of the movie, and would have draped down one side of a large building in downtown Cleveland.
The movie has received criticism from atheists, such as Hemant Mehta of The Friendly Atheist blog on Patheos.com, who have argued that it features "fake Christian persecution," insisting that in real life, atheist groups wouldn't protest a teacher simply for quoting from the Bible, if she wasn't proselytizing.
David A.R. White, the actor and producer behind the film, asked atheists, however, why they were upset by the movie if they don't believe it's real.
"It's an interesting thing, because, if it wasn't real, why do they get so offended by it? I don't think it would annoy people if it wasn't true," White said in an interview back then.
"At the end of 'God's Not Dead 1′ and even part two, we throw up about 50 different court cases that are dealing with similar issues right now," he added.
Steve Fedyski, the CEO of Pure Flix, said his company had agreed to pay Orange Barrel $64,100 for the ad.
"I'm perplexed. They dragged us along for weeks. Now, right up against the Republican National Convention date, they say we aren't approved, and they give us no logical rationale," Fedyski said. "My speculation is that someone, somewhere didn't want our message out. It's hard to understand, considering we've used the same marketing on CNN and other national networks."
The Freedom From Religion Foundation's pro-atheist billboard, however, which features a quote by Reagan, has been approved and gone unchallenged.
"We establish no religion in this country. ... Church and state are, and must remain, separate," reads the quote on the 14-by-48-foot billboard, which went up in June in Cleveland on Interstate Highway 71 north of 480.
The quote is taken from Reagan's remarks on Oct. 26, 1984, in Valley Stream, New York.
Reagan also said in the same speech: "All are free to believe or not believe, all are free to practice a faith or not, and those who believe are free, and should be free, to speak of and act on their belief."
FFRF Co-President Annie Laurie Gaylor says that the ad, which will also be taken to the Democratic National Convention, is a direct message to Republicans to respect the separation of church and state.
"The RNC needs to be reminded that our nation is predicated on a godless and entirely secular Constitution," Gaylor said in a press release. "The fate of our Establishment Clause hangs in the balance of the election. We're not voting for the next president—we're voting for the next Supreme Court justice."