'God's Not Dead' Actor Asks Why Hollywood Ignores 100M Churchgoers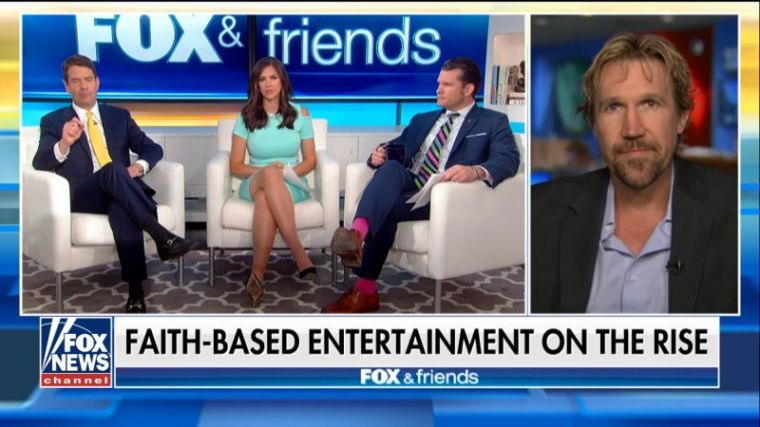 "God's Not Dead: A Light in Darkness" actor and filmmaker David A.R. White has asked why Hollywood ignores large sections of the American churchgoing population, especially when the country faces "dark" and "divisive" times.
"Easter is a time when families can get together and discuss, communicate hopefully at the dinner table," White said in a "Fox & Friends" interview on Sunday.
"What has made the 'God's Not Dead' franchise really connect [with] people is that it opens up conversations in a lot of different ways. We are living in this dark, socio-political divisive time, when it seems like a lot of people are yelling and no one is listening. Hopefully what this film will do is connect people and open up those conversations," he said about his movie, "God's Not Dead: A Light in Darkness," which opened in theaters last week.
White pointed out that Hollywood largely ignores faith-based audiences despite how large the demographic in America is.
"There's a stat that says 100 million people go to church once a month. Hollywood for a long time kind of forgot that people have a desire for faith, have a desire to go to films that uplift and inspire the human spirit, and that's what we're finding out right now," he said, speaking of the success of various faith-based films in recent times.
"These faith films are in the market place, the numbers are extraordinary, and realizing more and more that this is something that people want."
The producer noted that the latest "God's Not Dead" installment tackles challenging questions, such as whether God is good all the time. At the end, he said that the mission is to get people to communicate with each other, and to "stop yelling and start listening."
White opened up in an interview with The Christian Post back in December 2016 about his production company Pure Flix Entertainment and his faith journey to Hollywood:
"For whatever reason, that dream I had of going to Hollywood never went away. But when I got to LA at just 19 years of age, my faith was the foundation that gave me the confidence that I needed to believe that it would all work out and was a reason for the open and closed doors," he told CP at the time.
"Today, my faith is the center of my career. The decisions are thought out carefully and prayerfully and it is by our faith that guides the direction of Pure Flix and our aspirations and goals."
The first installment of "God's Not Dead" was a box office success, earning around $9.2 million its opening weekend in 2014. The sequel earned $7.6 million opening weekend. The third installment earned $2.6 million this past weekend.
One recent faith-based film that has been gaining mainstream attention is "I Can Only Imagine," based on the true-life story of MercyMe frontman Bart Millard.
U.S. ticketing companies Fandango and MovieTickets.com said last week that the project is the top-selling feature film in theaters, surpassing even the highly anticipated Marvel blockbuster "Avengers: Infinity War."
"THIS IS INSANE Y'ALL!!!! You guys have made #icanonlyimagine #1 in presale tickets on movietickets.com & fandango.com this morning...EVEN OVER THE AVENGERS!!!" the band posted on Facebook at the time. "The entire band & movie team are absolutely blown away...THANK YOU!!!!"