'God's Not Dead' Production Company Denounces Vandalism of American Atheists' Billboard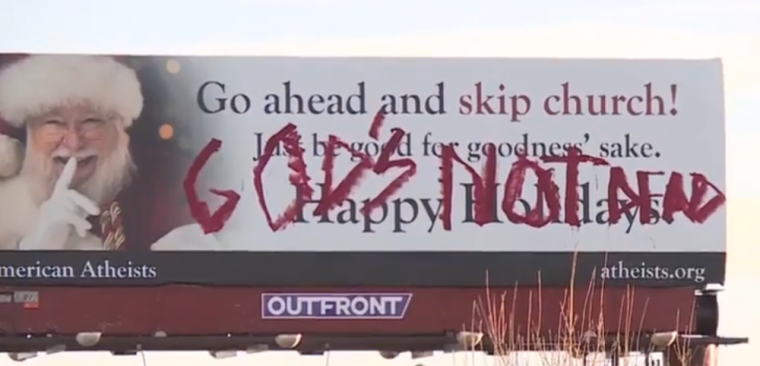 The production company behind the film "God's Not Dead" and the upcoming sequel have denounced a recent act of vandalism against an atheist billboard in which an unknown person spray-painted to the movie title on the sign.
Last weekend, an American Atheists billboard in Colorado Springs, Colorado, was defaced with a spray-painted message reading "God's Not Dead."
In response to the news Pure Flix, a faith-based production company that was behind the unexpected 2014 blockbuster, decried the criminal act against the group's billboard.
"We're saddened that a vandal would use the title of our movie to deface the message of a billboard they don't agree with," said Michael Scott, founding partner of Pure Flix and producer of the 2016 film "God's Not Dead 2," in a statement to The Christian Post.
"Ironically, it was precisely that kind of dismissive disrespect for Christians' belief in God that formed the plot of 'God's Not Dead.'"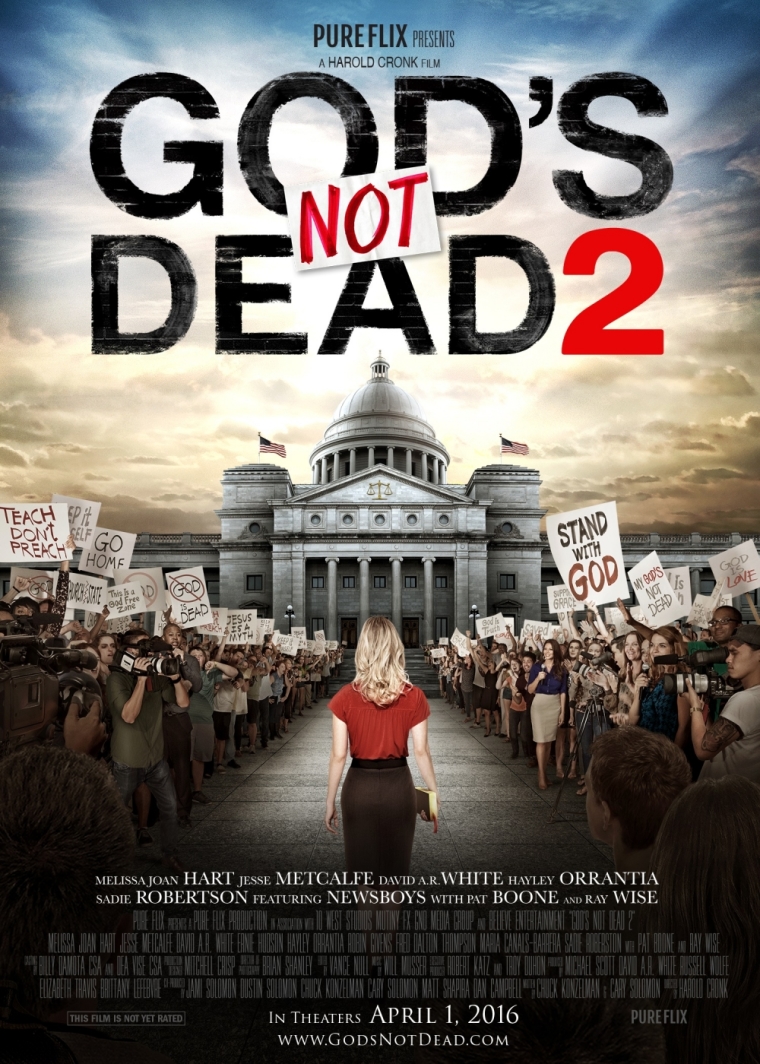 Scott went on to note that the major goal of the "God's Not Dead" films "is to create respectful dialogue about questions regarding the nature and love of God."
Last month during the Christmas season American Atheists posted two billboards, one in Colorado Springs and another in Winston-Salem, North Carolina. The billboards showed a smiling Santa Claus making a shushing gesture with the caption: "Go ahead and skip church. Just be good for goodness sake. Happy Holidays!"
In a statement released last December, American Atheists President David Silverman said the goal of the billboards was to argue that "going to church has absolutely nothing to do with being a good person."
"The things that are most important during the holiday season — spending time with loved ones, charity, and being merry — have nothing to do with religion," asserted Silverman.
At some point during the first weekend of the year an unknown party vandalized the Colorado Springs billboard, spray painting the phrase "God's Not Dead" across the written message.
The statement was a likely reference to the hit contemporary Christian band Newsboys song and the film of the same name.
Pure Flix is not the only Christian entity to denounce the vandalism. Paul Batura of the Colorado Springs-based Focus on the Family also criticized the graffiti.
"Vandalism has no place in a civilized society," said Batura to CP in an earlier interview. "We disagree with their message but we certainly respect their right to say it."
"We don't know who is responsible for the damage, but to deliberately deface private property is a foolish and immature response to any objections one might have regarding the message of the billboard."